Why are acne scars indented?
When large or deeply lodged acne occurs, inflammation extends to the deeper layers of the skin, the 'dermis', resulting in scars. During the healing process, the wound is replaced by granulation tissue and then scar tissue.
This scar tissue is the cause of acne scars. If the scar heals in a structure close to the normal dermis, the scar is not noticeable, but if the wound healing process does not work properly, the skin becomes uneven, such as atrophic scars, hypertrophic scars and keloids.
*Please note that our indented scar treatment is for acne scars and we do not offer correction of plastic surgery from other clinics.
Treatment for depressed acne scars
Treatment methods vary slightly according to the type of acne scar.
Ice-pick Scars Treatment
Because of their deep indentations, they are the most difficult acne scars to heal. Overseas, the scar tissue itself is hollowed out with a circular tool (Hollow out a circular shape, like a hole puncher punching a hole in a piece of paper). The hollowing-out elevation method, in which the skin is lifted upwards with tweezers and fixed, and the TCA CROSS peel, in which TCA (a powerful acid that dissolves down to the dermis) is dropped into the depressed area to remove and rebuild the scar tissue.
We do not perform "hollowing-out elevation method" and "TCA CROSS peels" due to their invasiveness and downtime, but instead treat with "eCO2 EVOLUTION (Fractional CO2 Laser)" or with "DermaPen 4".
The hard scar tissue under the dermis of the ice-pick scars limbus has formed and is indented into all layers of the dermis, which requires a higher laser energy and deeper penetration. The dermapen also allows for longer needle lengths to break up the scar tissue and encourage tissue reconstruction.
Rolling Scars Treatment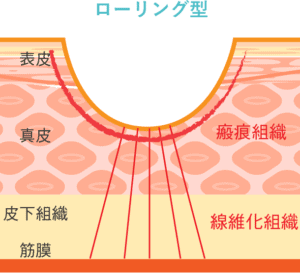 With rolling scars, the adhesions that are pulling the epidermis must first be removed. With eCO2 or dermapen, the fibres are difficult to cut because of the vertical movement of the laser beam and needle, but they can be cut by a method called "Subcision".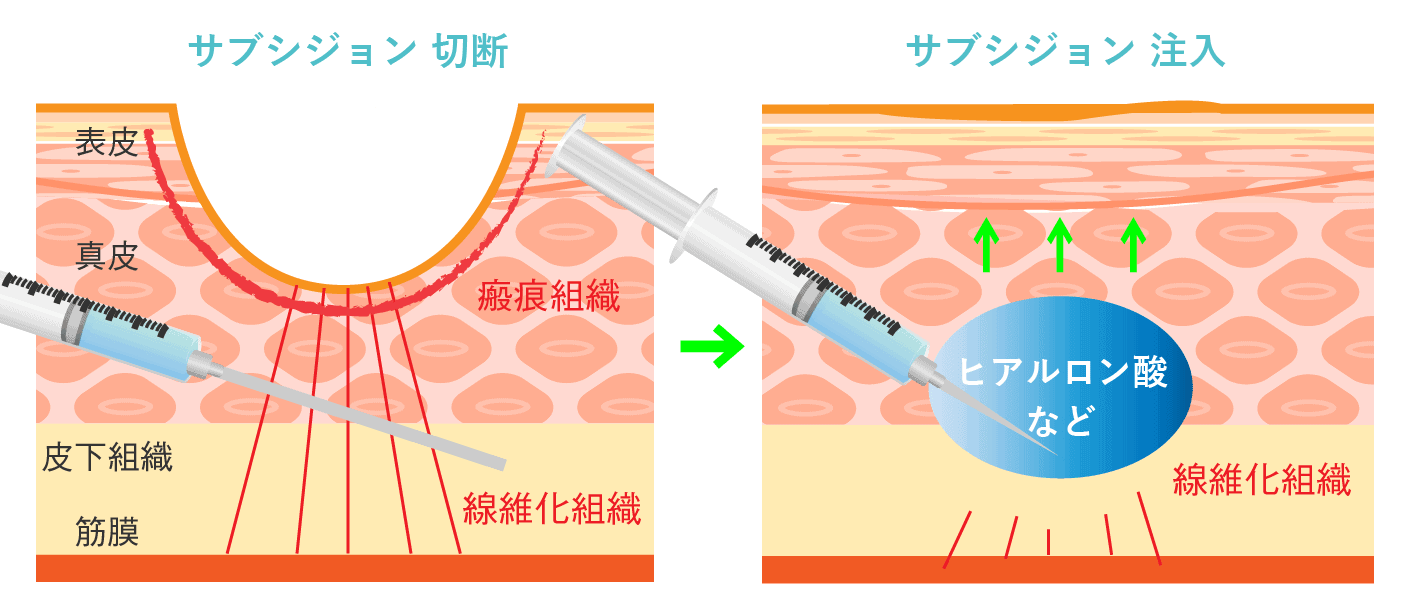 Subcision is a technique in which a medical needle (e.g. 16G-27G needle or BD NoKor from Becton Dickinson) is inserted subcutaneously to cut fibrotic tissue and detach adhesions. As shown in the diagram below, the needle is inserted laterally and the fibrotic tissue is cut by moving the needle back and forth under the skin (tunneling technique) or in a fan shape (wipe technique). The adhesions are then firmly removed and injected with hard, cross-linked hyaluronic acid to raise them.
Subcision can be expected to improve concavity by 30% in a single treatment. If this is a concern, the procedure should be repeated several times over a period of at least one month. The injected hyaluronic acid is absorbed in approximately one to two years, but repeated procedures stimulate the production of own collagen, making the indentations less noticeable.
Although not available at our clinic, an injectable called Bellafill (made by Suneva Medical) is also used abroad. Bellafill is made from collagen and polymethyl methacrylate/PMMA, and when injected, the PMMA stimulates the production of collagen and the surrounding Collagen is produced in the surrounding area. It is non-absorbable, so while the effect is semi-permanent, it cannot be redone.
The growth factor bFGF strongly promotes the formation of granulation tissue, so after the scar tissue has been carefully broken down, the skin can be raised firmly and the effect will last. However, there is a risk of the skin being raised too much, or if the adhesions are not removed properly, the depressed scar tissue areas will not be raised and only the surrounding areas will be raised. Once autologous tissue has grown, it cannot be redone, so the choice must be made after careful consideration of the risks.
Subcision is not that invasive if it is partial, but if it is extensive, the wipe technique requires extensive debridement of the adhesions, which can result in considerable bleeding. Downtime is 3 days to 2 weeks.
Rolling scars are considered to have little or no subepidermal scar tissue compared to boxcar scars. In practice, however, the two are often mixed, and if they are not raised by injectables after subcision, the scar tissue must be destroyed with a eCO2 or dermapen, as the hardened scar tissue is in the way. A complex treatment is required, including subcision, injectable filling, eCO2 and dermapen.
Boxcar Scars Treatment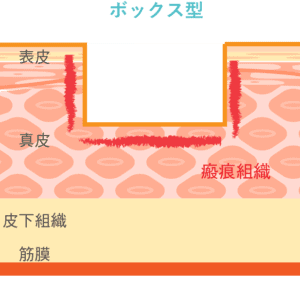 The boxcar scars has a flattened bottom of the indentation and resembles a chicken pox scar. Beneath the epidermis, the skin is hardened by scar tissue, which is repeatedly destroyed by eCO2 or dermapen to allow new skin to regenerate.
In order to regenerate clean skin, our clinic always uses hydrocolloid patches after laser and dermapen to provide moisture therapy. Growth factors are also applied to stimulate tissue regeneration.
Single box-shaped indentations, such as chicken pox scars, can also be made less noticeable by using a laser to slightly shave and smooth just the edges.
Rolling and boxcar scars are often difficult to distinguish in practice and may be intermingled within a single acne scar. They also coexist with lipoatrophic scars, which will be discussed later, and must be checked for adhesions to the fascia and confirmed with a skin extension test to determine whether subcision is also effective.
Lipoatrophic Scar Treatment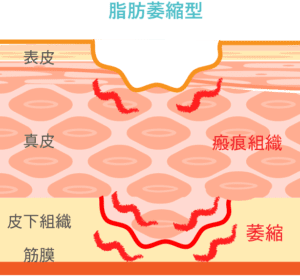 Subcision, in which adhesions to fatty tissue are removed and hyaluronic acid is injected into them, is effective. Atrophic scars also coexist with the various types of depressions mentioned above, so complex treatment is often necessary.
A similar condition to the lipoatrophic scars, acne scars may become more prominent due to age-related loss of fatty tissue, sagging of the dermis and weakening of the facial muscles.
Laser and ultrasound treatments are available to improve dermal sagging, but if the subcutaneous tissue is reduced, injection therapy is still the first choice.
Although we do not offer this service, cosmetic surgery is another option. Lifting surgery improves sagging skin and reduces the appearance of acne scars.
It is an ageing phenomenon that acne scars become more noticeable as the skin sags with age, so to some extent this is unavoidable. It is advisable to do as much as possible without expecting too much from the treatment.
Those who are not eligible for eCO2 EVOLUTION or DermaPen4
Those who are pregnant or breast feeding
Those who had allergic reactions to anesthesia
Those who have frequent sunbathe
Patients with dermatitis, skin infections, or other abnormalities at the site wished to treat
Those who have history of keloids (depending on the severity, please consult your doctor)
Patients who have gold threads inserted in the body
Those who have tattoos, permanent makeup, or permanent foundations (BB Glow, CC Glow, etc.) on the site wished to treat.
Patients who are taking isotretinoin or just finished isotretinoin less than 3 months
(For eCO2 only) Those who have used the following drugs within the past 2 weeks should consult their doctor
Drug Classification
Drug Name
Acne treatment (topical)
Acless Cream, Differin, Bepio, Epiduo, Duac
Blemish treatment / Retinol cream
Tretinoin, Hydroquinone / Retinol (0.5% or higher)
Peeling agents
Salicylic acid, glycolic acid, etc.
Antibiotics: Tetracyclines
New Quinolone
Minomycin, Minocycline, Vibramycin
Cravit, Levofloxacin
Non-steroidal anti-inflammatory drugs (oral)
Voltaren, Ampiroxicam, Piroxicam
Non-steroidal anti-inflammatory drugs (Pain Relief Patch)
Ketoprofen, Voltaren, Loxonin
Antihistamines
Mequitazine, Promethazine
Medicines for high cholesterol, high blood pressure
Simvastatin, Herbesser
Antituberculosis, Sulfa drugs, Anti-cancer drugs
Iscotin, Salazopyrin, Dacarbazine Odine
Psychotropic drugs
Promethazine, Diazepam
Patients who have used the following drugs in the past are not eligible to undergo eCO2 treatment
| Drug Classification | Drug Name |
| --- | --- |
| Rheumatoid arthritis drugs (gold therapy) | Sodium Aurothiomalate (IV), Auranofin(Oral) |
Fees of treatment for depressed acne scars
The treatment for depressed acne scars is only available for patients who have not developed new acne. Also, please note that the treatment cannot be performed on the day of the first consultation.
Combined treatments such as Dermapen + Subcision or eCO2 + Subcision may be required. Dermapen is performed by a nurse and eCO2 by a doctor.
Consultation fee
First visit ¥3,850
Repeat visit (Not required for treatment only) ¥1,650
eCO2 EVOLUTION
Whole face \38,280
Half face*1 \27,280
5 x 5cm \16,280
DermaPen4
Whole face \27,280
Half face*1 \18,480
5 x 5cm \10,780
Both upper arms (each arm within 10 x 20cm)  ¥27,280
Growth factors*2
(EGF/FGF/Vitamin C derivative)
Free
Human placenta extract*3
(optional)
1A \990
Subcision*4
(Including hyaluronic acid injections)
\43,780
(Not exceeding 15mm in diameter per location)
Anesthesia
Lidocaine dressing (1 kit) ¥330
Anaesthetic cream (Face) ¥3,300
Anaesthetic cream (5 x 5cm) \1,650
Others
Dressing Retention Tape : actual expense
Hydrocolloid Tape : actual expense
The half-face fee is applicable to cases where less than half of the face is involved, such as "cheek + jaw line," "cheek + chin," "cheek + temples," or "cheek + nose". In the case of "cheek + forehead," the fee will vary depending on the size and extent of the forehead, so please consult your doctor.
Growth Factors, which are applied after an eCO2 or Dermapen treatment, are free of charge. There is no discount on the price even if you do not wish to receive it.
When placenta is used optionally, consent form for blood donation restrictions is required.
The fee of Subcision includes the cost of hyaluronic acid injections.
Post-treatment Precautions
Your face will be taped or strongly reddened. We recommend bringing a mask, wide-brimmed hat or sunglasses to protect against UV rays and to cover your face.
[eCO2] Hydrocolloid, a wound-healing tape, is applied to the wound, and moist therapy is used.
[Dermapen] Air Wall UV, hydrocolloid or Vaseline depending on the condition of the wound.
Apply tape or Vaseline for at least three days. For hydrocolloid tape, the tape should be replaced when the entire area is white and puffy due to leaching fluid from the wound. In the case of Air Wall UV, the tape should be replaced when the whole area is easily peeled off due to leaching fluid and perspiration.
If the tape is difficult to remove when reapplying, it can be successfully removed by wetting it thoroughly with lukewarm water.
Frequent reapplication can cause the newly formed skin to peel off, leading to staining and scars that do not heal cleanly. Leave it on as long as possible.
Avoid make-up, exercise, drinking and bathing for at least three days.
Showering is allowed, but please refrain from washing your face if possible. If you must wash your face, use only lukewarm water, and if the tape gets wet, wipe off the water with a towel.
When reapplying the tape, after removing it, gently wash the affected area with lukewarm water and wipe it with a clean towel before applying the tape. When doing so, avoid rubbing or peeling off the scab.