Before booking
Please read "CAUTIONARY POINTS" before making an appointment. If you understand a little Japanese, please install the "Patient ID Smartphone App" on your smart phone in advance.
How to make an appointment
Since we have very few English-speaking staff, please select your preferred treatment menu from the inquiry form and let us know some of your preferred dates.
"Appointment Cancellation and Changes: To ensure a smooth scheduling process and provide the best possible care, we kindly request that you make any appointment cancellations or changes by 6:00 PM on the previous business day, as stated in our cancellation policy. Please be aware that failure to notify us or late arrivals may result in the inability to receive medical consultation. We appreciate your cooperation in selecting a date that guarantees your visit and prevents inconvenience to other patients."
Our clinic is booked up and we cannot accommodate your preferred time, so please list a number of days that you would like to visit. We will reply to you by e-mail with the available dates and times.
Online Appointment
If you can read Japanese or use the translation function, you can make an appointment online.
If you are a current patient at our clinic and would like to request a new different treatment, please also select "First visit" (you will not be charged for the first visit, but you will be charged for the second visit).
For medical services that are not available for online reservation, please make a reservation using the Inquiry Form.
Please use the tabs to switch between " Re-visit," "First visit," and "first visit for hair removal.
Re-vist
Please select either "KOENJI" or "KOJIMACHI" and follow the directions to make an appointment.
For medical menus that are not available online, please use the Inquiry Form to make an appointment.
Medical questionnaire (online)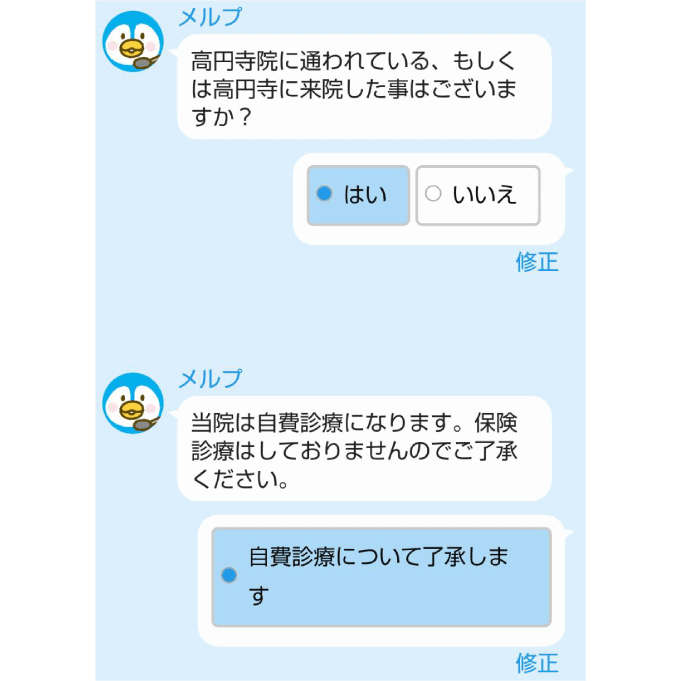 We are currently preparing the medical questionnaire in English.