Treatment for Red Acne Scars
Post-inflammatory Erythema
The redness of acne scars is called 'post-inflammatory erythema'. It is caused by the inflammation of the acne, which results in new and dilated capillaries. In large pimples with pus, bleeding can also occur when the pimple is crushed, causing red blood cells to leak out of the blood vessels, resulting in red pigmentation.
Normally, dilated capillaries finish their job when the inflammation is healed and gradually regress. The pigmentation also gradually fades and disappears with skin metabolism (skin turnover). It is therefore advisable to wait a few months for the condition to heal naturally.
Hard-to-heal redness
In large or deep-seated acne, inflammation may extend into the dermis and capillaries may remain without regression. In such cases, redness may persist for a long time. In some cases, if the inflammation is so severe that red blood cells leak into the dermis, red to reddish-black acne scars may remain for years, as the dermal turnover cycle is five to six years or longer.
This can be due to a number of reasons, such as a lack of normal skin turnover, slow capillary regression or failure of the breakdown of the purpura in the dermal layer.
It is also similar to tattooing. If you scribble on the surface of the skin with a pen, it will disappear on its own in a few weeks as the skin exfoliates as a plaque, but if the colour is placed in the deeper dermis, the tattoo will not disappear because there is no turnover.
Treatment for Post-inflammatory erythema
Treatment of redness that is difficult to heal naturally can be improved by speeding up turnover and using lasers to shrink blood vessels.
Peeling skin
To normalise and accelerate turnover, salicylic acid macrogol peeling and tretinoin and hydroquinone therapy are used. Peels and tretinoin work mainly on the epidermis and are therefore good indications for marks with a strong reddish appearance, i.e. redness in a relatively shallow layer.
Tretinoin is used for partial redness, while peels are used for redness that is scattered unevenly across the face.
Long-Pulsed Nd:YAG Laser (mild power mode)
Redness that does not improve with peels or that is in a deeper layer can be treated with the long-pulse Nd:YAG laser: by using a long wavelength of 1064 nm, the laser reaches deep into the dermis, causing the capillaries to recede and gradually reducing the redness.
The long-pulse Nd:YAG laser is delivered with a pulse width that causes no downtime and with an adjusted power output of 15 J to 20 J. Irradiations are performed at approximately two-week intervals, and the effect begins to appear after about five sessions and takes an average of 10 sessions to complete.
Treatment results
Koenji Office
Kojimachi Office
Long-Pulse Nd:Yag Laser
2020: 591 cases
2021: 812 cases
2020: 355 cases
2021: 961 cases
Double-mode Laser
(Long-Pulsed Nd:YAG Laser and Laser-Toning)
2020: 244 cases
2021: 254 cases
2020: 273 cases
2021: 317 cases
Long-pulse Nd:Yag Laser / Double-mode Laser Results
Case Photos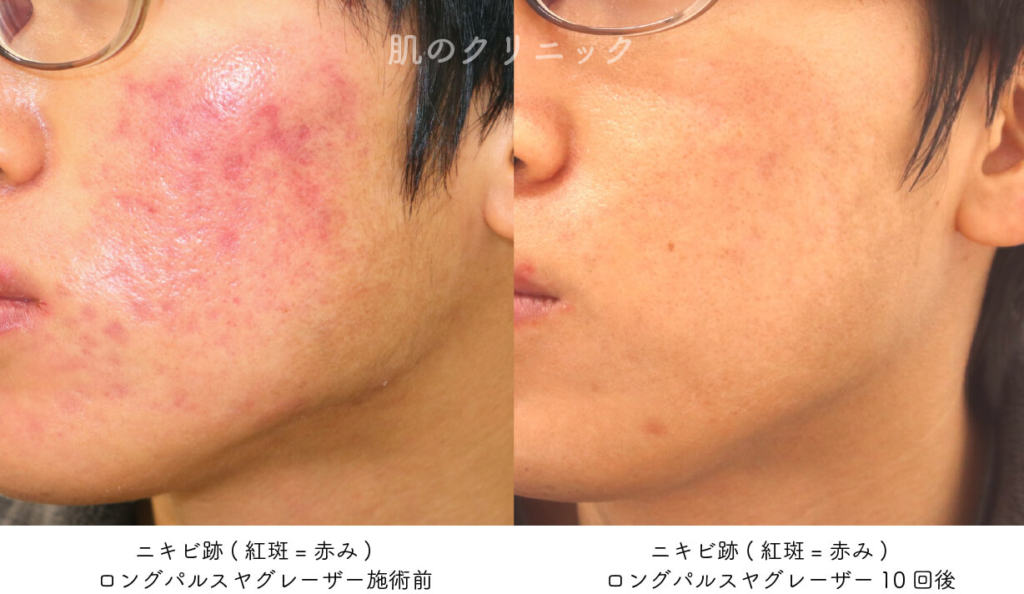 There is almost no redness after irradiation and make-up can be applied on the same day, so this treatment is recommended for those who cannot take downtime.
The redness improves with each treatment and the skin becomes clearer and firmer due to the whitening effect and collagen production, so some people undergo this treatment for anti-ageing purposes. For those seeking more whitening and skin beautifying effects, we also recommend "Double-mode Laser", in which laser-toning and the long-pulsed Nd:YAG laser are performed on the same day.
Powerful Long-Pulsed Nd:YAG Laser
High-power lasers can be used to improve redness more powerfully.
The powerful long-pulsed Nd:YAG laser has a pulse width set to more than 100 times that of a regular long-pulsed Nd:YAG laser (mild power mode), with high power and a large diameter.
It can be expected to shrink capillaries and improve redness of acne scars, rosacea, telangiectasias and other reddening of the face. It also has a skin tightening and rejuvenating effect by stimulating the growth of collagen in the dermal layer.
Compared to regular long-pulsed Nd:YAG laser, this is a stronger mode and more painful, but is usually performed without anaesthesia and without a cooling device. For those who are sensitive to pain, the treatment is first carried out with the use of a cooling device, and if the pain is still unbearable, an optional cream anaesthetic is provided.
In the irradiation mode for the treatment of acne scars and red faces, the treatment is carried out five times with an interval of at least one month. For red face treatment, the irradiation must be carried out regularly thereafter.
The irradiated area will be permanently depilated, so areas where you do not want to remove hair, such as the beard, should be avoided. The treatment has a short downtime, although redness may occur for 1-3 days after the operation.
Treatment results
Kojimachi Office
Powerful Long-Pulsed Nd:YAG Laser
2020: 469 cases
2021: 1040 cases
Powerful Long-Pulsed Nd:YAG Laser Treatment Achievements

*From June 2022, the Koenji office is also able to offer the powerful long-pulsed Nd:YAG laser.
How to remove and heal redness of acne scars.
Treatment for brown acne scars
Post-inflammatory Hyperpigmentation
Brown pigmented acne scars are called 'post-inflammatory hyperpigmentation', in which black melanin pigmentation occurs after inflammation of the acne. The inflammation of acne stimulates melanin-producing cells, resulting in excessive melanin production, causing brown to black spots and dark spots.
Post-inflammatory hyperpigmentation usually fades and disappears naturally within six months.
Hard-to-heal brown pigmentation
If post-inflammatory hyperpigmentation remains for more than six months, it is possible that skin metabolism (skin turnover) is not going well, melanin pigmentation may have reached the dermis (melanin dripping into the dermis due to inflammation) or the skin may have changed into so-called 'blemish' (senile pigmentation) or 'melasma' due to UV radiation and ageing.
Treatment for post-inflammatory hyperpigmentation
Depending on the skin condition, treatments to promote turnover, lasers and internal whitening agents are used.
Q-Switched Nd:YAG Laser
If brown pigmentation remains for years and turns into a blemish, the Q-switched Nd:YAG laser can be used to scab the blemish and peel it off. However, if the patient is prone to post-inflammatory hyperpigmentation, there is a high possibility of recurrence as post-inflammatory hyperpigmentation is also caused by laser stimulation, so test irradiation is first carried out on a small area, and if there is recurrence after the laser and the area seems to fade and improve naturally, irradiation is carried out on a larger area. If post-inflammatory hyperpigmentation occurs after the laser, tretinoin-hydroquinone therapy may be used.
For more information on the Q-switched Nd:YAG laser, see also the page 'Blemish treatment'.
Laser Toning
In the early stages of dullness and post-inflammatory hyperpigmentation, Laser-toning is performed by showering the entire skin with a laser at low power; about 10 treatments at 2-week intervals are required, and the skin gradually becomes whiter and clearer as the dullness is removed from the entire skin. Oral whitening agents such as tranexamic acid, glutathione and vitamin C may also be used in combination.
Double-mode Laser
The clinic sometimes performs 'Double-mode Laser', which combines the Long-pulsed Nd:YAG laser (mild power mode) and laser-toning.
Long-pulsed Nd:YAG laser gradually reduces redness in the deeper layers of the skin, and improves 'redness, pores and skin elasticity' by applying thermal energy to the dermal layer of the skin to stimulate the growth of collagen in the dermis. Laser-toning improves 'dullness and dark spots' and whitens the skin by stimulating the discharge of melanin from the surface to the depths of the skin.
With double irradiation, the skin tone is expected to gradually return to normal.
Side Effects and Risks
Redness may occur after the laser, but usually subsides within a day. There is a risk of burns with laser-based treatments, but this is very rare. The intense long-pulsed YAG laser may cause permanent hair loss in the irradiated area. Other white spots (excessive pigment loss) have been reported.
Fees (Tax included)
Treatment for acne scars is only available for patients who do not have new acne. Please note that depending on availability and the nature of the treatment, it may not be possible to perform the treatment on the day of the first consultation.
After the second visit, if you do not wish to have a consultation and only wish to have a peeling or laser, no consultation fee is charged.
If you have had a salicylic acid macrogol peel at our clinic, we can prescribe a peeling agent for you to use at home. If you return for a second consultation, we can also deliver the peeling agent to your home via 'telemedicine'.
Consultation fee
First visit ¥3,850
Repeat visit (Not required for treatment only) ¥1,650
Laser-Toning
Whole face (Initial) : \8,580 (3000shots)
Whole face (After the second time) : \10,780 (3000 shots)
Neck (Optional with whole face) : \3,300 (1600 shots)
Half face : \6,380 (1500 shots)
5cm x 5cm : \3,080 (500 shots)
Body 1 part : \9,680 (2500 shots)
Long-Pulsed Nd:YAG Laser
Whole face (Initial) : \9,680 (5000shots)
Whole face (After the second time) : \12,980 (5000 shots)
Neck (Optional with whole face) : \3,300 (1600 shots)
Half face : \8,580 (2500 shots)
5cm x 5cm : \3,300 (600 shots)
Body 1 part : \9,680 (3000 shots)
Double Mode Laser
Whole face (Initial) : \18,260 (8000shots)
Whole face (After the second time) : \19,360 (8000 shots)
Neck (Optional with whole face) : \6,600 (3200 shots)
Half face : \13,860 (4000 shots)
5cm x 5cm : \5,390 (1100 shots)
Body 1 part : \17,160 (5500 shots)
Powerful Long-Pulsed Nd:YAG Laser
Whole face : \27,280
Neck (Optional with whole face) : \8,800
Half face : \16,280
5cm x 5cm : \5,280
Salicylic acid macrogol peeling
30% / 40%
In-clinic treatment (For 1 facial) : \7,480
For home use(For 1 facial) : \4,378
For home use(For 6 facials) : \21,780
Tretinoin ointment 0.05%
Tretinoin ointment 0.1%
5g \2,178
5g \2,728
Stable hydroquinone cream 4%
10g \3,278
Anesthesia
Lidocaine dressing: 1 kit ¥330
Anaesthetic cream: ¥3,300 per face area
※Prices vary depending on the size of the area covered