Isotretinoin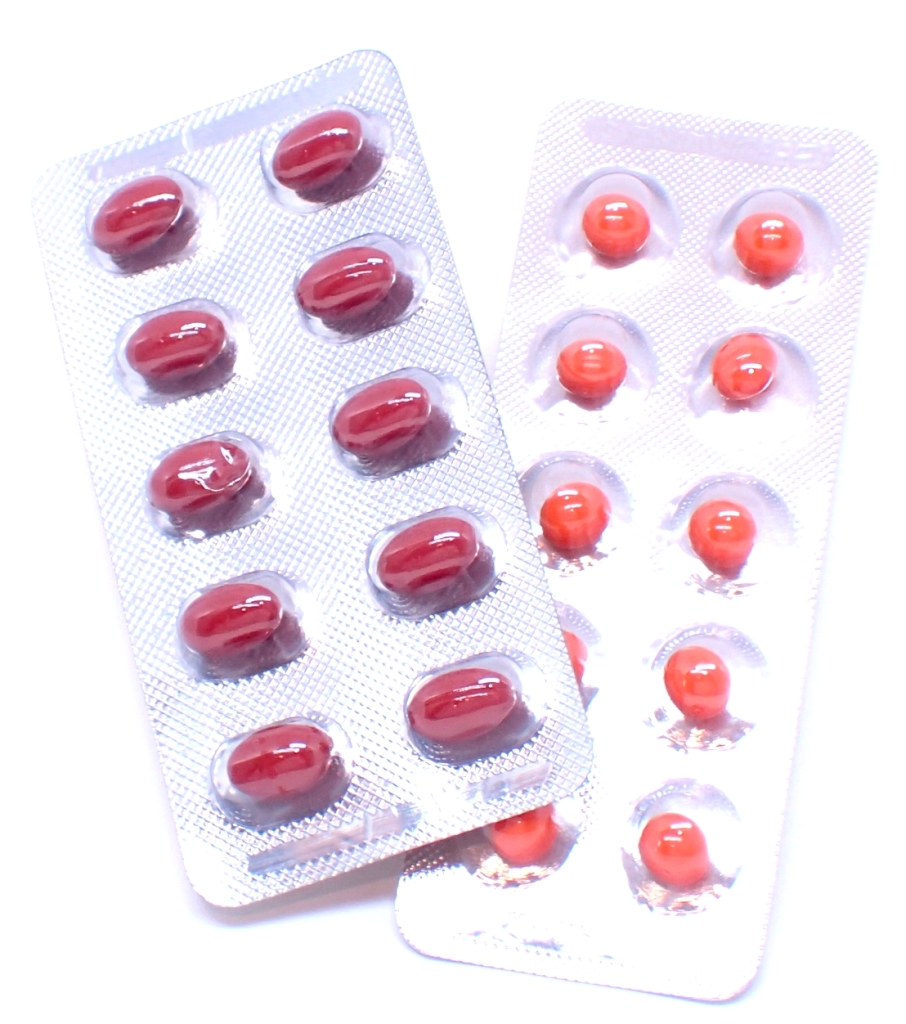 Accutane is a product name, and its common name is isotretinoin. In addition to Accutane, isotretinoin's product names are Roaccutane, Isotroin, Absorica, Amnesteem, Claravis, Myorisan, Sotret, Zenatane and others.
In our clinic, we have performed acne treatment with isotretinoin for over 12 years. Our clinic has the largest number of patients receiving the accutane treatment in Japan.
Isotretinoin is a treatment which is most effective and has the lowest recurrence rate among acne treatments that are used worldwide. The effective rate of isotretinoin treatment for acne is 98% or higher and the recurrence rate is only 30% (*).
Transient acne exacerbation is seen in about 30% of patients during the first month. Patients should see a dramatic improvement within 2 to 3 months if they take the adequate dosage of medicine consistently. Even after the acne improve, it is necessary to continue the treatment to prevent recurrence. A regular course of treatment is 6 months. If there is little improvement, it can be extended to 8 months.
* Regarding the recurrence rate, compared with the condition before the treatment, the case where the number of acne recurs more than one-third is called recurrence.
Isotretinoin is a stereo-isomer of all-trans retinoic acid. The exact mechanism of action of isotretinoin has not yet been elucidated in detail.
Hyper-cornification of the epithelial lining of the pilosebaceous unit leads to shedding of corneocytes into the duct and blockage by excess sebum and keratin. This is followed by formation of a comedo and inflammatory acne. Isotretinoin inhibits proliferation of sebocytes by re-setting the orderly program of differentiation. Therefore this medicine prevent corneocytes from shedding into the duct and prevent duct and pore from blockage.
Sebum is a major substrate for the growth of P. acnes which is the bacteria causing inflammation of acne. Isotretinoin reduced sebum production, so that it inhibits bacterial colonization of the duct. This is the second mechanism of action. But this action works only during the treatment. After stopping the medicine, sebum production will increase to almost the same level as before the treatment within 2 months, so the first action is more important than the second action to prevent recurrence.
Treatment methods at the clinic
Our standard dosage is 20 mg to 40 mg per day. If there is little improvement within 2 to 3 months, we should increase the dosage of the medicine. The maximum dosage is 2 mg per body weight. In other words, for the patient weighing 60 kg (130 pounds), they can take up to 120 mg per day.
If you have already taken isotretinoin at another clinic and you didn't get a good result, the dosage of medicine may not be enough. A higher dosage of isotretinoin increases the effect and prevents your acne from coming back. If you take isotretinoin with a higher dosage, you should achieve a better result, but side effects may increase, so we must be careful with that issue.
If acne recurs, you should take another course of treatment. A rest period of at least 2 months, preferably 4 months after the first course of treatment is required. Even if the acne recurs, the degree of recurrence gradually decreases while you are taking the treatment several courses.
Accutane (Isotretinoin) is a very effective medicine, but it is not a perfect medicine for acne. This medicine is 98% effective and has 30% recurrence rate. It's effective for most people, however, it may not work for everyone.
Treatment cases of Isotretinoin
If you would like to see case photos of acne treatment with isotretinoin, please click below.
How he came to our clinic
Male in his 20s, who began suffering from facial acne at the age of 15 and came to our clinic after years of receiving almost all insurance treatments at his local dermatologist, including antibiotics, topicals, vitamins and herbal medicines, but with no improvement.
Photos before treatment
Numerous pimples with intense inflammation across the face. Several pimples have clustered together into one large mass, which is strongly swollen. This is a severe type of acne called 'acne conglobata', in which multiple nodules are connected.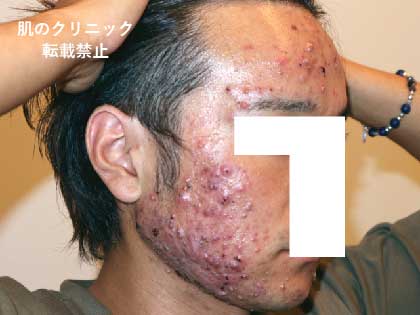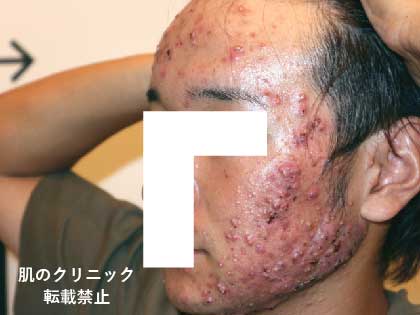 After fully explaining the risk of leaving indentations and crater marks due to years of recurring large pimples, treatment with isotretinoin was initiated.
Photos after 5 months
This photograph was taken five months after the start of treatment. The pustules and nodules have disappeared and the papules and comedones have almost completely disappeared.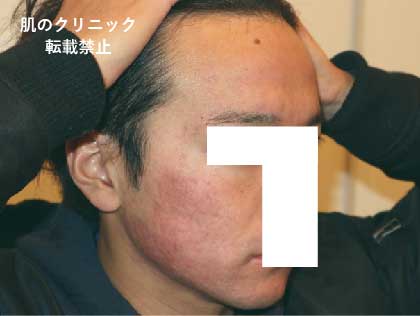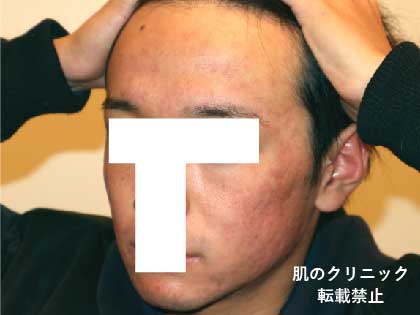 Commentary
With severe acne, the problem is often that years of continued treatment without healing can leave atrophic scars (indentations) that never heal.
Also, when acne is present on the entire face, it is difficult to notice acne scars because the face is swollen due to inflammation, but when the acne disappears, the scars hidden under the acne begin to reveal themselves.
In many patients, scars have already formed by the time they come to our clinic, but early treatment is important for severe acne to avoid scarring.
How he came to our clinic
A patient in him late teens with severe acne who started developing acne four years ago and had been treated with oral antibiotics, topical agents (including steroids) and herbal medicines at him local dermatologist for three years, with some temporary improvement but far from cure. The inflammation became stronger and stronger, and the sclerocysts became more and more frequent, so the immediate family doctor could no longer help him and referred him to a university hospital. However, the same treatment (oral and topical antibiotics, Bepiogel and oral vitamins) was given at the university hospital as at the immediate care centre, but after two months with no change, the parents requested a transfer to our clinic.
[Past treatment history]
Over-the-counter acne medications (multiple types), oral vitamins, antibiotics (e.g. minocycline), herbal medicines (multiple types, details unknown), topical medications (Aquatim cream, Dalacin gel, Differin gel, Bepio gel, Convec ointment, Stadelm ointment, Delmosol G ointment)
Photos before treatment
The entire face was swollen with numerous pustules with induration. The skin around the eyes also had pimples, which were greatly swollen and deformed the face. This is a severe form of acne called acne conglobata, in which the abscesses combine to form a lump.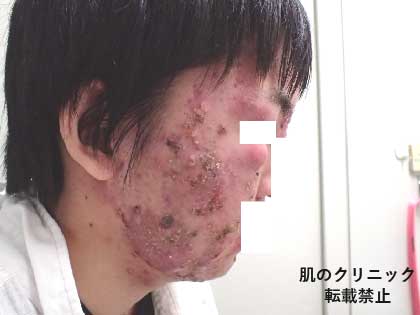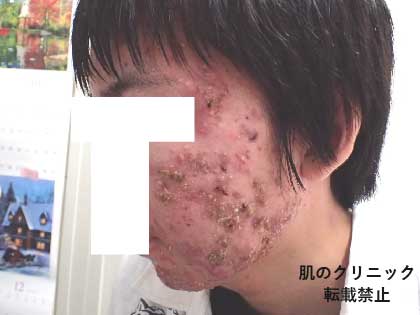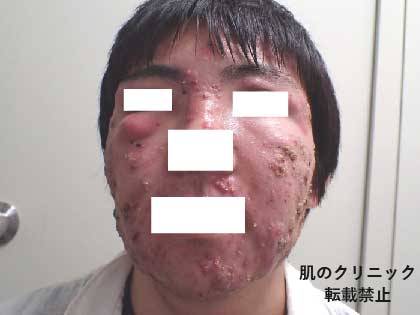 The initial diagnosis was accompanied by fever and blood data showed WBC 16400 CRP 4.17 and systemic inflammation. The differential diagnosis of systemic lupus erythematosus (SLE), sarcoidosis, gamma globulinaemia, rheumatism, viral hepatitis and malignant lymphoma as underlying diseases causing pyoderma was all negative.
As conglomerate acne has a high risk of leaving large scars, it was treated immediately with isotretinoin.
Photos after 5 months
Two weeks after starting isotretinoin, more abscesses occurred, but they gradually improved after one month and after five months the inflammation had completely subsided. The redness of the acne scars still remains strong and unevenness can be observed, but the new acne is gone and the swelling of the whole face has gone down.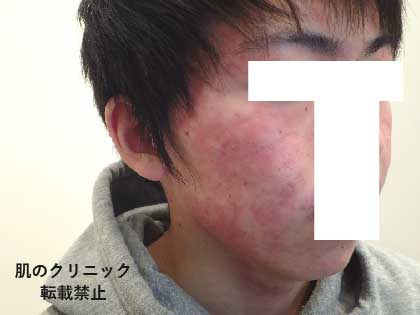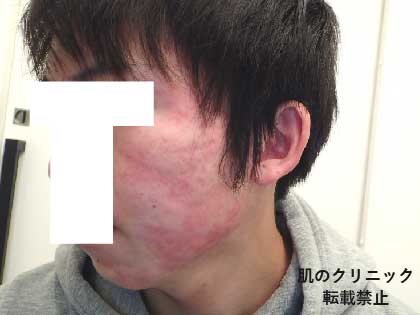 Photos after 8 months
As it was the most severe form of the disease, maintenance treatment was provided after completing one course of treatment. In addition, during treatment, the patient was thoroughly moisturised with in-office preparations and acne scar care was provided by peeling.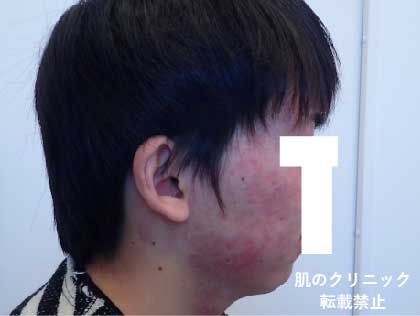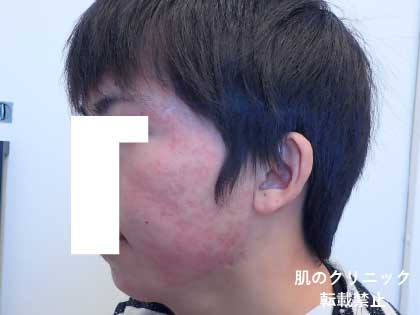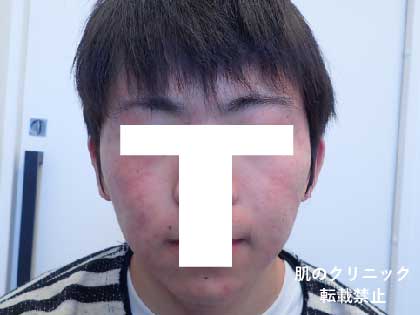 *The picture is pale because of the settings, as I changed to a new camera.
Commentary
The patient in the picture had been taking antibiotics for three years at the dermatology department, but no improvement was observed. Acne treatment in Japan is more than 40 years behind that in Europe and the USA, and the more severe the condition, the more likely it is that acne scars (pigmentation and unevenness) will remain throughout life if not treated at an early stage.
Treatment with isotretinoin is not a last resort in acne treatment. Severe cases of acne should be treated as early as possible to avoid scarring.
How she came to our clinic
A woman in her 20s, she has been suffering from acne for 10 years and has been treated for many years by insurance with oral antibiotics, vitamins and Chinese herbs at a dermatology clinic, but has not shown any improvement. The condition worsened further six months ago, so she went to an esthetic clinic for sedation packs and exfoliation, but there was no improvement, so she came to our clinic.
[Past treatment history]
oral vitamins, antibiotics (details unknown, multiple medications), Chinese herbal medicine (Jujimiseitou, Guaishi Poriaiman Yokuinin, etc.), topical agents (details unknown, multiple uses), vitamin C ion induction (aesthetic surgery), photofacial (aesthetic surgery), glycolic acid chemical peeling (aesthetic surgery), sedation packs (aesthetic treatment), exfoliation (aesthetic treatment)
Photos before treatment
Multiple papules, nodules and pustules are present on the entire face, face line and neck, as well as numerous acne scar pigmentations and bumps.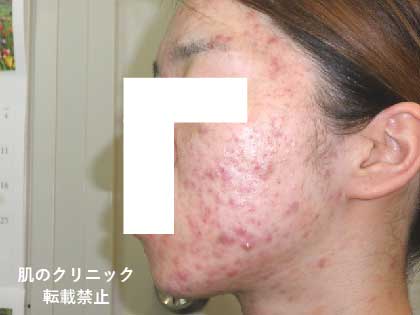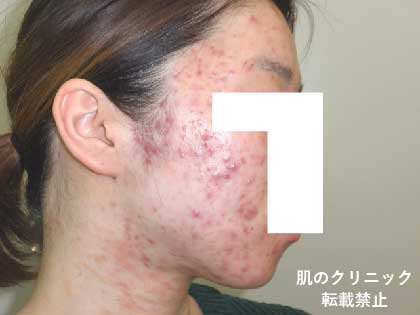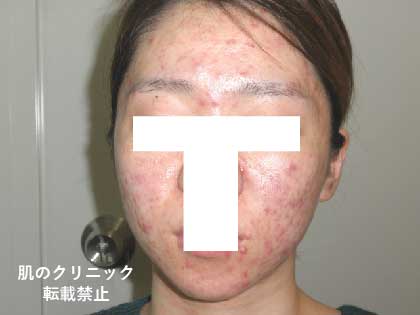 Photos after 1 month
Some areas of acne have resolved, but nodules have appeared on the face line and neck that were not present at the time of the initial diagnosis, and there is an overall worsening of the acne.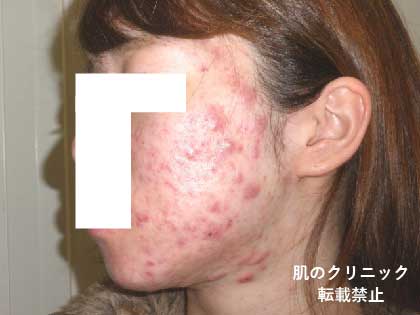 Photos after 5 months
At this point, the new acne has almost completely disappeared. In parallel with isotretinoin treatment, dispensing cosmetics and peels are being used, and the strong reddish acne scars are gradually turning lighter and pinker.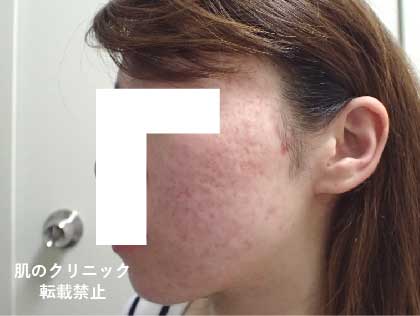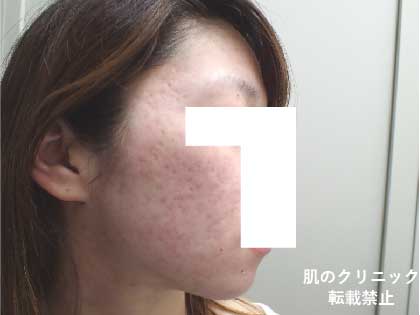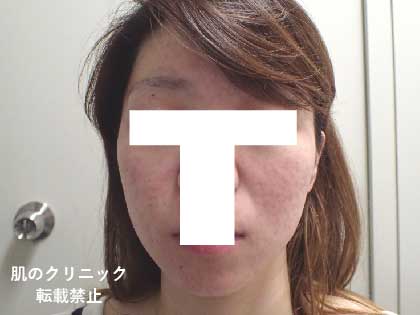 Commentary
Acne exacerbation in the first month after treatment, but transient exacerbation is observed in about 30% of patients in the first month after taking isotretinoin internally.
Temporary exacerbations are not uncommon, but if the degree of exacerbation is severe, we will increase the dosage or prescribe a medication to reduce inflammation as soon as possible.
This patient had taken a long way to come to our clinic because she had undergone various treatments and had not improved. Although she had formed numerous scars (acne scars) at the time of her first visit, she was always cheerful and positive about her treatment.
How she came to our clinic
She had been suffering from acne for 15 years and had received sulphur camphor lotion, oral antibiotics, herbal medicines and vitamins at a dermatology clinic for many years. She then continued treatment with pills for more than a year at another hospital, but the condition worsened further and she came to our clinic two years ago because she could no longer walk without a mask.
Photo before treatment
Papular red acne is more common on the chin, face line and neck. In women, acne is more common in the T-zone and cheeks during puberty, while adult acne is more common on the chin, face line and neck.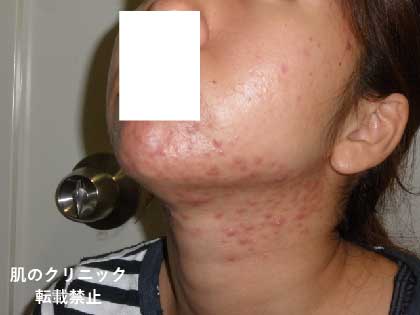 Isotretinoin treatment and skincare with formulated cosmetics were provided.
Photos after 4 months
The red inflammation of the acne has receded and new pimples, including comedones, no longer occur. The pigmentation of the acne scars is less noticeable and the skin texture has improved. The patient lost weight during the treatment and looks like a different person in the photo, but it is the same patient.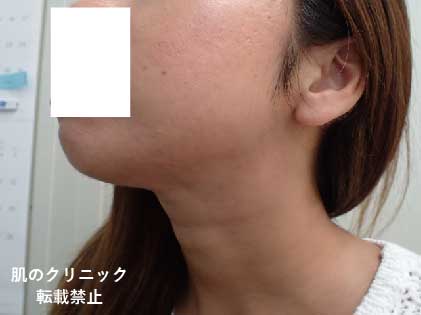 Commentary
Isotretinoin also has the effect of increasing skin turnover, which can lead to a quicker expulsion of acne scar pigmentation. The combination of preventive whitening and moisturising dispensing cosmetics promotes further improvement.
How he came to our clinic
Male in his 20s. He saw a dermatologist for acne on his entire face and neck and had been receiving insurance treatment (oral and topical, details unknown) for more than six months, but he came to see us because the condition had continued to worsen.
Photos before treatment
Erythema and papules are multiple and partly nodular on the entire face, neck and face line. Acne scar pigmentation and atrophic scars are also present.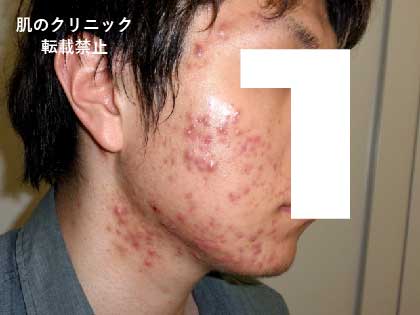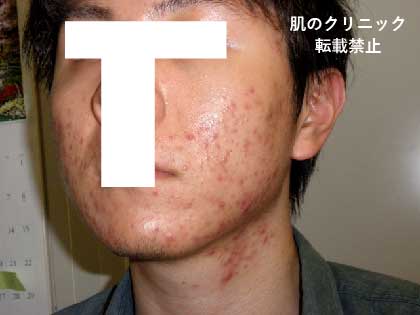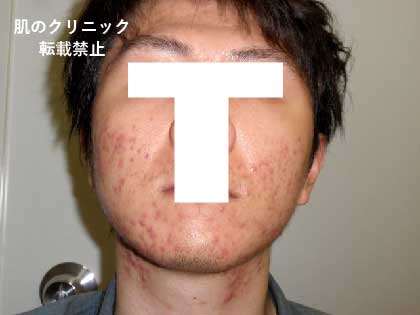 In parallel with isotretinoin treatment, salicylic acid macrogol peels were initiated.
Photos after 4 months
Improvement was observed after one month of isotretinoin prescription, and by the end of four months, new and active acne had almost completely disappeared.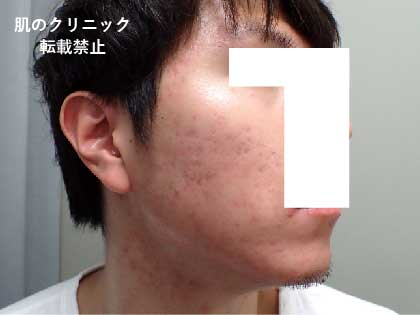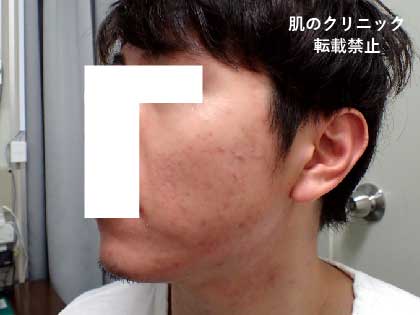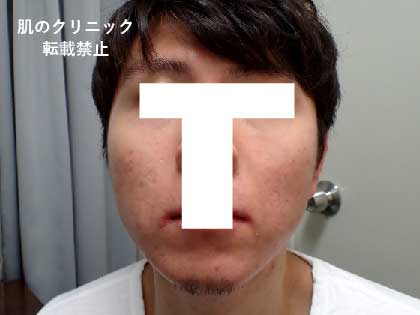 Commentary
This patient had some acne in the past, but seven months before coming to our clinic, it had suddenly started to worsen across her face and neck.
Acne is mostly caused by genetic factors, but can also be triggered by environmental changes and stress.
Her response to isotretinoin was good and her acne improved within one month, but continued for six months to prevent recurrence.
How he came to our clinic
Male, in his 20s; had adolescent acne for 15 years, which spread to his entire face before his university entrance exams. Later, when he entered the workforce, the acne gradually subsided, but he always had multiple red pimples all over his face. He had been receiving insurance treatment such as antibiotics at his local dermatologist for a number of years, but as there was no improvement, he came to see us.
Photos before treatment
Multiple red pimples with inflammation across the face.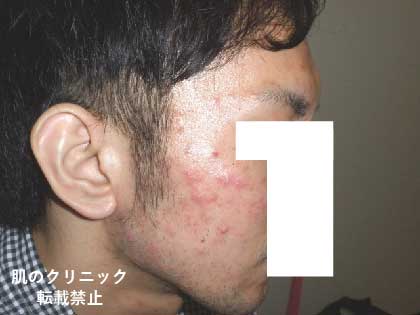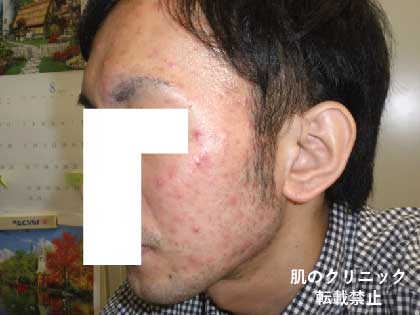 Although the initial deterioration during isotretinoin treatment is explained to all patients, two weeks after the start of treatment, the acne worsened and the patient called our clinic because of concern. We explained to her to continue the treatment and by the second month there was a trend of improvement.
Photos after 5 months
New and active acne has disappeared and acne scars have healed without much pigmentation or unevenness.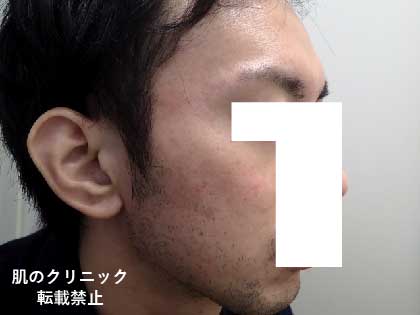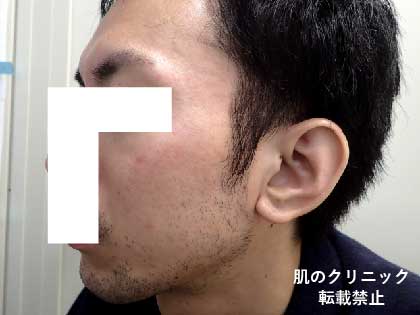 Commentary
Isotretinoin treatment may cause a transient exacerbation of acne in approximately 30% of patients during the first month.
If an exacerbation occurs, the patient should avoid irritating the acne as much as possible and continue the medication as it is. If symptoms are severe, we may also prescribe antibiotics or other medications, but most patients have been on multiple antibiotics for a long period of time before coming to our clinic, and in many cases they are ineffective due to problems such as resistant bacteria.
How he came to our clinic
The acne started seven years ago, and from four years ago to the present there have been multiple papules and pustules (white pimples) on the entire face. She has received various treatments, including over-the-counter acne treatments, peeling soaps, insurance antibiotics, vitamins, herbal medicines, topical agents such as Differin gel and Bepio gel, and Clear Touch (phototherapy), but as they did not cure her acne, she came to see us.
[Past treatment history]
over-the-counter acne medication (several types), peeling soap, vitamins, antibiotics (cefuroxime, roxithromycin), Chinese herbal medicine (katsurazine, yokuinin, tokki peony, bokkakerengyo-tou), topical agents (aquatim cream, darasin lotion, deferin gel, bepio gel), and Light therapy (Clear Touch)
Photos before treatment
There is a high incidence of papules and partly pus-filled white pimples on the entire face, especially on the cheeks and chin. Numerous acne scars (atrophic scars) are also present.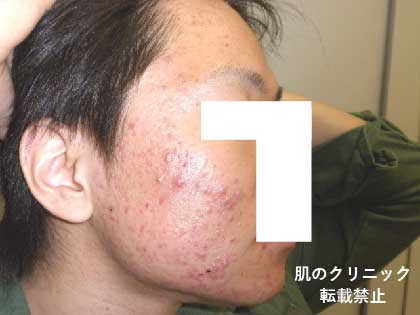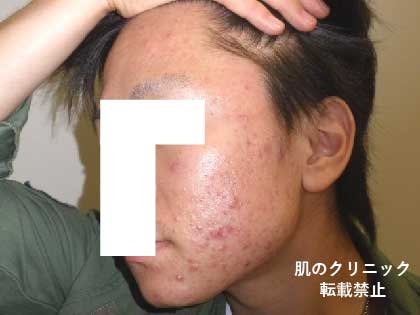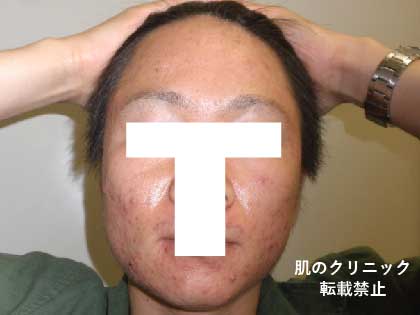 Treatment with isotretinoin was initiated.
Photos after 1 month
Initial deterioration is observed on the entire face. Numerous pustules have appeared and the dose of isotretinoin was increased.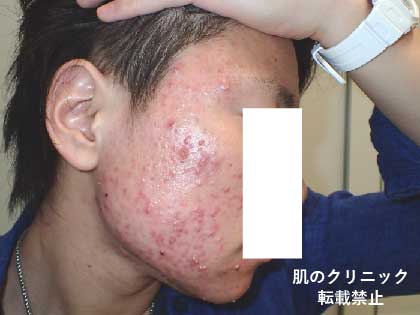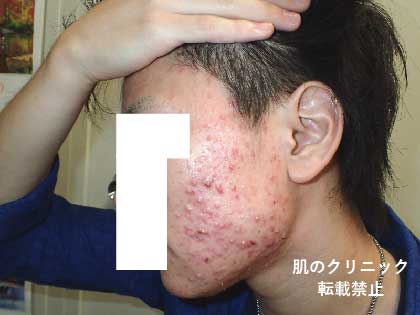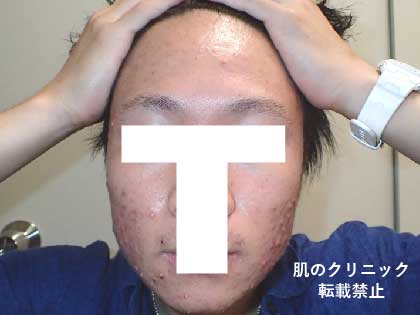 Despite her acne getting worse, she said, "It's got worse, but I don't mind because it was explained to me at the beginning." He was positive about the treatment.
Photos after 5 months
Improvement after three months was also poor, so isotretinoin was further increased and by the fifth month both red inflammatory acne and white acne with pus had disappeared.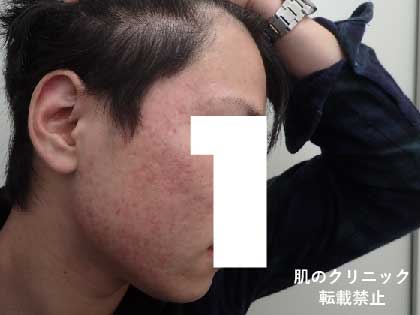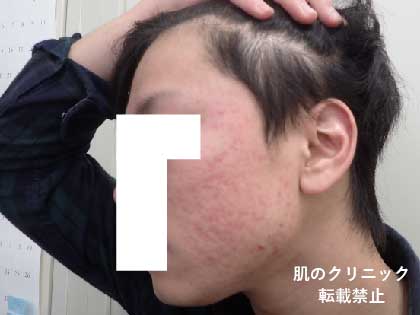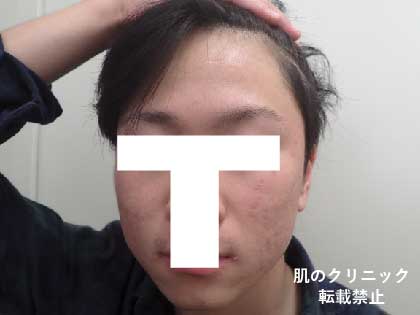 Commentary
Red acne is the common name for red, swollen, inflamed acne. White acne is acne with pus. Blackheads, also known as blackheads, are pimples where the sebum on the head of the pimple has oxidised to a black colour.
Some pages categorise acne by colour and explain the treatment for each, but this makes no sense at all. This is because the cause of acne is the clogging of the sebaceous glands, and the colour is merely a verbal description of the subsequent condition.
There is no difference in the treatment of red or white acne. However, in some cases, black acne is simply a blockage of sebum causing oxidation, which can be treated with normal skin care and peeling if no inflammation is detected.
If there is a poor response to isotretinoin, the dose of medication must be increased.
Many patients do not like the initial aggravation, but as this is explained on the sheet at the beginning, few patients stop halfway through the treatment. The patient in the case study was also able to cure his acne because he was positive about the treatment. If he had given up the treatment halfway through, he would not have been cured.
How he came to our clinic
Teenage male patient who had been treated by insurance since the age of 16 by attending the dermatology department of his local doctor for several years. He was prescribed and took antibiotics for a total of 2 or 3 years, but he did not improve and came to see us.
Photos before treatment
Papules, nodules and pustules are observed throughout the scalp, from the mid- to nape of the neck to the back to the waist. There are numerous red and reddish-black acne scars due to many years of repetition.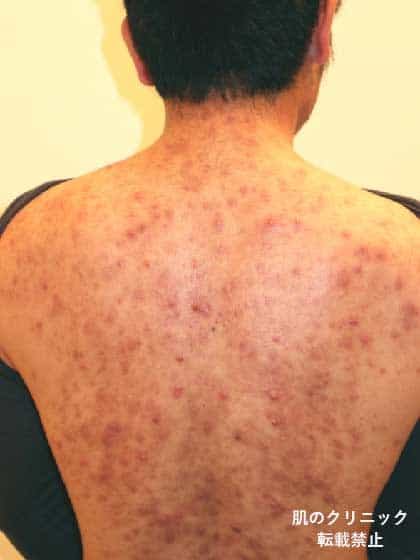 Treatment with isotretinoin was initiated.
Photos after 6 months
This photograph was taken six months after the start of treatment. The inflammation has subsided and the pustular acne has healed, although a number of acne scar pigmentations remain.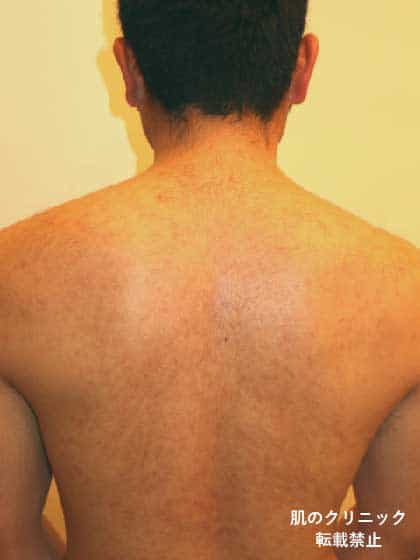 Commentary
At the initial consultation, it was explained that isotretinoin is an acne treatment and has little effect on improving acne scars, but it actually increases skin turnover, which can also improve the redness of acne scars.
This patient was satisfied with the state of her skin after 6 months and did not wish to have laser or peelings or other acne scar treatments. The decision to treat the marks after the acne has healed is based on the patient's wishes.
How he came to our clinic
Male in his 20s, suffering from acne on his face as well as on his back, chest and other parts of his body since the age of 12. 9 years of long-term insurance treatment, including antibiotics such as Minomycin Lurid, vitamins B and C, pantothenic acid, Epiduogel, Differin Gel and Bepiogel. The patient came to our clinic because, according to her, there had been no improvement at all despite regular use of ointments.
Photos before treatment
On initial examination, erythema and papules were present on the entire back and scattered on the chest. There was also a lot of redness and hyperpigmentation from acne scars, some of which were hypertrophic scars (raised).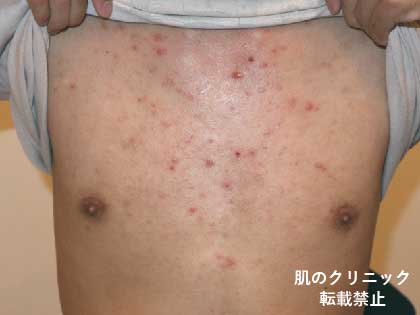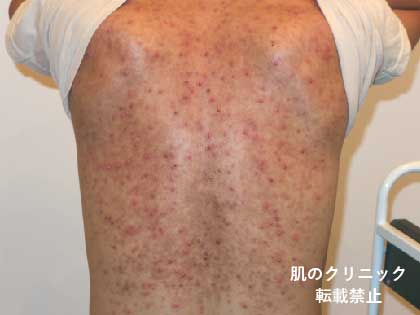 Treatment with isotretinoin was initiated.
Photos after 5 months
The inflammation on both the chest and back has subsided and the acne has improved.
The chest has several raised acne scars called 'hypertrophic scars'. The back appears mottled due to the red pigmentation of the acne scars.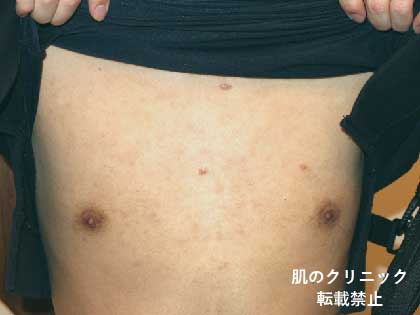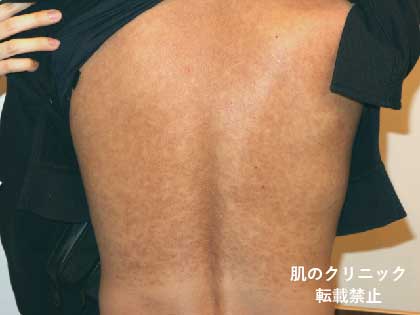 Acne scar hyperpigmentation and hypertrophic scarring
If, as in the case of this patient, acne has been occurring repeatedly for as long as nine years, acne scars will remain.
With the right treatment, it is not difficult to cure acne, but acne scars can remain for life. The important thing is to treat severe acne as early as possible. The earlier it can be treated, the less risk of keloids and scarring.
Patients whose photographs are published have given written consent for publication. Photographs taken during consultations are for medical records and are protected by the Personal Data Protection Act. Please be assured that they will not be published without your consent.
Who may not be eligible for isotretinoin treatment
The following people can not receive acne treatment with isotretinoin.
Those who are with only mild acne (isotretinoin is indicated for acne that did not improve after treatment covered by Japanese health insurance, or moderate or severe acne that recurs repeatedly).
Those who are under 15 years of age (consult your doctor as it may stop long bone growth).
Those who are with a history of ulcerative colitis, Crohn's disease or serious liver disorders.
Those suffering from mental illness (Generally, patients suffering from depression, schizophrenia or other mental illnesses are not eligible for treatment). Patients who are currently fully recovered should discuss with doctors).
Those who are pregnant, under breast feeding, planning to get pregnant within a year
Patients undergoing laser or light hair removal (during treatment, a period of one month is necessary after stopping treatment)
Those who had LASIK treatment in the past 6 months
Those who have aspirin asthma or are allergic to isotretinoin products/parabens/soy/peanuts.
The most frequent side effect of isotretinoin is dryness of the skin and lips. Patients should moisturize their skin frequently during the treatment.
All patients must understand the teratogenic risk of isotretinoin. Pregnancy is an absolute contraindication to treatment with isotretinoin. Women of childbearing potential have to use effective contraception during and up to one month after treatment. If pregnancy does occur during the treatment or in the month following in spite of these precautions, there is a great risk of very severe and serious malformation of the fetus.
In Japan, we instruct patients to prevent pregnancy for up to 6 months after the treatment. The reason why we set up to 6 months is that we get a safety margin because the treatment data of the Japanese was small.
There are also other side effects such as bone, muscle, and joint pain, headache, redness of your face and so on. We will perform a blood test every month because various blood abnormality such as hepatic function disorder may occur.
Since various other side effects have been reported, at our clinic, we will give you an information sheet "About the side effects of isotretinoin" to patients and explain them on your first examination.
Fees (included tax)
Our clinic offers the a treatment price because the number of acne treatment cases with isotretinoin is the largest in Japan. However, the acne treatment with isotretinoin is not covered by insurance, so it may be expensive. Please check the prices before visiting our clinic.
| | |
| --- | --- |
| Isotretinoin 10mg [1 tablet] | ¥308 |
| Isotretinoin 20mg [1 tablet] | ¥418 |
consultation fee
First visit ¥3,850
Revisit ¥1,650
Isotretinoin 10mg [30 tablets]
¥9,240
Examinations fee
Blood test ¥3,608
Urine test (female only) ¥1,056
Total fees
¥14,498 ~ ¥17,754
consultation fee
First visit ¥3,850
Revisit ¥1,650
Isotretinoin 20mg [30 tablets]
¥12,540
Examinations fee
Blood test ¥3,608
Urine test (female only) ¥1,056
Total fees
¥17,798 ~ ¥21,054
consultation fee
First visit ¥3,850
Revisit ¥1,650
Isotretinoin 20mg [60 tablets]
¥25,080
Examinations fee
Blood test ¥3,608
Urine test (female only) ¥1,056
Total fees
¥30,338 ~ ¥33,594
consultation fee
First visit ¥3,850
Revisit ¥1,650
Isotretinoin 20mg [90 tablets]
¥37,620
Examinations fee
Blood test ¥3,608
Urine test (female only) ¥1,056
Total fees
¥42,878 ~ ¥46,134
consultation fee
First visit ¥3,850
Revisit ¥1,650
Isotretinoin 20mg [120 tablets]
¥50,160
Examinations fee
Blood test ¥3,608
Urine test (female only) ¥1,056
Total fees
¥55,418 ~ ¥58,674