Acne (acne vulgaris)
Acne is a skin disease called "acne vulgaris" in medical terms. It occurs when acne bacteria multiply and cause inflammation by clogging pores. Many of them start to develop from the adolescence of teenagers, but in the case of adult acne, there are things that can be done from the 20s and 30s, and there are things that can be done even in the 50s and later.
Because it is a very common skin disease, we often see advertisements for cosmetics and esthetics that cure acne, but I think that mild ones can be dealt with with skin care and lifestyle improvement, medicine at the pharmacy, but it is recommended to treat more than moderate or repeated acne at a medical institution.
Causes of acne
Acne patients try to find the cause of acne in their lifestyle.
"Is the food bad?"
"Because you didn't wash your face, or because you didn't remove your makeup?"
"Is it because of stress?"
"Are you allergic to something?"
"Are the cosmetics not suitable?"
I am worried that there must be some cause of acne, but in fact, acne is mostly genetic and constitutional factors.
There are people who have clean skin even if they follow the same lifestyle habits, and there are also people who can have acne. And many patients who are chronically suffering from acne and rough skin are already doing the right lifestyle and skin care, and even then it does not improve.
For details on the causes of acne, please refer to "Causes of acne, relationship with diet and lifestyle habits".
Treatment of acne
For information on our hospital's acne treatment, please see the following page.
Japan Acne Treatment Problems
Since Japan's acne treatment is delayed for more than 40 years, it is full of beauty treatments with little medical evidence and advertisements for cosmetics and quasi-drugs.
Aesthetic Treatment
In Japan, there are various cosmetic treatments such as burning by putting electric needles (high frequency) in pores, irradiating with light and LEDs, PDT, peeling, iontophoresis, laser treatment, acne injections, acne vaccines, etc.
However, the guidelines of the American Dermatological Society do not recommend these treatments, and the medical evidence is not clear.
Cosmetics
On the Internet, you will see a lot of cosmetics that cure acne.
I also see many comments such as "If I use this cosmetics, my acne has improved". However, there are many cases where such reviews are misconceptions (naturally cured), advertisements by advertising companies, and affiliates (it will be profitable if you introduce products and sell them).
Acne often gets better or worse naturally in the menstrual cycle or at a certain time, and if it gets better just at the timing of changing cosmetics, it is easy to misunderstand that it was "cured by cosmetics", or it is a common pattern that what has worsened acne with cosmetics and skin care that does not fit is normalized by changing cosmetics.
None of the cosmetics have been recognized as having the efficacy to cure acne. In particular, people with repeated relapses and severe acne should not be misled by various cosmetic information.
Non-edicinal Product
We often see quasi-drug advertisements that advertise that "it contains pharmaceutical ingredients, not cosmetics, so it is effective for acne."
Quasi-drugs can claim the efficacy effect of "preventing acne" if they contain a certain concentration of "dipotassium glycyrrhizinate", but the effect of glycyrrhizic acid 2K to prevent acne is weak and limited.
Some cosmetics and quasi-drugs feature celebrities, dermatologists, and beauty influencers, advertise in medical journals, advertise as clinically tested, and advertise their efficacy by posting before-and-after photos with surprising improvement effects.
If you are publishing in a medical paper and confirming the "dramatic improvement effect", it is hundreds of times more profitable for the company to obtain official approval and sell it as a drug.
Many dermatologists appearing in such advertisements are name-lending, and most of the medical papers in which cosmetics were published are medical journals of 3rd rate or less. Such medical journals, even if they have a history, have only been published for a long time, and only papers with little evidence are published.
If you search for such products on the net, most of them are advertising blogs (stemma sites where companies pay writers to write) or affiliate sites that pretend to be consumers.
In today's Japan, the hype of cosmetics and quasi-drugs that have no effect is allowed to go unchecked, so increase your net literacy and don't be fooled by advertising.
Correct Acne Treatment
Acne treatment is delayed in Japan, but in Europe and the United States, acne treatment policies have been established.
Insurance Treatment
In our hospital, we treat acne that can not be cured by insurance. Before we go to our hospital, we recommend that you first receive insurance treatment at a dermatologist near you. (Because it will be a mixed medical treatment, we do not provide insurance treatment at our hospital.) )
The medications prescribed for acne by health insurance are mainly as follows.
| | |
| --- | --- |
| 種類 | 薬剤名 |
| 抗生物質内服 | ミノマイシン、ミノサイクリン、ビブラマイシン、ルリッド、ロキシスロマイシン |
| 抗生物質外用 | ダラシン、アクアチム、ゼビアックス、デュアック |
| 漢方薬 | 清上防風湯、十味敗毒湯、桂枝茯苓丸ヨクイニン、芍薬甘草湯、当帰芍薬散、加味逍遙散、荊芥連翹湯、温経湯 |
| ビタミン類 | シナール、ハイチオール、フラビタン、ピドキサール |
| アダパレン外用 | ディフェリンゲル、エピデュオゲル |
| ベンゾイル外用 | ベピオゲル、エピデュオゲル、デュアック |
*Epiduo gel is a mixture of adapalene and benzoyl, and Duac is a mixture of daracin and benzoyl.
According to the guidelines of the Japan Gentlematological Society of 2016, topical antibacterial drugs (antibiotic topical ointments), topical topical antimicrobials (antibiotic topical creams), topical ointments, and topical topicals such as adapalene and benzoyl peroxide are recommended as Degree A for acute inflammatory acne 1.
Treatments not covered by insurance
Skin clinics follow the guidelines of the American Academy of Dermatology to offer two treatments: Accutane treatment and hormone treatment.
Acne Treatment Abroad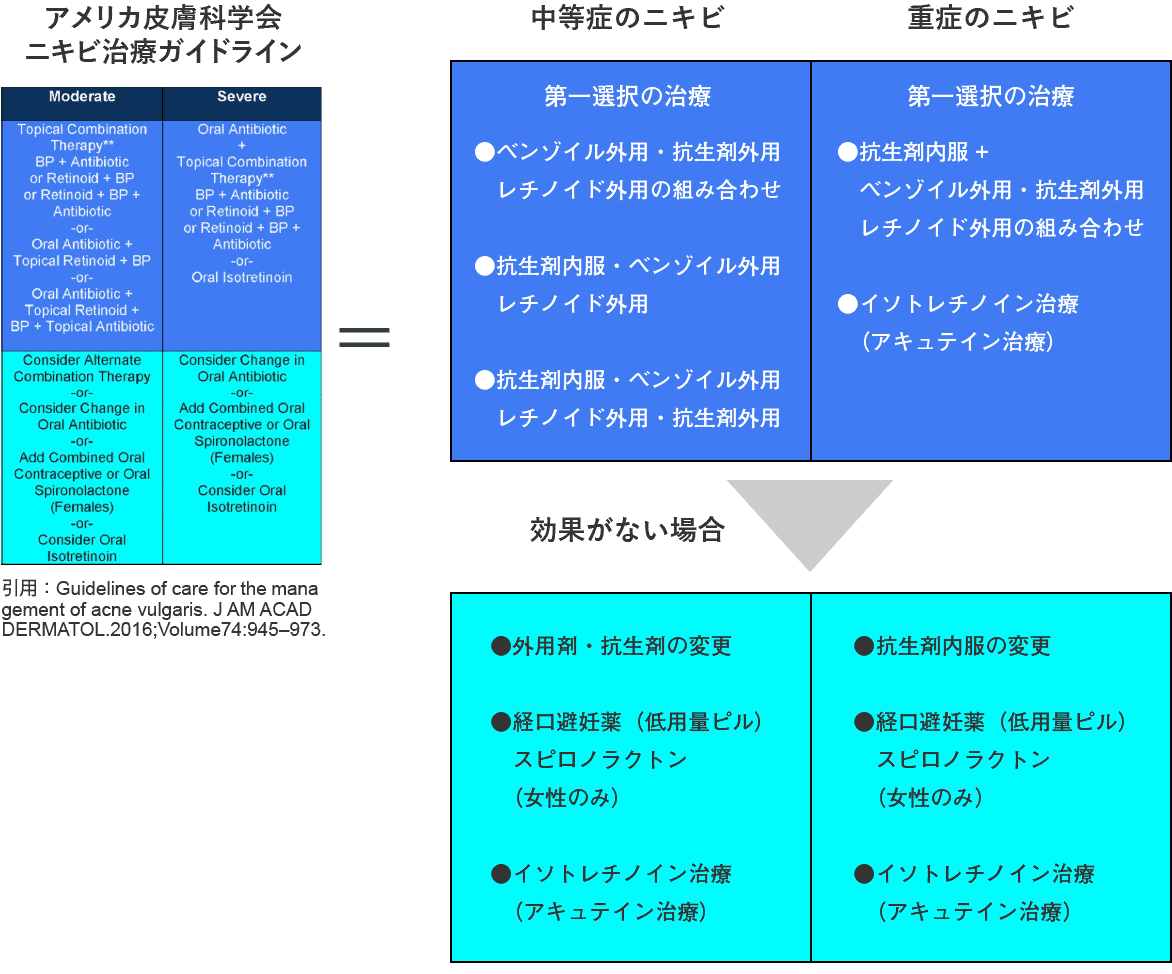 The American Academy of Dermatology's acne treatment guidelines recommend a combination of antibiotics (antibiotics) and topical creams such as benzoyl or accutane (isotretinoin) as a first-line drug in severe cases.2
In the case of moderate illness, in the absence of antibiotics and other effects, accutane or hormone therapy (low-dose pill spironolactone) is selected.
In Europe and the United States, the usefulness of long-term administration of antibiotics has been clearly denied, and it is said that it is about 8 weeks at the longest.
Treatments based on medical evidence
We employ medically evidence-based treatments. In fact, based on the acne treatment guidelines of Europe and the United States, treatment is performed according to the severity of acne and the wishes of the patient.
Fundamental treatment from inside the body
Rather than treatment from the outside such as laser, peeling, or light treatment, we conduct "treatment from the inside" with taking medicine to minimize the risk of recurrence as much as possible.
In addition, at our hospital, doctors explain the merits and demerits in detail, conduct regular side effect tests, and provide treatment with an emphasis on safety.
The Importance of Early Treatment
With the right treatment, it is not difficult to cure acne.
However, there is no end to the cases where acne can continue to be prescribed medicine for months or years without being cured, or cases where treatment without evidence is recommended.
In the case of moderate or higher acne, pores may open or skin irregularities called craters may be formed, and it is not uncommon for acne scars to remain for a lifetime.
Therefore, our hospital recommends treatment as early as possible and strives not to leave acne scars.
Frequently Asked Questions
Tell me about your acne treatment.
At our clinic, we treat acne that does not improve or repeatedly recurs by improving lifestyle habits and insurance treatment as a prerequisite, at our own expense.
In accordance with the acne treatment guidelines of Europe and the United States, "Accutane treatment" is performed for men and "Accutane treatment" or "Hormone treatment" is performed for women.
What are your treatment results?
Treatment results at our clinic are more than 95% for hormone treatment and more than 98% for isotretinoin treatment. The recurrence rate of hormone treatment is high, more than 60%, and the recurrence rate of isotretinoin treatment is 30%.
Why is it necessary to treat acne from the inside out?
At our clinic, we believe that it is important to "cure acne from inside the body by internal medicine". In fact, the American Academy of Dermatology's acne treatment guidelines also recommend oral treatment for moderate to severe refractory acne.
Acne is not just a skin problem, but is caused by internal problems in the body, such as hormonal balance and immunity. An external approach using lasers, light treatments, peeling, and topical preparations will not prevent new acne from appearing, even if existing acne and acne scars get a little better.
In order, it is important to treat mild to moderate cases with topical medicines within the insurance, and to treat acne with moderate or moderate or higher acne from the inside first, and then approach from the outside. After curing acne, we will perform an external approach such as laser or peeling (acne scar treatment).
If you make a mistake in this order, even if you get better temporarily by receiving peeling or lasering, you will be careful because you will fall into a vicious cycle where new acne will be formed again and it will become an acne scar.
Does your insurance cover it?
No. All acne treatments at our clinic are self-funded.
Bibliography
Nobukazu Hayashi et al., (2017) "Guidelines for the Treatment of Acne Vulgaris 2017″ Journal of the Japanese Epidermis: 127(6), 1261-1302, 2017
Andrea L. Zaenglein, (2016) "Guidelines of care for the management of acne vulgaris" J Am Acad Dermatol. 2016;74:945–73.
Mayo Clinic "Acne." https://www.mayoclinic.org/diseases-conditions/acne/symptoms-causes/syc-20368047 2019.03.04 Access
"A pilot study to determine the short-term effects of a low glycemic load diet on hormonal markers of acne: a nonrandomized, parallel, controlled feeding trial." Mol Nutr Food Res. 2008 Jun;52(6):718-26. doi: 10.1002/mnfr.200700307. PMID: 18496812
Cordain L, (2005) "Implications for the role of diet in acne." Semin Cutan Med Surg. 2005 Jun;24(2):84-91. DOI: 10.1016/j.sder.2005.04.002 PMID: 16092796
Cordain L, (2003) "Hyperinsulinemic diseases of civilization: more than just Syndrome X." Comp Biochem Physiol A Mol Integr Physiol. 2003 Sep;136(1):95-112. PMID: 14527633
Adebamowo CA, (2005) "High school dietary dairy intake and teenage acne." J Am Acad Dermatol. 2005 Feb;52(2):207-14. DOI: 10.1016/j.jaad.2004.08.007 PMID: 15692464
Aghasi M, (2018) "Dairy intake and acne development: A meta-analysis of observational studies." Clin Nutr. 2019 Jun;38(3):1067-1075. doi: 10.1016/j.clnu.2018.04.015. Epub 2018 May 8. PMID: 29778512
Bataille V, (2002) "The influence of genetics and environmental factors in the pathogenesis of acne: a twin study of acne in women. " J Invest Dermatol. 2002 Dec;119(6):1317-22. DOI: 10.1046/j.1523-1747.2002.19621.x PMID: 12485434
Quynh-Giao Nguyen, (2016) "Diet and acne: an exploratory survey study of patient beliefs" Dermatol Pract Concept. 2016 Apr; 6(2): 21–27. doi: 10.5826/dpc.0602a05 PMID: 27222768
Appointments and Enquiries
For return visits, please inform us of your 'consultation ticket number' when making an enquiry.
●Hada no clinic Koenji
(
TEL 03-5913-7435
)
4F Anfini Building, 4-6-7 Koenji Minami, Suginami-ku, Tokyo
Mon.~Sta. : 10:30 am - 1:30 pm / 3:30 pm - 6:30 pm
Sun. and Public holiday : closed
●Hada no clinic Kojimachi
(
TEL 03-6261-7433
)
B1F Chichibuya Building, 3-7-4 Kojimachi, Chiyoda-ku, Tokyo
Mon.~Fri. : 11:00 am - 2:00 pm / 4:00 pm - 7:00 pm
Sta. and Sun. : 10:00 am - 1:00 pm / 3:00 pm - 6:00 pm
Public holiday : closed
*Full appointments are required.
*We are very sorry, but sometimes it is difficult to get through on the phone due to the high volume of calls. We ask for your understanding as we have a limited number of staff.
*Please note that a separate 'telephone re-consultation fee' will be charged if a doctor responds to medical questions.