Botox / Coretox for Wrinkles and Jaw line Treatment
Expression lines on the forehead, between the eyebrows and at the corners of the eyes gradually become deeply etched over the years, giving a rugged, aged appearance. Botox injections relax the muscles and eliminate expression lines.
Microbotox / Microcoatox is a method of injecting fine botulinum toxin. It can be used in areas where fine lines and wrinkles are a concern, improve skin texture and improve pores through sebum suppression.
For those with well-developed masseter muscles (like a square jaw), Botox can be injected to slim the muscles and create a shapely, contoured, small face effect.
Who is recommended for Botox / Coretox?
Those who are concerned about wrinkles that form when they move their facial expressions, such as when they smile or frown.
Those who have fine wrinkles around the mouth and chin.
Those with well-developed masseter muscles. (square jaw)
Those who are concerned about their gums showing when they smile.
Those who are concerned about the corners of their mouth drooping.
Indications for Botox / Coretox injections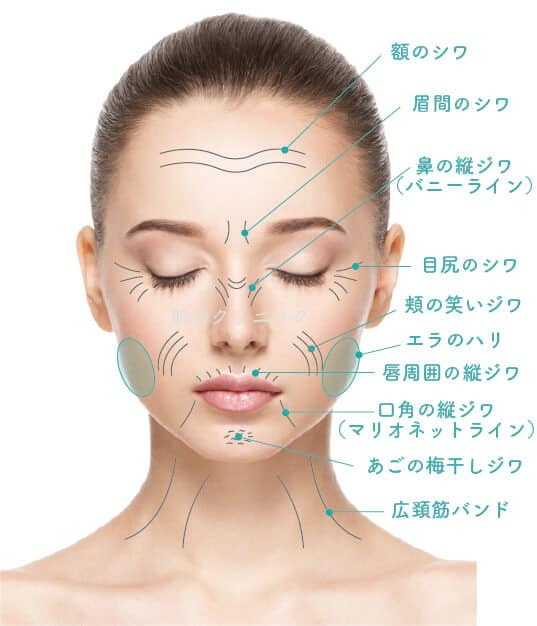 Botox is not indicated for wrinkles that are already deeply etched. The treatment relaxes the muscles and improves wrinkles caused by facial expressions such as smiling or frowning, preventing them from becoming habitual.
It is recommended to treat wrinkles while they are still young. Even if wrinkles have already formed, they can be prevented from becoming deeper.
Flow of treatment
The actual Botox / Coatox treatment process is as follows. For more information on the formulation and needles used, see the 'Botulinum toxin (Botox / Coretox) Treatment' page.
Medical consultation, injections and records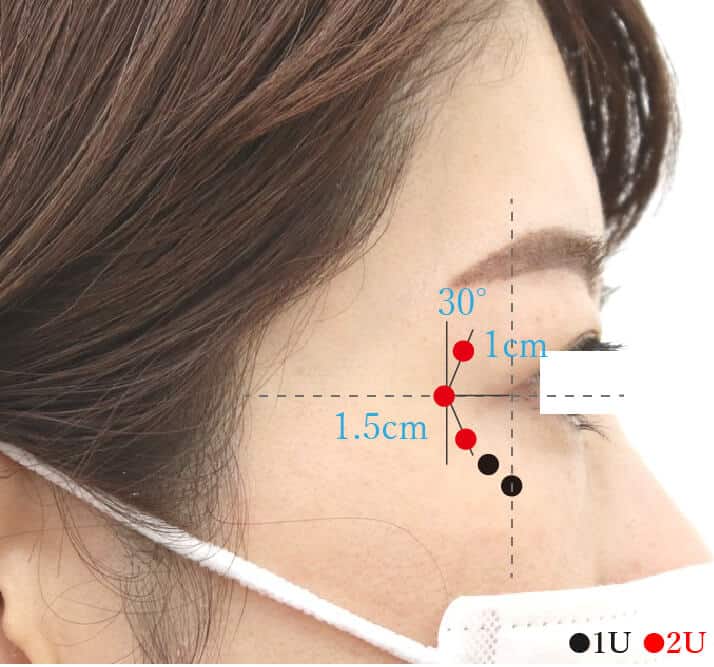 The injections are made by having the muscles moved to determine how the wrinkles are formed and the muscles being worked on.
All information about the injection site, depth and number of units is recorded in the medical record, along with photographs, so you can be assured of a second and subsequent treatments.
After 2 weeks (free touch-ups*)
The effects of Botox are maximal after two weeks. Muscle movement and wrinkle formation are examined to determine whether the treatment is being carried out in the correct area and scope, and whether too much or too little is being administered.
If the effect is insufficient, additional injections will be given free of charge. If the effect is too strong, injections of acetylcholine chloride, a botulinum toxin relief preparation, can also be given.
As the size and movement of muscles varies greatly from person to person and the effect of Botox varies from person to person, the area and number of units will be recorded in the medical record for the next treatment.
*Touch-ups are only applicable for wrinkle treatment and not for treatment of jaw line, hyperhidrosis or hay fever. Only the same area and one injection is free of charge (up to three injections of acetylcholine chloride, a botulinum toxin palliative). Please note that a separate re-visit fee is charged for each visit. After three weeks (or the day before if three weeks later is a holiday) after treatment, a fee will be charged.
*Because of the busy consultation schedule, it may not be possible to make an appointment if you make an appointment at short notice. We recommend that you make an appointment for two weeks later on the day of treatment, as you will still be charged if three weeks have passed without an appointment being made.
After 3-4 months
At this time, the effect of Botox is reduced.
Please allow a period of at least three months before scheduling another appointment. The injections will be performed again.
Photographs of Botox injections
These are cases of Botox injections at our clinic. Both photographs were taken with the patient putting maximum effort into their face.
Even if the wrinkles do not disappear when you put your maximum effort into your face, if the wrinkles are less likely to appear with the expressions you often use in your daily activities (smiling, frowning, looking up, etc.), it will be enough to prevent wrinkles. As unnecessarily high doses increase the risk of 'unnatural facial expressions' and 'increased production of antibodies', injections are first given at the standard dose for each area.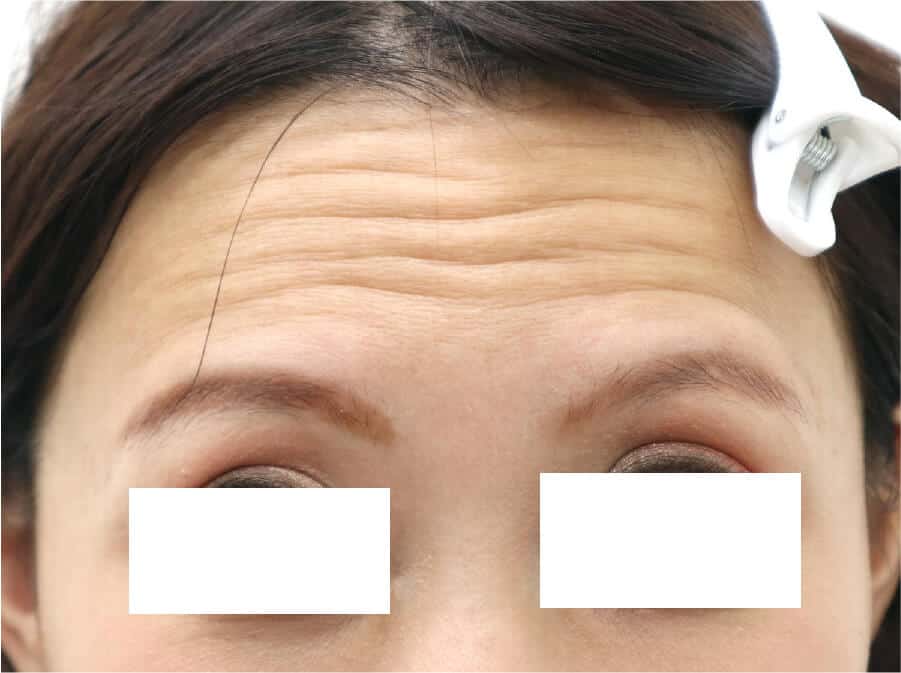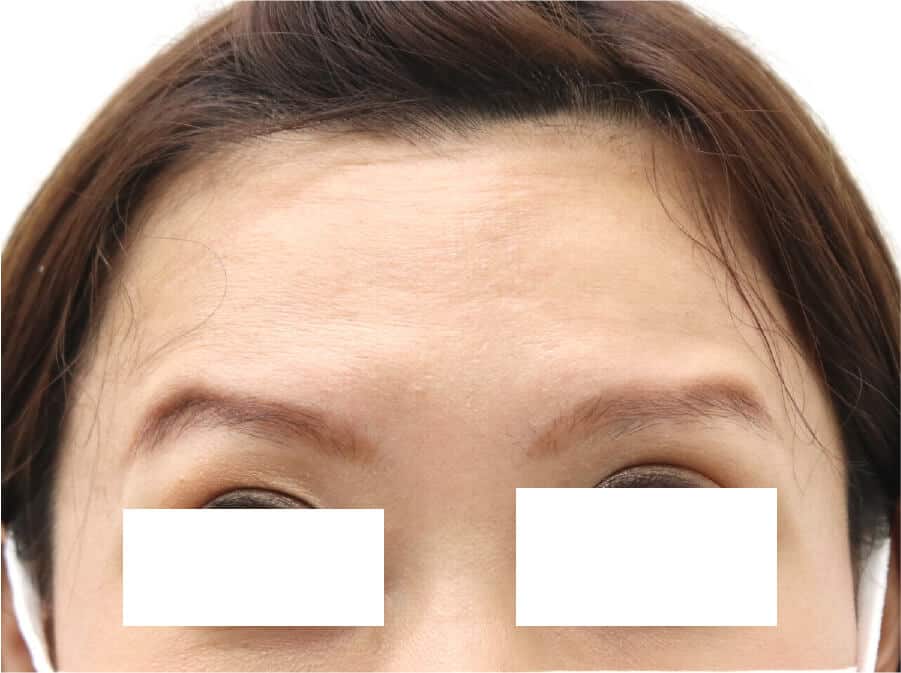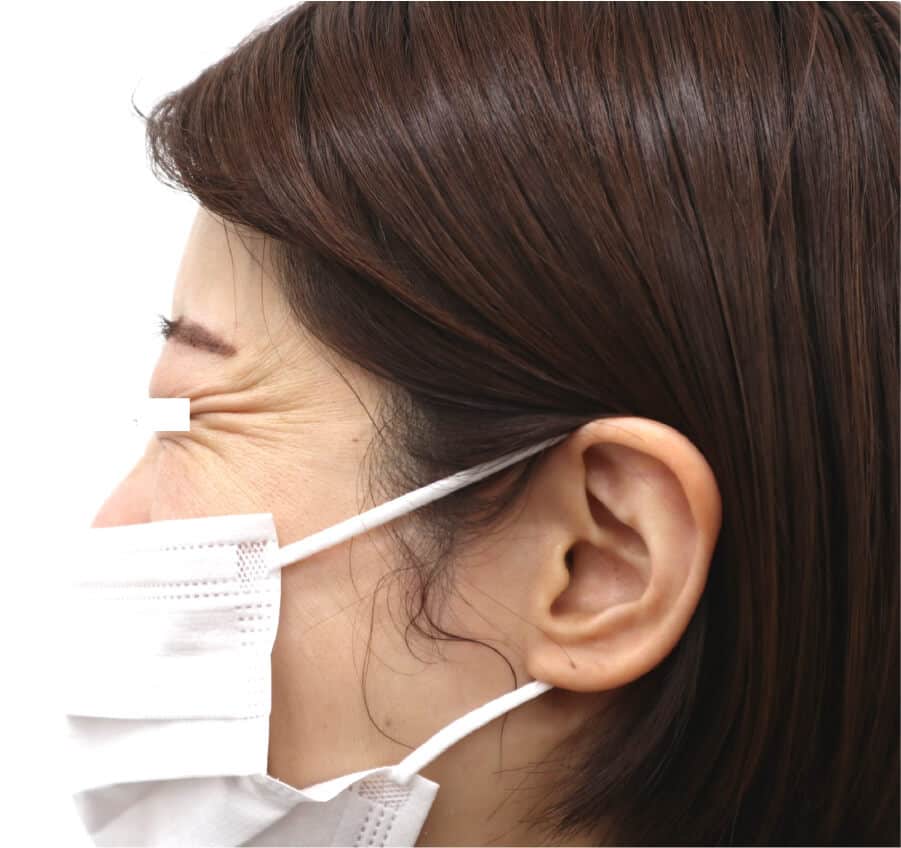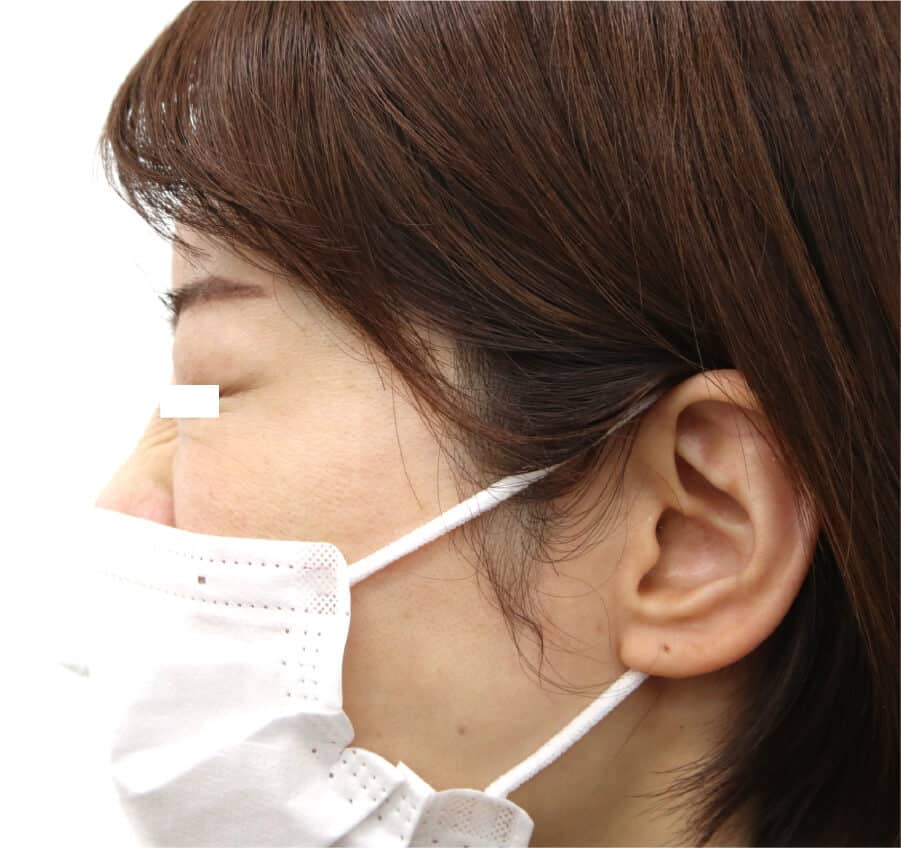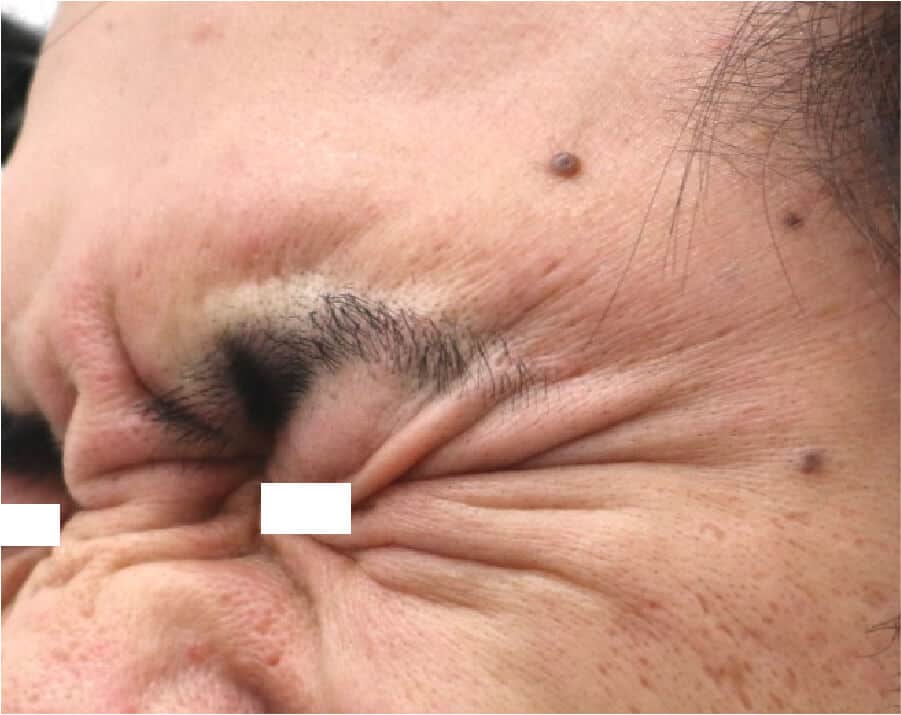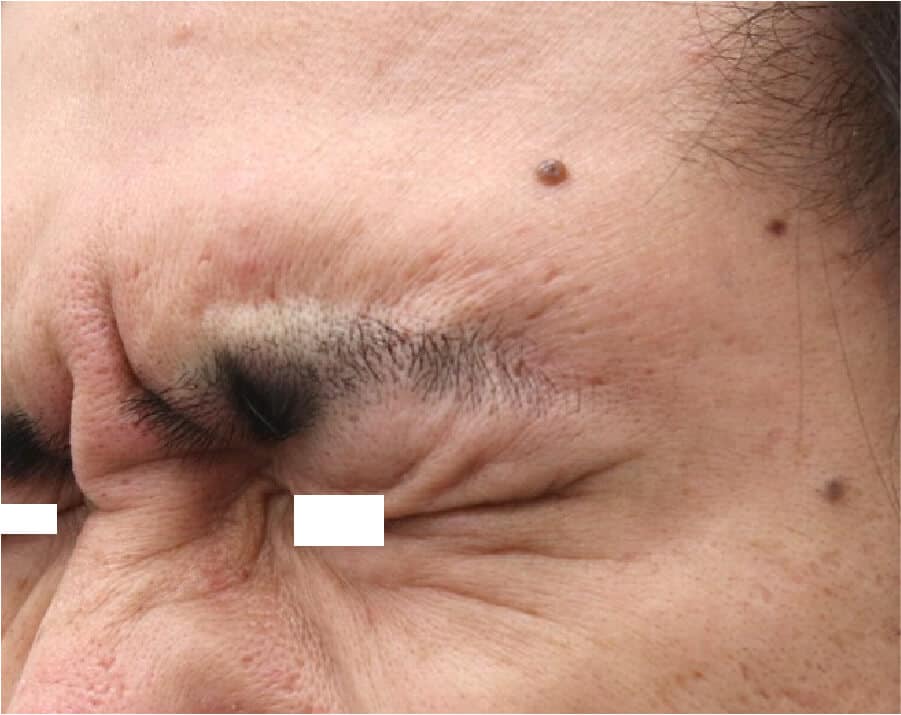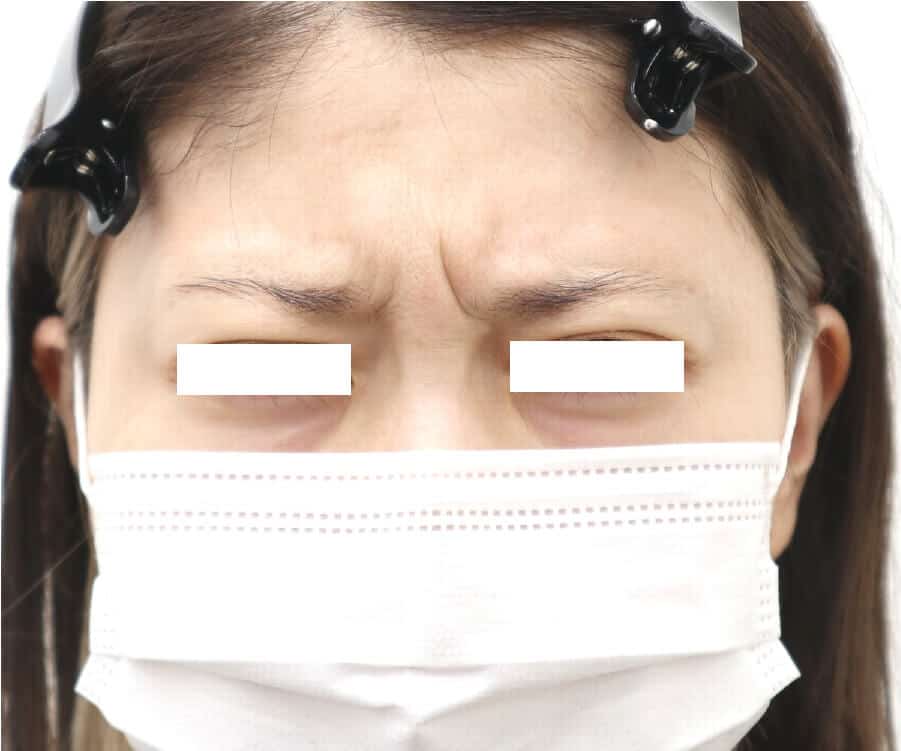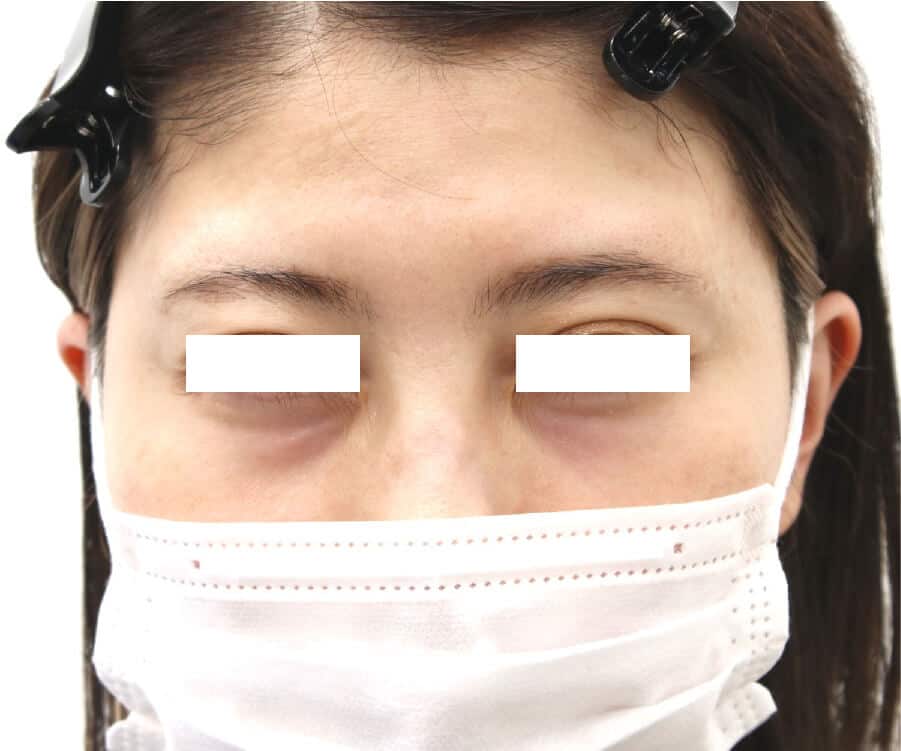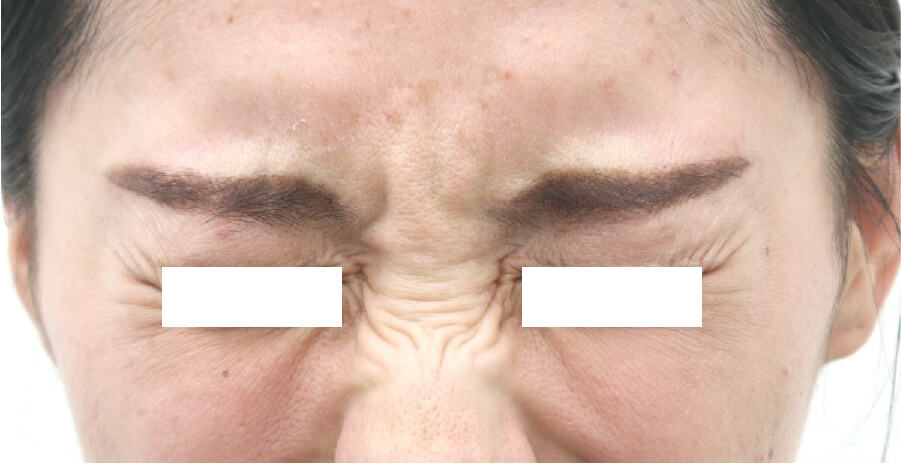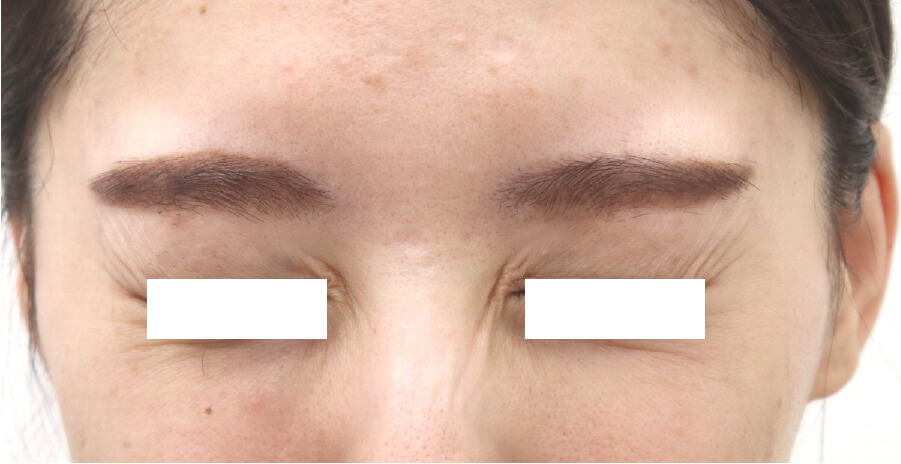 Side effects and precautions
For information on side effects and post-treatment precautions, see 'Botulinum toxin (Botox / Coretox) Treatment'.
How to make a appointment
Botulinum toxin treatment is by telephone appointment only, please call the respective clinic.
Fees (tax included)
Consultation fee, others
Consultation fee
First visit ¥3,850
Repeat visit ¥1,650
Anesthesia
Lidocaine patch ¥330 for each
Cream anesthesia ¥3,300
Doctor consultation is necessary before CORETEX injections, and consultation fee will be charged each time

.
Wrinkle treatment
Touch-up
Free
Forehead
¥29,810
Frown lines
¥29,810
Crow's feet
¥29,810
Vertical wrinkles of the nose
(Bunny lines)
¥24,860
Gummy smile
(gums being excessively visible)
¥24,860
Smile lines (cheek)
¥29,810
Verticla lip lines
¥24,860
Marionette lines
(Vertical wrinkles at the corners of the mouth)
(Mouth corner lift)
¥24,860
Dimpled chin
¥24,860
Neck lines
¥49,500
The above wrinkle treatments are free of charge for one touch-up at the same area after 2 weeks (consultation fee will be charged). Injection of acetylcholine chloride, an antidotes to botulinum neurotoxin, is free of charge up to 3 times.
Touch-ups over 3 weeks (or the day before if 3 weeks is a holiday) after treatment will be charged. Please make an appointment as soon as possible, as you will be charged for touch-up if you are unable to make an appointment and 3 weeks have passed
Microbotox / Microcoretox
| | |
| --- | --- |
| 5U | ¥24,200 |
| 10U | ¥27,500 |
| 20U | ¥34,100 |
| 30U | ¥40,700 |
Free touch-ups are not available for microbotox / microcoretox.
Masseter muscles (Square jaw) treatment
Free touch-ups are not available for masseter muscle treatment.
Appointments and Enquiries
For return visits, please inform us of your 'consultation ticket number' when making an enquiry.
●Hada no clinic Koenji
(
TEL 03-5913-7435
)
4F Anfini Building, 4-6-7 Koenji Minami, Suginami-ku, Tokyo
Mon.~Sta. : 10:30 am - 1:30 pm / 3:30 pm - 6:30 pm
Sun. and Public holiday : closed
●Hada no clinic Kojimachi
(
TEL 03-6261-7433
)
B1F Chichibuya Building, 3-7-4 Kojimachi, Chiyoda-ku, Tokyo
Mon.~Fri. : 11:00 am - 2:00 pm / 4:00 pm - 7:00 pm
Sta. and Sun. : 10:00 am - 1:00 pm / 3:00 pm - 6:00 pm
Public holiday : closed
*Full appointments are required.
*We are very sorry, but sometimes it is difficult to get through on the phone due to the high volume of calls. We ask for your understanding as we have a limited number of staff.
*Please note that a separate 'telephone re-consultation fee' will be charged if a doctor responds to medical questions.