Botulinum toxin(CORETOX®)
CORETOX® is a drug made from a toxin (botulinum toxin) produced by the bacterium Clostridium botulinum and related species. It relaxes the face and improves wrinkles. When injected into the muscles of masseters (one of the muscles that helps you chew) and calves, it can be expected to shape a smaller face and slimmer legs. It also suppresses the secretion of sweat and runny nose, thus improving symptoms of excessive sweating of the axillary, hands and feet, and running nose of hay fever.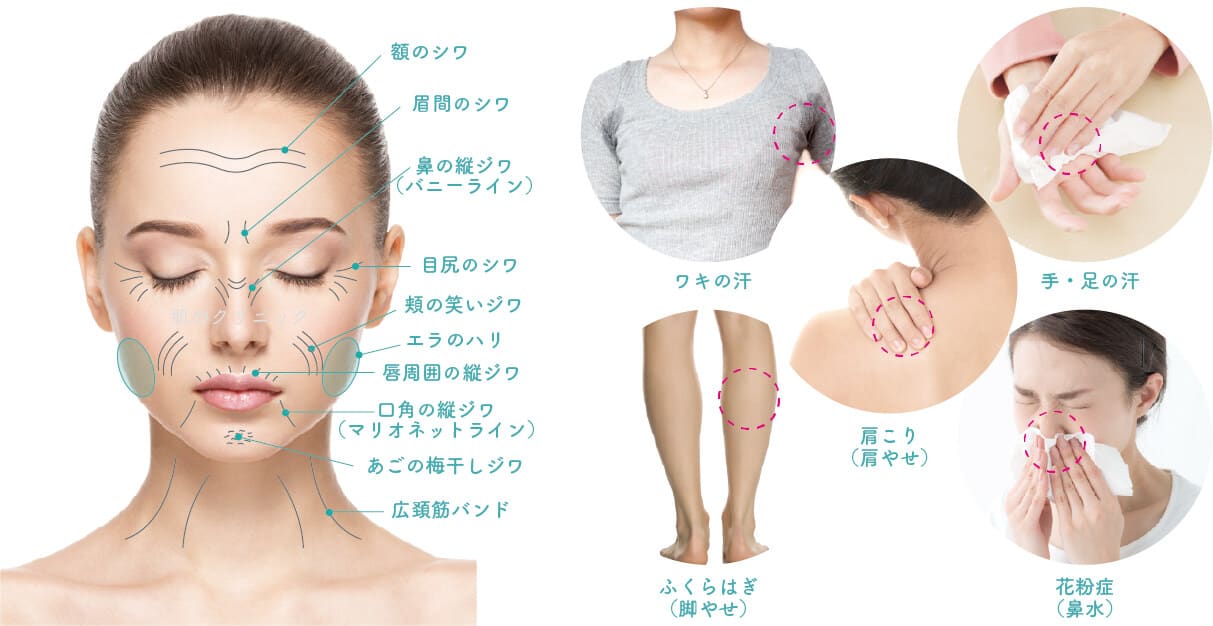 Benefits of Botox injections
Injections into the face can improve wrinkles, reduce jaw-line and make the face smaller.
Injections into the armpits, palms and soles of the feet improve hyperhidrosis.
Injections into the shoulders and calves improve stiff shoulders and slim the legs.
By injecting drops into the nose, it improves runny nose from hay fever and rhinitis.
Injected finely into the skin (Microbotox), it suppresses sebum.
Features of CORETOX
Our clinic uses CORETOX manufactured by the Korean company Meditox. Previously, we also handled BOTOX VISTA made by Allergan Japan, but we no longer do so, as many patients prefer CORETOX.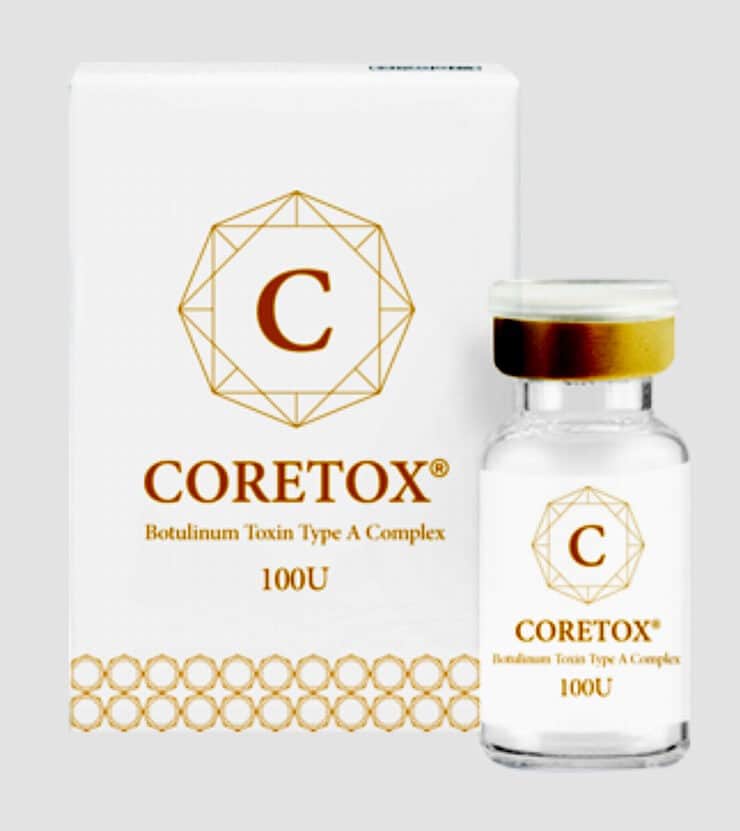 CORETOX® is a formulation that uses the same botulinum strain as BOTOX VISTA and is free of "human serum albumin" and "animal-derived materials". Furthermore, the risk of antibody production (resistance to Botox) is reduced by removing "complex proteins".
Although it is an MFDS (Ministry of Food and Drug Safety)-approved drug in South Korea, it is not approved by the Ministry of Health, Labour and Welfare of Japan so it is not indicated for Relief Systems for Adverse Drug Reactions if there are any severe side effects that occur after treatment.
Comparison of Coretox and Botox Vista
| | CORETOX | BOTOX VISTA |
| --- | --- | --- |
| Strain of bacteria | Hall Hyper | Hall Hyper |
| Approved in Japan | No | Yes |
| Human serum albumin | Not contained | Contained |
| Animal-derived raw materials | Not contained | Contained |
| Complex protein | Removed | Contained |
To learn more about botulinum toxin preparations used in aesthetic medicine, see also the following articles.
Needles used for injections
Our clinic uses the thinnest microinjection needles available, 34G (0.18 mm diameter). By using the thinnest needle possible, the frequency of pain and internal bleeding is reduced. (The square jaw are treated with a 33G needle and the calves with a 30G needle.)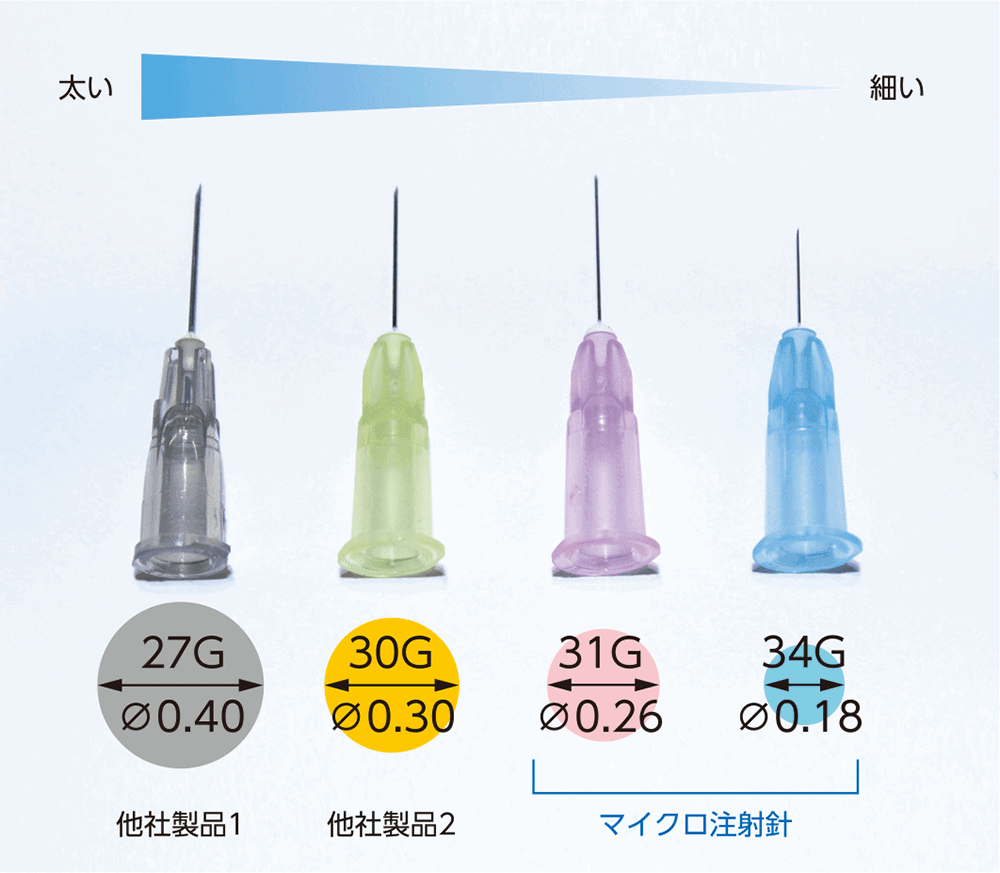 Duration of effects and treatment interval
Since the effect varies from person to person, please consider the following as a guideline for your CORETOX treatment.
Wrinkles: The treatment 8effect appears after 3~4 days, reaches its maximum after 2 weeks, and lasts for 3~4 months. 3~4 month intervals are recommended, but once every 6 months~1 year is also possible as a preventive measure.
Masseters: Symptoms such as tiredness when chewing will appear after 1-2 weeks, but will improve gradually. Usually, the masseter muscle will become smaller about 1 month later. If one treatment is not enough to achieve a good effect, injections are given 3 times every 3~6 months and then whenever you wish. Please also decrease excessive chewing or biting as much as possible in your daily life.
Stiff shoulders: In the case of stiff shoulders, the effect can be seen after a few days, but one treatment may not be sufficient. Injections are given every 3-4 months to reduce shoulder pain/stiffness if necessary.
Trapezius/Shoulder Slimming: Trapezius reduction occurs after 2 weeks to 1 month, but one treatment may not be sufficient. Inject every 6 months when half of the muscles size return is recommended.
Calves: Calf muscle reduction occurs after 1 month. One treatment may not be sufficient so injections are given 3 times every 3~6 months. Since leg muscles are used every day, they tend to return after 6 months to 1 year, so continuous treatment may be necessary after that.
Hay fever: Along with improvement of runny nose symptoms, nasal congestion (stuffy nose), sneezing, and itchy eyes will also be somewhat reduced. The effect begins to appear few hours after treatment and lasts for 2~3 weeks. We recommend treatment for every 2~3 weeks depending on the season of hay fever.
Axillary hyperhidrosis: The effect gradually appears after 3 days and lasts for 3-6 months with 50 units, and 6-9 months with 100 units. By injecting 100 units in the spring, you will not have to worry about sweating in the warmer months throughout the year.
Sweaty palms and soles: The effect appears gradually after 3 days and lasts for 3~6 months.
Dosage and treatment interval
The maximum dose for injection each time is 200 units (or 300 units for calves); for injections of less than 50 units, there are no restrictions on the treatment interval. For injections of more than 50 units, including touch-ups, a period of at least 3 months is recommended to prevent antibody production.
Who cannot receive CORETOX injection
Those with dysphagia, respiratory problems, a history of seizures, or neuromuscular junction disorders or severe muscle weakness throughout the body (myasthenia gravis, Lambert-Eaton syndrome, amyotrophic lateral sclerosis, etc.)
Those who are regnant, breastfeeding, or planning to become pregnant
Patients with a history of allergy to botulinum toxin therapy in the past
Patients with angle closure glaucoma or its predisposing factors (narrow-angle glaucoma, etc.)
Precautions after CORETOX treatment
Avoid rubbing, squeezing, or pressing the injection site.
Please move the facial muscles to create wrinkles in the treated area a little more deliberately 3 hours after the injection,
Please refrain from taking a bath, sauna, strenuous exercise, and alcohol consumption on the same day. Showering and light makeup are no problem on the same day after treatment.

Women should use contraception until the second menstrual period after CORETOX injections. Men should use contraception for at least 3 months after CORETOX injection

.
Do not donate blood for one week after CORETOX injection.
Common side effects for all treatments
Redness, swelling, pain, and heat at the injection site: Usually improves within a few hours to a day.
Internal bleeding: Very rare. It will disappear 1-2 weeks after treatment.
Headache: Occurs in 1~5% of patients. It is usually mild and will disappear in a few hours to few days.
Risks and precautions according to the treatment area
For all wrinkle treatments: Muscle movements may change and wrinkles may appear in other areas. It is important not to increase the dosage of CORETOX too much, as it will fully fulfill its anti-wrinkle effect if wrinkles are prevented from appearing with the facial expressions that are often performed on a daily basis.
Forehead and Frown lines (areas between eyebrows): Eyelid and eyebrow drooping (eyelids and eyebrows droop, eyes become heavier, and difficult to open the eyes) and eyebrow elevation (the outer eyebrows become lifted and there is a difference between the left and right eyebrows) may occur. Rarely, the width of double eyelid may narrow or change. Generally, all the symptoms will gradually improve in about 4 weeks. CORETOX injection to the areas between eyebrows may cause the muscles relax and the space widen. Forehead CORETOX treatment is not recommended for people in their 60s and older.
Crow's feet (the corner of the eye): Brow elevation (lifting of the outer brow) and dry eyes have been reported in few patients.
Bunny lines: Although very rare, symptoms of double vision and running tears (watery eyes) have been reported.
Gummy smile: The philtrum (the indentation above the upper lip) may be elongated and the left and right corners of the mouth may become asymmetrical. When the left and right become asymmetrical, additional injections are made on the side that is elevated to correct the asymmetry.
Smile lines on the cheeks: Smiling may become unnatural or asymmetrical. Usually improves in 2~4 weeks.
Lips: Mouth squeezing movements and whistling may become difficult. It may be also difficult to pronounce "pa, pi, pu, pe, and po".
Jaw: Mouth may become difficult to close, jaw may become elongated, and mouth may become distorted when smiling. The lower lip may become more easily caught between the teeth and the lower lip, or the lower lip may be bitten more easily.
Corner of mouth: Asymmetry of the left and right corners of the mouth may occur, and mouth may be distorted when smiling. Usually improves in 2~4 weeks.
Platysma muscle: Although very rare, the muscles in the center of the neck may relax and sag. Speech, swallowing, and movement disorders have been reported.
Masseters: This treatment is not recommended for people in their 40s or older, as the decrease size of masseter muscles can cause the skin to sag in their place and the cheeks to become hollow. Some muscles may bulge compensatory, and additional corrective CORETOX injections are used in these cases.
Shoulder and calf: Dull muscle pain, sagging, weakness, wobbliness, and tangling may occur, but will improve in 2~3 weeks. Decreased in strength may occur. Very rarely, neuropathy, numbness, and weakness may also occur.
Hay fever: Although the possibility of transient effects on the sense of smell cannot be ruled out theoretically, it is very rare in actual clinical practice.
Hyperhidrosis: Instead of a decrease in sweating in the treated area, there may be an increase in sweating from other areas (compensatory sweating). In the cases of hands or feet treatment, transient weakness, difficulty grasping objects, difficulty doing fine work, muscle pain, and numbness due to neuropathy may occur.
Severe side effects
Although very rare, the following side effects have been reported
Anaphylactic shock: Severe allergic symptoms (generalized rash, swelling of skin, lips, and tongue, dyspnea, palpitations, hypotension, disorientation, and convulsions).
Allergy to anesthesia or its ingredients or additives: Severe allergic symptoms (generalized rash, swelling of skin, lips, and tongue, dyspnea, palpitations, hypotension, disturbance of consciousness, convulsions) after using lidocaine tape or cream anesthesia.
Eye disorders: Corneal disorders due to difficulty in closing the eyes and dryness of the cornea.
Swallowing and breathing disorders: Symptoms such as dysphagia, change in voice quality, and dyspnea may occur after injections of 100 units or more into the neck muscles.
Seizures: seizures and recurrence of seizures may occur.
Other side effects
Other reported side effects include. There are specific side effects depending on the area of wrinkles treated, which will be explained in detail during the consultation.
| | | |
| --- | --- | --- |
| | Less than 1% | Frequency unknown |
| Excessive muscle relaxation | Rabbit eyes, facial paralysis, localized hypotonia (cervical muscle weakness, drooping corners of the mouth, etc.) | Ectropion, entropion, eyelid closure problems |
| Eye | Diplopia, foggy eyesight, photophobia, eye fat, watery eyes, eye pain | Eye irritation, strabismus, conjunctivitis, dry eyes, keratitis, corneal erosions, Impaired vision, eyelid edema |
| Skin | Rash, itching, erythema, hair loss (including eyelash and eyebrow depilation) | Psoriasiform eruption, Erythema multiforme |
| Injection site | Swelling, hemorrhagic spots, burning sensation, or pain at the injection site | Twitching or infection at the injection site, pain and hypertonia of neighboring muscles |
| Blood | Decreased white blood cells | Thombocytopneia |
| Gastro intestine | Nausea, diarrhea, dry mouth | Dysphagia, anorexia, vomiting, abdominal pain |
| Psychiatric, neurological | Dizziness, fainting, sensory abnormality | Nerve root disorders, numbness |
| Others | Facial pain, fever, CK level elevation(blood test), common cold-like symptoms | Weakness, fatigue, tinnitus, hearing loss, sweating, denervation atrophy/muscle atrophy, myalgia, abnormal liver function tests |
Price
Consultation fee, others (Tax included)
Consultation fee
First visit ¥3,850
Repeat visit ¥1,650
Anesthesia
Lidocaine patch ¥330 for each
Cream anesthesia ¥3,300
Doctor consultation is necessary before CORETEX injections, and consultation fee will be charged each time.
Wrinkle (Tax included), Free for touch-up
Touch-up
Free
Vertical wrinkles of the nose
(Bunny lines)
¥24,860
Gummy smile
(gums being excessively visible)
Verticla lip lines
Marionette lines
(Vertical wrinkles at the corners of the mouth)
(Mouth corner lift)
Dimpled chin
Forehead
¥29,810
Frown lines
Crow's feet
Smile lines (cheek)
Neck lines
¥49,500
The above wrinkle treatments are free of charge for one touch-up at the same area after 2 weeks (consultation fee will be charged). Injection of acetylcholine chloride, an antidotes to botulinum neurotoxin, is free of charge up to 3 times.
Touch-ups over 3 weeks (or the day before if 3 weeks is a holiday) after treatment will be charged. Please make an appointment as soon as possible, as you will be charged for touch-up if you are unable to make an appointment and 3 weeks have passed.
Free touch-ups are not available for masseters, calves, stiff shoulders, hay fever, hyperhidrosis, and micro-CORETOX.
Masseters, Stiff shoulders, Calf of legs, Hay fever (Tax inculded) [U = Units]
Masseter muscles
(Facial contouring)
50U ¥34,980
80U ¥49,500
Stiff shoulders
(Shoulder Slimming)
50U ¥34,980
100U ¥55,000
150U ¥73,700
Calves of legs
(Calf Slimming)
100U ¥55,000
200U ¥88,000
300U ¥117,700
Hay fever
16U ¥14,850
24U ¥19,800
Hyperhidrosis (Tax inculded) [U = Units]
Axillary
50U ¥44,000
100U ¥64,900
Soles
150U ¥79,200
200U ¥93,500
Palms
100U ¥64,900
150U ¥79,200
It is recommended that you shave or shorten your armpit hair beforehand. CORETOX injections are still possible even if the hair is present.
Microbotox (Tax inculded) [U = Units]
Microbotox
5U ¥24,200
10U ¥27,500
20U ¥34,100
30U ¥40,700
How to make a appointment
Botulinum toxin treatment is by telephone appointment only, please call the respective clinic.