Botulinum toxin nasal drops for hay fever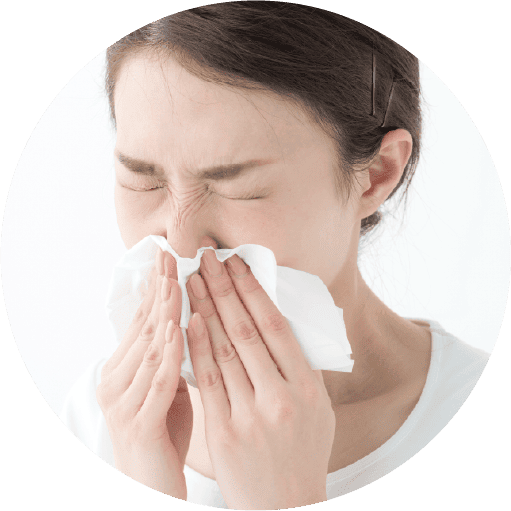 By administering Botulinum Toxin through nasal drops, it blocks acetylcholine released from sensory nerves in the nasal mucosa, leading to an improvement in rhinorrhea (runny nose) symptoms.2
While it doesn't completely eliminate runny nose, the alleviation of rhinorrhea symptoms is often accompanied by a slight reduction in nasal congestion, sneezing, and itchy eyes.1,4
Flow of treatment
The actual treatment process is as follows. For more information on the formulation and needles used, see the Botulinum toxin treatment page.
Blow Your Nose
Thoroughly remove any nasal mucus or discharge. This is an important step to enhance the penetration of the Botulinum Toxin.
Lie on your back and administer Coretox through your nose.
While lying on your back, apply botulinum toxin (Coretox) into your nose. Pinch your nose and massage to distribute it evenly over the nasal mucosa.
Stay lying on your back for more than 5 minutes.
Any medication that has flowed down to the throat should be spat out onto a tissue, but swallowing it is not a problem.
Effects will Begin to Emerge Several Hours Later
Effects appear within a few hours and last for 2 to 3 weeks. We recommend treatment every 2 to 3 weeks, depending on when hay fever is most severe.
Side effects and precautions
For information on side effects and post-treatment precautions, see Potential side effects of botulinum toxin injections.
Price for hay fever treatment with botulinum toxin
At our clinic, we use "Coretox" as a botulinum toxin preparation.
Item
Fee (tax included)
Consultation
fee
First visit ¥3,850
Revisit ¥1,650
Hay fever 8-unit
¥4,400
Hay fever 16-unit
¥6,930
Hay fever 24-unit
¥9,460
8 units (4 units on one side) is a trial dosage. We typically recommend 16 units or more.
An initial consultation is required. For subsequent visits, treatment-only appointments can be scheduled.
A nurse will administer Botulinum toxin drops into the nasal cavity.
Frequently Asked Questions About Botulinum Toxin Treatment for Hay Fever
Is the treatment painful?

There is no pain, and you won't feel any sharp sensation in the nose.

How soon can I expect to see results?

The effect on runny nose symptoms due to hay fever typically begins to appear a few hours after the treatment.

How often should I schedule the treatments?

Since the effect lasts for 2-3 weeks, it's recommended to schedule treatments every 2-3 weeks, aligning with the peak of your hay fever symptoms.

Does it affect my sense of smell?

In theory, since acetylcholine is also involved in the sense of smell, there could be some impact, but in clinical practice, no significant effects have been observed.

In fact, in the treatment of rhinitis with Botulinum toxin, it has been reported that various symptoms of rhinitis are alleviated, leading to an improvement in the sense of smell.3
List of references/websites
---
Related Pages