Hair Loss Treatment for Female (FAGA, FPHL)
Medication sets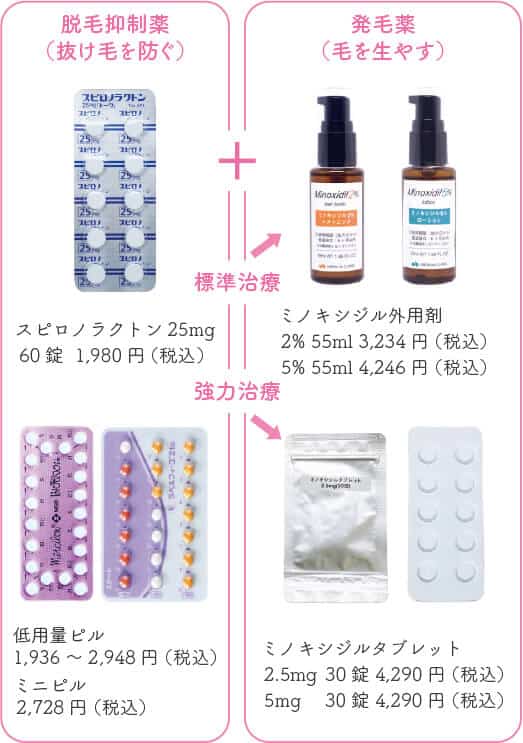 Prevent Hair Loss Medicine
Spironolactone
Low-Dose Oral Contraceptives
Minipill
Grow Hair Medicine
Minoxidil Hair Tonic Lotion
Minoxidil Tablets
Example of FAGA standard treatment fees for an initial visit [2 months' worth] (tax included)
Initial consultation fee
¥3,850
Spironolactone [120 tablets]
¥3,960
Minoxidil 2% Hair Tonic Lotion 55ml [2 bottles]
¥6,468
Examinations
Blood test ¥2,948
Urine test ¥1,056
Total fees
¥18,282
In recent years, "My hair has been falling out a lot lately." 'My hair has lost volume and the surface of my skin is becoming visible.' The number of women suffering from hair problems has been increasing.
Female pattern hair loss (FPHL) is the most common cause of thinning hair in women.
Female pattern baldness is also known as female androgenic alopecia (FAGA); although FPHL and FAGA are synonymous, the term FAGA is mainly used here.
Female androgenic alopecia (FAGA) is the female version of androgenetic alopecia (AGA). It is the most common form of diffuse alopecia in women.
Symptoms and causes
The hair falls out and thins over a large area of the head. Overall, the hair becomes thinner and less voluminous. Compared to AGA in men, thinning hair in FAGA occurs more generally, but, as in men, is more noticeable in the frontal area, the top of the head and the parting of the hair, while symptoms in the back of the head are less severe.
85%~90% of human hair is in the growth phase and grows slowly over a period of two to six years; 10%~15% of hair goes through a regressive to resting phase and falls out in about three months; in patients with FAGA, hair follicles become smaller and the follicles that produce thick, hard hairs are replaced by those that produce soft hairs. The growth phase of the hair is shortened and the shortening of the hair cycle occurs, causing the hair to fall out before it can grow properly.
The cause of the shortened hair cycle in FAGA is 'dihydrotestosterone' (DHT), as in male AGA; DHT is a male hormone, but serum testosterone levels are normal in most FAGA patients. It is thought that FAGA is not caused by an excess of male hormones, but by an increased sensitivity (receptor sensitivity) of the hair follicle to male hormones.
Female androgenetic alopecia treatment
Our standard treatment for female androgenetic alopecia (FAGA) is to prevent hair loss with spironolactone, which suppresses male hormones, and to use minoxidil ointment as a hair regrowth medication. Depending on your age, the pill or mini-pill may be used in combination. Standard treatment is recommended for those with mild disease or who wish to maintain their hair.
 
In strong treatment, spironolactone, which suppresses hair loss, is combined with minoxidil tablets, which have a strong hair-growth effect. Strong treatment is recommended for those with a high degree of progression and for those who want to have a strong hair regrowth.
 
Placenta injections, which keep hair and skin young, are also recommended as a supplementary treatment for cosmetic purposes.
*We cannot prescribe medication for pregnant or lactating women, so only a consultation is available. Other medications that can be prescribed vary according to pre-existing medical conditions, age and lifestyle habits such as smoking, so please consult your doctor at the time of consultation.
Cases of treatment (Strong Treatment)
Spironolactone + Minoxidil tablet 2.5mg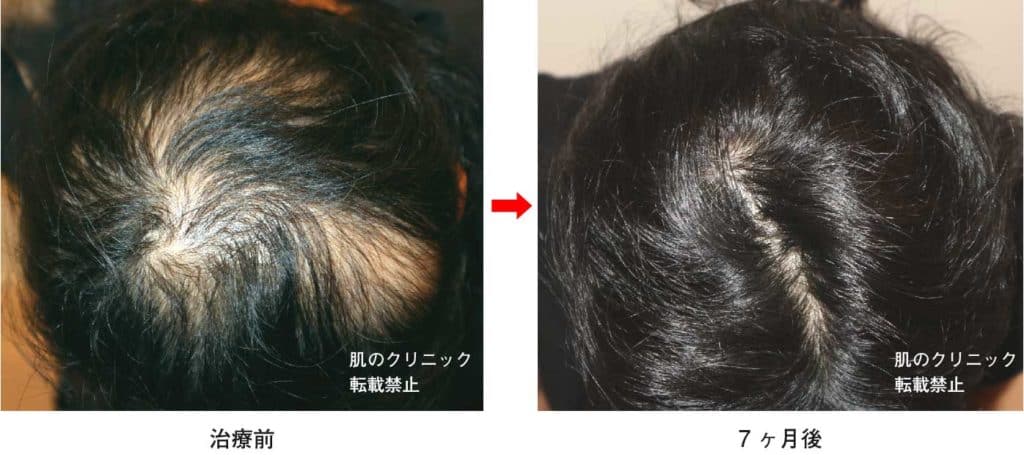 This is a case study photo of a woman in her 40s who was treated for hair loss at our clinic. After about six months of strong treatment, the hair becomes firm and regrows. At the same time, side effects such as hypertrichosis (thickening of body hair) may occur, but this is evidence that the treatment is effective, so we ask our patients not to worry about it too much. If you are really concerned about it, some people undergo treatment in parallel with 'medical hair removal'.
Ancillary treatment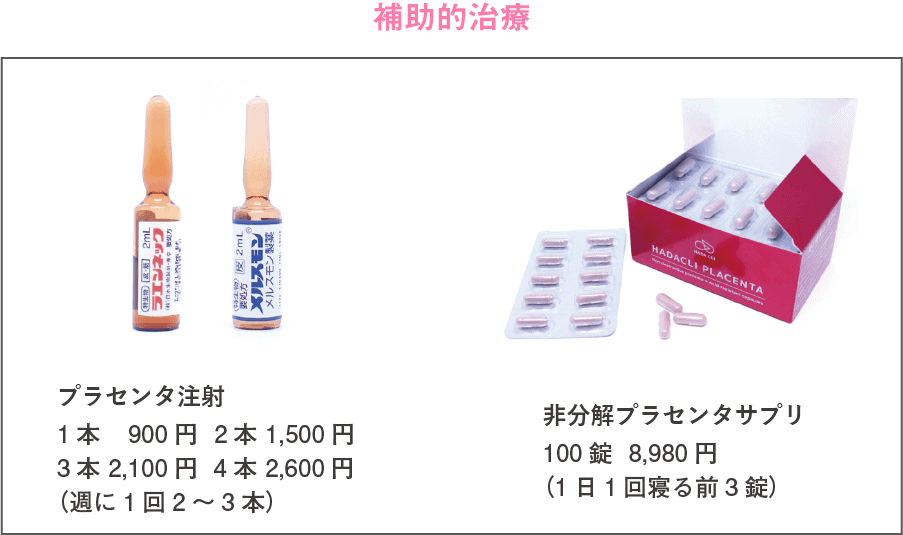 We used to prescribe 'Pantogar' as an adjunctive treatment, but as we found little effect, we now use placenta injections and supplements.
Although the placenta only has a supplementary therapeutic effect, it is one of the treatments we recommend, as it can be expected to have various effects other than hair loss, such as prevention of hair loss, hair shine, skin rejuvenation, improvement of menopausal symptoms and fatigue.
Fees for female androgenetic alopecia (tax included)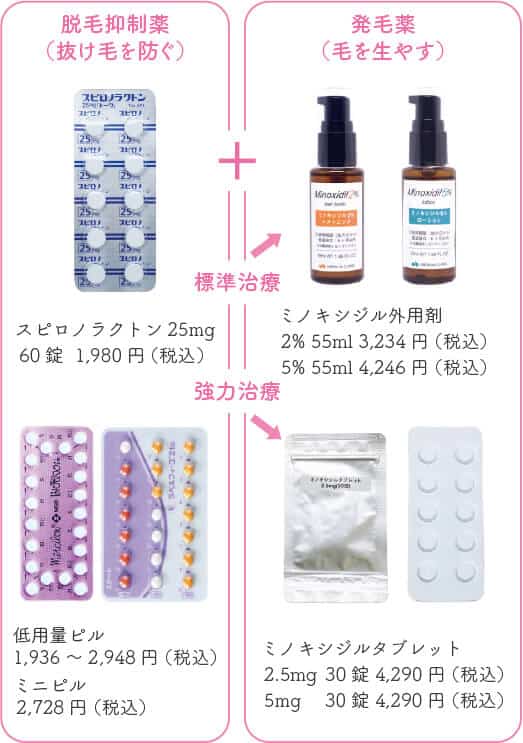 Prevent Hair Loss Medicine
Spironolactone
Low-Dose Oral Contraceptives
Minipill
Grow Hair Medicine
Minoxidil Hair Tonic Lotion
Minoxidil Tablets

Click to see.
Example of fees for an initial visit [2 months' worth]
Initial consultation fee
¥3,850
Spironolactone [120 tablets]
¥3,960
Minoxidil 2% Hair Tonic Lotion 55ml [2 bottles]
¥6,468
Examinations
Blood test ¥2,948
Urine test (pregnancy test) ¥1,056
Total fees
¥18,282
Example of fees for an repeated visit [4 months' worth]
| | |
| --- | --- |
| repeated consultation fee | ¥1,650 |
| Spironolactone [240 tablets] | ¥7,920 |
| Minoxidil 2% Hair Tonic Lotion 55ml [4 bottles] | ¥12,936 |
| Total fees | ¥22,506 |
Example of fees for an initial visit [2 months' worth]
Initial consultation fee
¥3,850
Spironolactone [120 tablets]
¥3,960
Minoxidil Tablets 2.5mg [60 tablets]
¥8,580
Examinations
Blood test ¥5,148
ECG test ¥2,706
Urine test ¥1,848
pregnancy test ¥1,056
Total fees
¥27,148
Example of fees for an repeated visit [4 months' worth]
| | |
| --- | --- |
| repeated consultation fee | ¥1,650 |
| Spironolactone [240 tablets] | ¥7,920 |
| Minoxidil Tablets 2.5mg [120 tablets] | ¥17,160 |
| Total fees | ¥26,730 |
A consultation fee is charged for prescribing oral medication. If you only require a prescription for topical medication, no appointment or consultation is required after the second prescription.
Medicine prices vary depending on the type and dosage of the medicine.
At the first visit, we prescribe a two-month supply to monitor side effects; if there are no problems at the second visit, we prescribe a four-month supply; thereafter, we see patients every three months. On request, up to six months' worth of medication can be prescribed.
To check for side effects of spironolactone or minoxidil tablets, an examination is carried out at the first visit and every six months.
If you would like to have various blood and hormone tests to search for the cause of your thinning hair, please refer to the FAQ at the end of the page, "Can you test for the cause of my thinning hair?" blind, please check the contents and prices.
A combination of how the hair loss occurs, past history and visual examination can determine the approximate cause of thinning hair, but it may not be possible to determine the cause without testing.
Not everyone necessarily needs to be tested, but if you have never been tested, you may want to have it done. The following two types of tests are available at our clinic.
Screening tests for causal search
It is known that alopecia can be caused by low thyroid hormones, anaemia, vitamin D and zinc deficiency. The decision is based on a total of more than 30 test values, in addition to tests for various internal organ systems and autoimmune diseases. The cost is ¥14,080 (tax included).
Hormone test
Four female hormones plus one male hormone are measured. The cost is ¥9,746 (tax included).
If you are taking hormones or spironolactone, the test will not give accurate values, so the test is carried out at least one month after discontinuation.
For pre-menopausal women, a more accurate reading can be obtained if you visit the clinic in the morning on the third to fifth day of your period (if difficult, on the first to seventh day).
Convenient telemedicine
Our clinic is the first in the country to prescribe AGA medication via telemedicine. Initial consultations require a face-to-face consultation, but for those who live too far away to visit the clinic or are too busy with work to spare the time, we offer online consultations and prescriptions, and deliver the medication to your home.
To use remote consultation, you need to fill in the 'Agreement for Telemedicine'. For more information, please see 'Telemedicine' and contact our reception if you wish to use this service.