Placenta injection
The effective components extracted from the human placenta are called placenta extract. By injecting placenta extract, the placenta is absorbed into the body and has effects on beauty and recovery from fatigue.
Who we recommend placenta therapy for
Placenta injections are recommended for patients with the following symptoms.
Chronic fatigue, eye strain
Shoulder stiffness, back pain, knee and other joint pain
Muscle pain and muscle fatigue
Dry skin and atopic dermatitis
Cold sensitivity, menstrual irregularities, menstrual pain
Menopausal disorders
Skin dullness, rough skin
Dysautonomia, anorexia, insomnia
Liver dysfunction
hay fever
※ Because the placenta stimulates sebum production, some patients develop temporary acne.
※ There are individual differences in effect.
Two types of placenta injections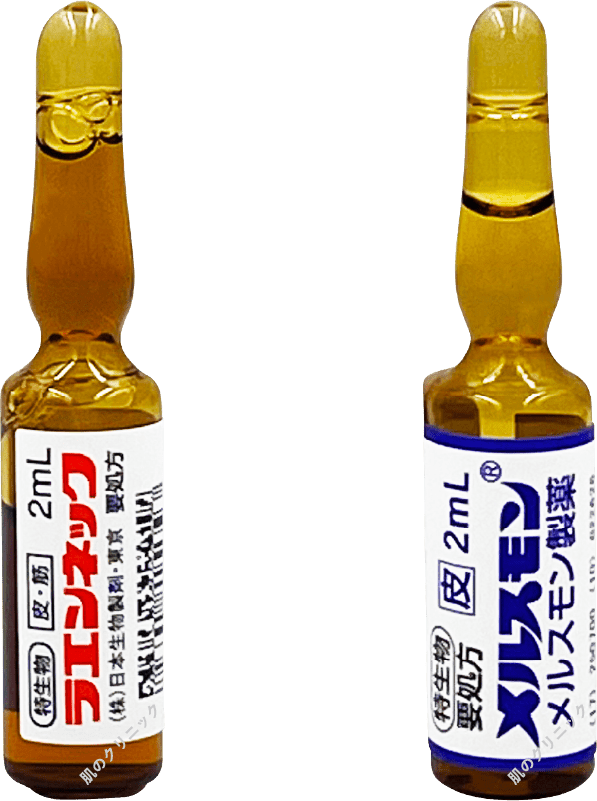 In Japan, there are two types of placenta injections commonly used: Laennec and Melsmon.
Both of these injections are approved as pharmaceuticals by the Ministry of Health, Labour, and Welfare.
Both use placentas collected from healthy mothers who gave birth by normal delivery in Japan.
Comparison of Laennec and Melsmon

Laennec

Melsmon
The amount of human
placenta extract
112mg / 2ml
100mg / 2ml
Additives
Pepsin (porcine origin)
Lactose (bovine origin)
Benzyl alcohol
Pain during the injection
a bit strong
weak
You may come across information stating that Laennec is effective for fatigue while Melsmon is beneficial for beauty. However, based on our extensive reserch in placenta treatment, there is no significant difference in efficacy.
In terms of placenta content per vial, Laennec has approximately 10% more than Melsmon. For this reason, we recommend Laennec at our clinic.
As for additives, Laennec contains pepsin and lactose used in the manufacturing process. Melsmon includes benzyl alcohol in a quantity of 0.03 ml. Some individuals may have allergic reactions to these additives, leading to itching or rash. In such cases, it's a good idea to think about switching the medication.
Although rare, some individuals may experience headaches with Laennec, in which case switching to Melsmon is recommended. Conversely, if drowsiness is pronounced with Melsmon, switching to Laennec is suggested.
One of the drawbacks of Laennec is that it is slightly more painful during injection due to its higher acidity compared to Melsmon. Melsmon has the advantage of less pain during injection because it has a pH close to neutral and contains benzyl alcohol as a pain-relieving component. Melsmon is recommended for those who are sensitive to pain.
At our clinic, you can choose either Laennec or Melsmon for each injection. Please let us know which type you would like at the reception counter.
How often should I inject placenta?
We recommend injections of 3 vials twice a week for the first 4 weeks. After that, we recommend injections of 2 or 3 vials once a week for maintenance.
First 4 weeks
After 5 weeks
Twice a week
3 vials per Injection
Once a week
2~3 vials per Injection
Fees (tax included)
An initial consultation fee of 3,850 yen will be charged for those who are visiting our clinic for the first time. An appointment is required for the first visit.
No appointment is required for those who wish to receive only injections for the second and subsequent times. Please come to the clinic directly during office hours.
Laennec・Melsmon
(1 vial=2 mL)
Fees (Tax included)
1 vial
¥990
2 vials
¥1,650
3 vials
¥2,310
4 vials
¥2,860
5 vials
¥3,410
6 vials
¥3,960
Safety and side effects of placenta injection
Japanese placenta injections are very safe, but there are a few things we should let you know.
Safety against viruses and bacteria
The following contamination prevention measures are proceeded to prevent viral or bacterial contamination.
Perform screening of material donors for viruses and other infectious diseases by a physician
All the materials used for placenta products have passed acceptance tests for hepatitis B and C and AIDS (acquired immunodeficiency syndrome) viruses.
Various virus inactivation processes which were scientifically proven are used in the manufacturing process.
The final product is tested negative for viruses such as hepatitis B and C, AIDS, adult T-cell leukemia, and Fifth disease.
Since the launch of MELSMON in 1956 and LAENNEC in 1974 to the present, there has not been a single case of infection reported, including Creutzfeldt-Jakob disease.
However, since the risk of transmission of variant Creutzfeldt-Jakob disease, etc. cannot be completely ruled out theoretically, people who have received placenta injections are not allowed to donate blood afterward in Japan. Please do your own research on blood donation restrictions in your country.
Adverse reactions and side effects
Internal bleeding, pain, rash, heat, itching, or induration at the injection site: If internal bleeding occurs, it will disappear spontaneously in 2 weeks, and others in 1-2 days. Repeated injections to the same site may cause the skin becoming thick and form induration (lumps). The lumps will improve with time, but may remain for a long time after repeated injections, and cannot be completely prevented. In our clinic, we change the injection site on the left and right each time to prevent this side effect.
Allergic symptoms: Rash, urticaria, itching, and fever may occur. Although very rare, anaphylaxis (e.g., hypotension, dyspnea, convulsions, impaired consciousness, generalized erythema, mucous membrane disorders) has been reported.
Liver dysfunction and headache (frequency unknown): Although extremely rare, if headache or hepatic dysfunction occurs, discontinue or change placenta injections.
Other: Postmenopausal menstruation, minor menstrual irregularities and irregular genital bleeding, gynecomastia, drowsiness, lethargy, and weight gain have been reported. If you feel drowsy, do not drive a car, ride motorcycle, bicycle, or other vehicle.
List of references/websites