Instruction of treatment
Ultraformer III and Ultraformer MPT use High Intensity Focused Ultrasound (HIFU) to induce a coagulation effect in the skin tissue to stimulate collagen production and regeneration. It has an excellent lifting effect and improves wrinkles and sagging of the face and neck.
Click to see comparative photos.
Case #1 (Nasolabial folds)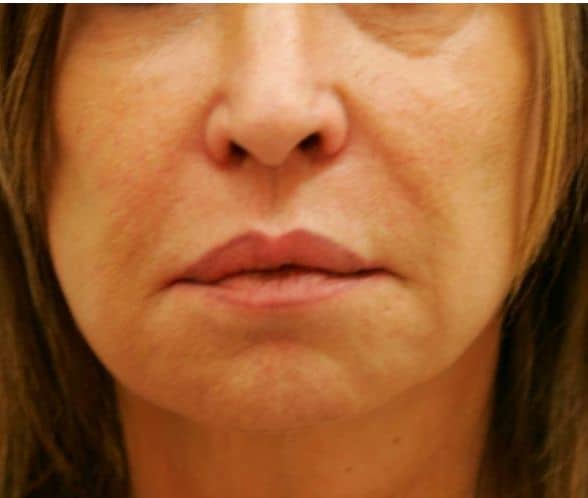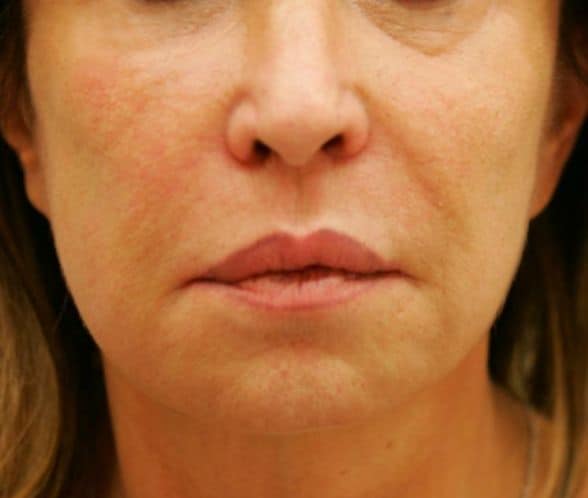 Case #2 (Wrinkles at the corners of the eyes)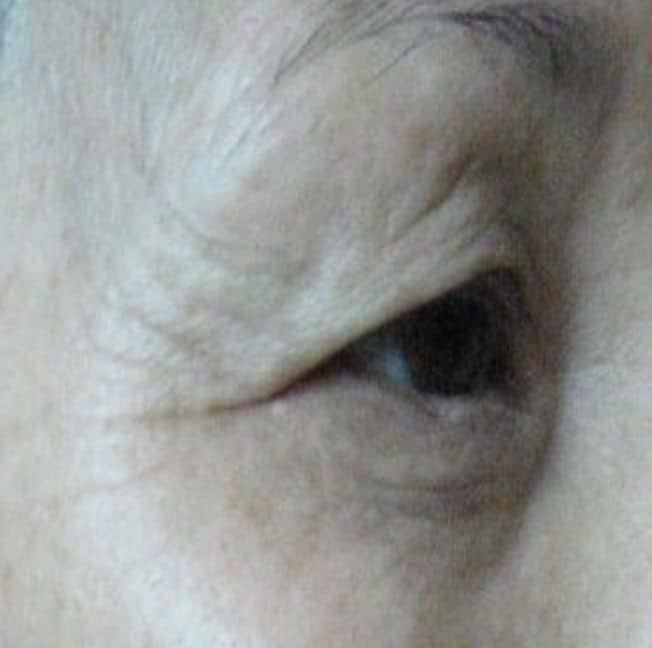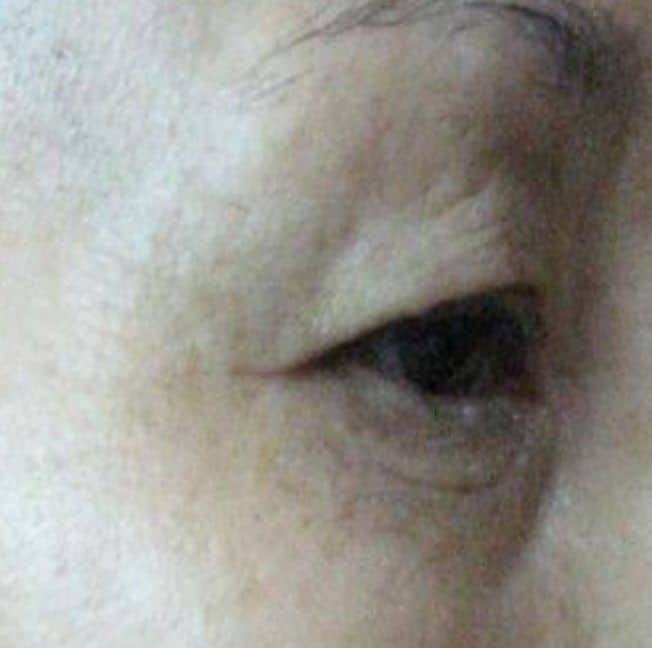 Case #3 (Wrinkles on the neck)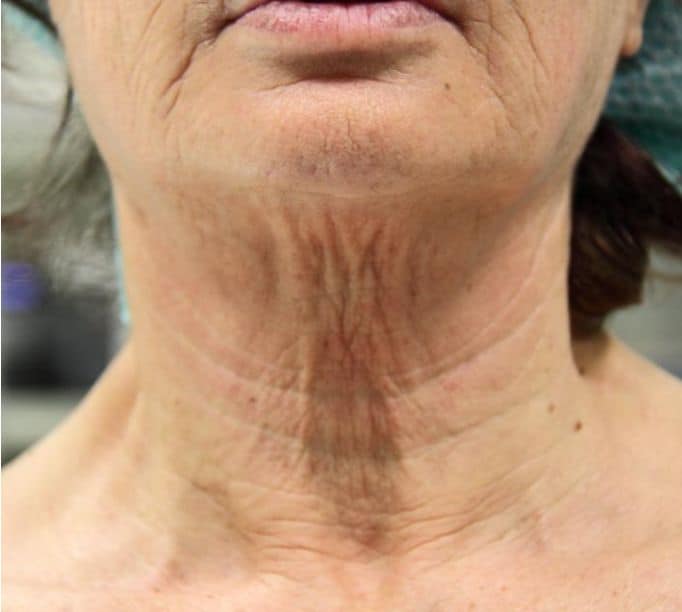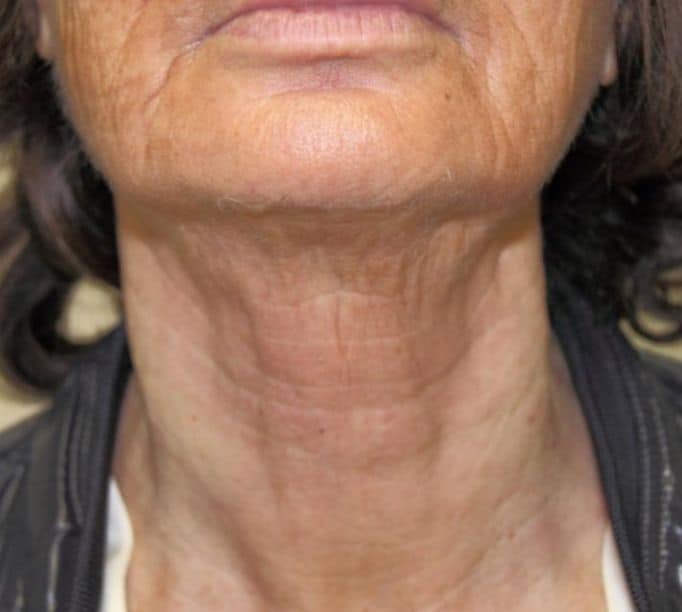 Case photo: Courtesy of CLASSYS (effects vary from person to person)
Ultraformer III and Ultraformer MPT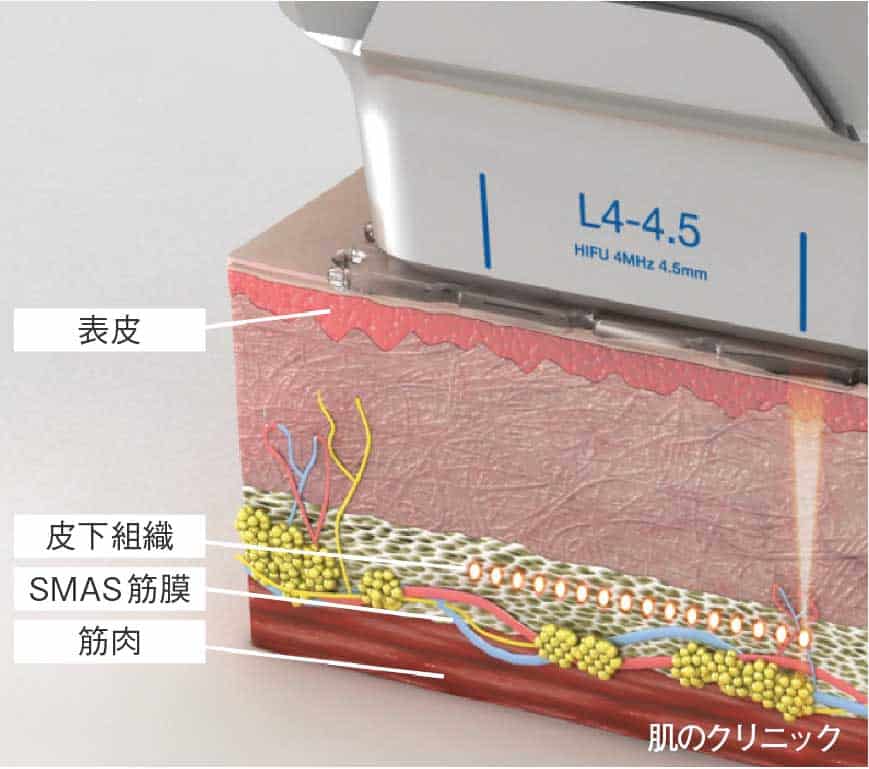 Ultraformer III is available at Kojimachi office and Ultraformer MPT is available at Koenji office. Ultraformer MPT is a new model of Ultraformer III.
| | | |
| --- | --- | --- |
| | Ultraformer III (Kojimachi) | Ultraformer MPT(Koenji) |
| Mode | Dot | Dot, Line |
| Whole face, Procedure time | About 40 minutes | About 30 minutes |
| Whole face, number of shots | 680 shots | 680 shots |
| 4.5mm Standard Output | 0.8J | 0.7J(0.8J also possible) |
| 1.5mm booster | None | Yes(optional) |
Mode: Ultraformer III is dot output, but MPT can select linear output in addition to dot output. There is no difference in effect between dot and linear output, but linear output takes less time and is slightly less painful.
Output: The standard output of MPT is 0.1J lower than that of Ultraformer III. For the first-time treatment, it is suggested to perform at a standard output, but since the treatment effect depends on the energy output,

the output of MPT can be increased by 0.1 J for patients who have had the second or subsequent sessions or who have received Ultraformer III before. However, the risk of pain and side effects is slightly increased

.
1.5mm booster: In addition to the three depths of 4.5mm, 3mm, and 2mm for MPT, a treatment with a 1.5mm circular hand piece, called a booster, can be added as an option. It is effective in preventing fine lines and wrinkles in the more shallow layers.
UltraformerⅢ/MPT features
Because ultrasound is emitted inside the skin, it very rarely burns the skin's surface, and the treatment causes little redness or other downtime.
Please also see the video for more information on the features of Ultraformer III and Ultraformer MPT.
Treatment interval
Whole face: For first-time patients, the first three treatments should be performed at three-month intervals to get the best results. The treatment effect peaks around the second month, but since the effect lasts about 6 months, we recommend one treatment every 6 months.
HIFU Shower: Once every 1 to 2 months is recommended.
Ultraformer III/MPT fee
Whole face treatment (by doctor) fee (tax included)
Treatment plan
Shots
III output
MPT output
Price
Whole face(chin included)2mm 3mm 4.5mm
680 shots
4.5mm
0.8J
4.5mm
0.7J
First time ¥86,900
After the 2nd time ¥97,900
(repeat discount ¥10,000 for treatment within 6 months)
(discount¥5,000 on Wednesdays and Thursdays)
Neck (optional) 2mm
200 shots
0.2J
0.2J
+ ¥20,900
double chin(optional) 6mm (lipolytic effect)
60 shots
1.0J
1.0J
+ ¥7,700
Booster (optional) 1.5mm
※Koenji only, by nurse
200 shots
0.2J
0.2J
+ ¥13,750
A consultation fee is charged for the first visit, but no consultation fee is charged for the second and subsequent visits only if you wish to have the procedure carried out.
If a patient who has received III is undergoing MPT for the first time, a medical examination and consent form by a doctor is required (as this is a medical device not yet approved in Japan). Please note that a re-consultation fee of ¥1,650 (incl. tax) will be charged.Those who have written consent forms for both III and MPT on or after 25 April 2022 do not need a medical examination and consent form even if they switch models.
The output of MPT can be increased by 0.1J by request for those who have received a second or subsequent III.
Wednesday and Thursday are relatively uncrowded outpatient days of the week.
HIFU Shower (by nurse) fee (tax included)
Treatment plan
Shots
Output
Price
Face(Including areas around eyes,
not including chin) 2mm
250 Shots
0.2J
¥26,400 once
(discount ¥2,000 on Wednesdays and Thursdays)
Neck(including chin) 2mm
200 Shots
0.2J
¥19,800 once
(discount ¥2,000 on Wednesdays and Thursdays)
Face + Neck 2mm
(Including areas around eyes and chin) 
450 Shots
0.2J
¥41,800 once
(discount ¥2,000 on Wednesdays and Thursdays)
Under nose (optional) 2mm
36 Shots
0.2J
+ ¥2,970
Booster(optional) 1.5mm
※only Koenji office
200 Shots
0.2J
+ ¥13,750
Side effects and risks
Pain
You may feel heat and dull pain during and after the procedure. Most patients can undergo the procedure without anesthesia, but those who are sensitive to pain can undergo a lower output treatment or have an optional cream anesthesia (¥3,300). The soreness, like a muscle ache when touched, may last from a few days to about two weeks but do not worry about it. Do not massage or otherwise irritate the area.
Redness and swelling
If redness or swelling occur, it will subside within a few hours after the procedure. In rare cases, the swelling and burning sensation may last several days. Areas of intense redness may cause burns and should be cooled with ice pack wrapped in a handkerchief.
Burns
Although it is a very rare complication, there is a risk of burns. The submental area is relatively with a higher risk of getting burn area and scarring (thick raised scar) due to deep burns may occur. Most will improve with time, but in very rare cases, there is a risk of residual scarring. If you experience any of the above symptoms, please cool down (take a break every 3-5 minutes) and consult a doctor as soon as possible.
Internal bleeding
In rare cases, spot or linear internal bleeding may occur. It may take 1-2 weeks to improve.
Melasma
Although very rare, those with melasma or potential to develop melasma may be at risk of symptoms worsening due to irritation to the skin.
Fat reduction
Frequent procedures with deeper than 3mm may rarely cause fat reduction in the treated area.
Break of thread lift
It will be no problem if the threads have been firmly fixed with tissue about one month after the thread lift procedure. There have been some rare cases reported break of thread lift.
Nerve injuries
Although very rare, nerves in the face and neck may be affected, causing numbness, discomfort, and movement disorders. In addition, fine peripheral nerve damage on the surface of the skin can cause abnormal touch sensation and other symptoms. Usually, most cases improve within 3 months, but very rarely, there is a risk of residual effects.
Allergy to anesthesia
Although very rare, depending on the physical makeup, cream anesthesia (containing lidocaine, trace amounts of propylene glycol, ethanol, methylparaben, etc.) can cause serious allergic symptoms (anaphylaxis: generalized rash, swelling of the skin, lips, and tongue, difficulty breathing, palpitations, and hypotension, disturbance of consciousness, convulsions, etc.)
People who may not eligibleto receive Ultraformer treatment
Those who have a pacemaker or gold thread implanted in the body
Areas with prosthesis, silicone, implants, or metal plates cannot be treated.
Patients with severe diabetes, infection or severe skin disease in the area wished to be treated.
Patients with keloids.
Those who are or may be pregnant.
Patients who have received injections such as hyaluronic acid or Botox within 2 weeks.
Patients who have received peeling therapy, topical tretinoin, laser or phototherapy (including hair removal) within 2 weeks.
Patients who received oral isotretinoin (Roaccutane, Isotroin) treatment within 3 months
Patients who have taken gold preparations (rheumatoid drugs)
Patients who have allergies or shock symptoms caused by anesthesia (optional anesthesia is not available).
Patients who have undergone thread lifts or surgery within 1 month.
Precautions of treatment
Treatment time is about 40-60 minutes for the whole face, and about 20 minutes for the HIFU Shower. Ultraformer MPT takes even less time.
Most patients will notice the effects after only one treatment, but the effects may vary from person to person, and some people may not see any improvement.
Makeup, showering, and bathing can be done on the same day after treatment.
Irritation after the treatment may induce inflammation and cause side effects. For 2 weeks after the treatment, please avoid massage and other irritation, and be sure to use UV protection and moisturizer.
Please note that the treatment fee cannot be refunded even if side effects occur or the treatment is not effective.
Reservations changed or cancelled on the day of the appointment will be charged a fee of ¥3,300 (tax included). Reservation changes or cancellations up to the previous business day are free of charge, but we kindly ask you to contact us as soon as possible.
Please understand that if you are late for the appointment time, the treatment will only be performed within the scheduled time.
Appointments and Enquiries
For return visits, please inform us of your 'consultation ticket number' when making an enquiry.
●Hada no clinic Koenji
(
TEL 03-5913-7435
)
4F Anfini Building, 4-6-7 Koenji Minami, Suginami-ku, Tokyo
Mon.~Sta. : 10:30 am - 1:30 pm / 3:30 pm - 6:30 pm
Sun. and Public holiday : closed
●Hada no clinic Kojimachi
(
TEL 03-6261-7433
)
B1F Chichibuya Building, 3-7-4 Kojimachi, Chiyoda-ku, Tokyo
Mon.~Fri. : 11:00 am - 2:00 pm / 4:00 pm - 7:00 pm
Sta. and Sun. : 10:00 am - 1:00 pm / 3:00 pm - 6:00 pm
Public holiday : closed
*Full appointments are required.
*We are very sorry, but sometimes it is difficult to get through on the phone due to the high volume of calls. We ask for your understanding as we have a limited number of staff.
*Please note that a separate 'telephone re-consultation fee' will be charged if a doctor responds to medical questions.