About Sunekos
Sunekos is an injectable blend of non-cross-linked hyaluronic acid and six amino acids (Glycine, L-Proline, L-Lysine, L-Valine, L-Alanine, L-Leucine). It enhances dermal firmness by boosting collagen, elastin, and the extracellular matrix. Note: Not approved by Japan's Ministry of Health, Labour, and Welfare; not for Relief Systems in case of severe side effects post-treatment.
Type of Sunekos
SUNECOS is available in two variants: low molecular weight hyaluronic acid "Sunekos 200" and medium molecular weight hyaluronic acid "Sunekos 1200".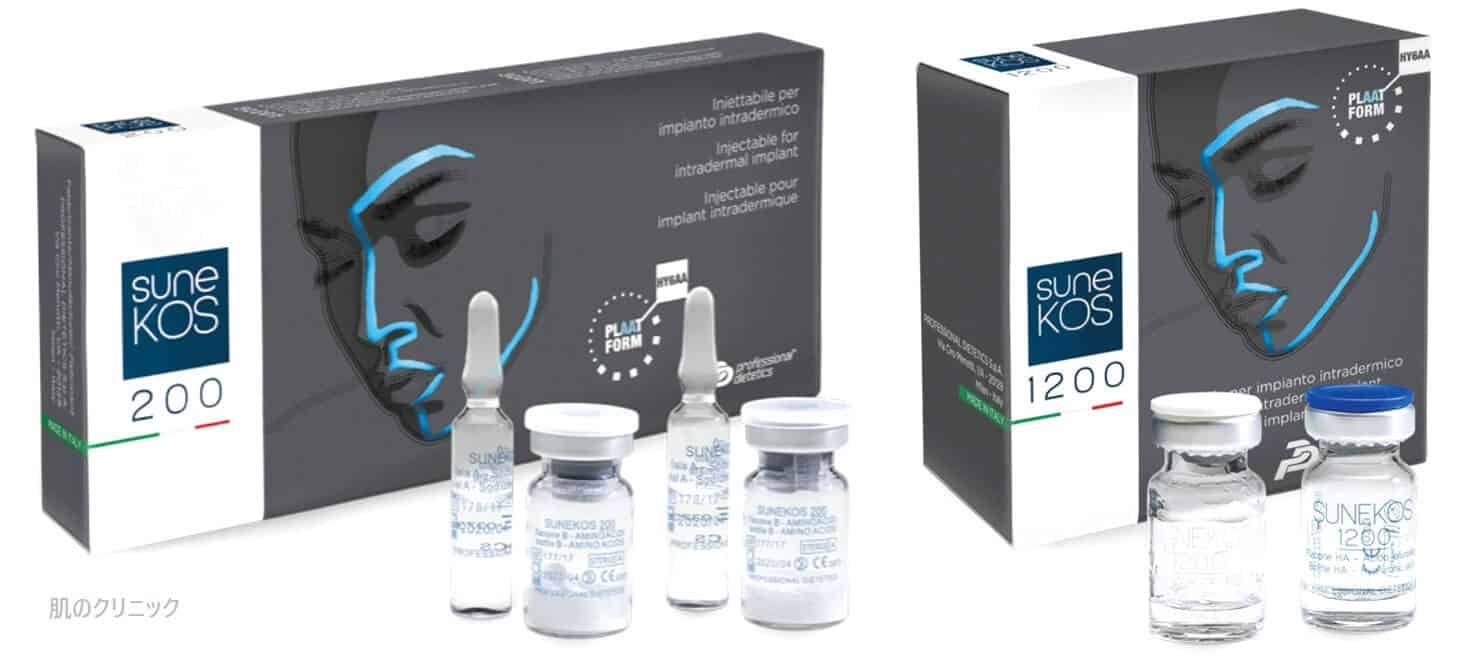 | | | |
| --- | --- | --- |
| Type | Sunekos 200 | Sunekos 1200 |
| Characteristics | Non-cross-linked low molecular hyaluronic acid and six amino acids | Non-cross-linked medium molecular hyaluronic acid and six amino acids |
| Indications | Forehead, eyelids, under eyes, outer corners of eyes, cheeks, neck, chest, back of hands, dark circles under eyes, acne scars, etc. | Nasolabial folds, tear troughs, cheeks, chin, marionette lines, backs of hands, acne scars, etc. |
Effectiveness of Sunekos
◆ Improvement of fine wrinkles, firmness, and dark circles
Sunekos injections provide a mild improvement in shallow wrinkles, promoting collagen and elastin production after one week. Effects last up to six months. It also helps reduce the appearance of dark circles. For medium or deep wrinkles, you should consider a hyaluronic acid injection (Belotero).
◆Improvement of acne scars
Due to the reduction of dermal tissue (loss of firmness), indented acne scars become more visible. Combining Sunekos with CO2 fractional laser or Dermapen 4 stimulates collagen and elastin growth, increases dermal firmness, and reduces acne scars.
Method of treatment
Dose
Inject 1-2 ampoules (approximately 3-6mL) into the area of concern. It is more effective if you inject Sunekos 1200 and Sunekos 200 on the same day.
Frequency
4 to 8 injections every 1 to 2 weeks. After that, we recommend 4 injections every 6 months.
Combination with other treatments
When using CO2 laser or Dermapen in combination, wait two weeks before and after treatment. Please consult your doctor for treatment schedule.
Ex.) CO2 laser 2 times→Sunekos 2 times→CO2 laser 2 times→Sunekos 2 times
Advantages and disadvantages of Sunekos
The advantages of Sunekos are its safety and natural finish. As it contains non-cross-linked agents, there are no reports of allergies such as foreign body granulomas. Also, like hyaluronic acid, it does not cause unnatural puffiness if too much is injected. Even when injected into areas with thin skin, such as under the eyes, it does not cause unevenness and does not cause the tyndall effect*.
The disadvantage of Sunekos is that it does not remain in the skin, so it is not expected to have an immediate effect, such as an immediate improvement in wrinkles. The volume-enhancing effect is weak, so no noticeable changes can be achieved.
*Tyndall effect: when hyaluronic acid is placed in the shallow skin layer, such as under the eyes, it appears blue and translucent, making dark circles more prominent. Hyaluronic acid in the shallow layer may remain partially unabsorbed, causing water retention, resulting in the tindal phenomenon and swelling.
Needles used for Sunekos injections
Sunekos 200 injections use the thinnest standard 34G (0.18 mm diameter) microinjection needle. By using the thinnest needle possible, the frequency of pain and internal bleeding is reduced. (30G needle is used for Sunekos 1200)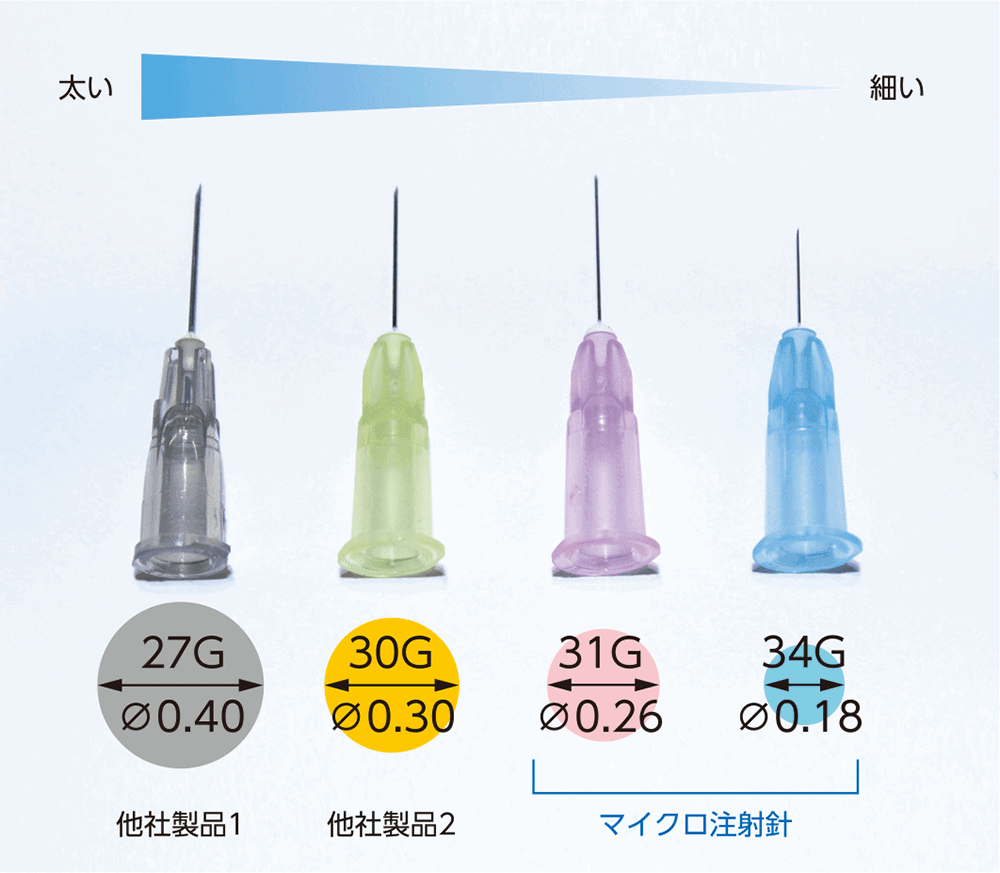 Who cannot receive Sunekos treatment
Those who are pregnant or breastfeeding.
There are skin problems at the area that are wished to treat.
Side effects of Sunekos treatment
Redness, swelling, pain and heat sensation at the injection site: usually subside within few hours to a day. In the area around the eyes, there will be considerable swelling after injection, but it will improve within few hours to a day.
Internal/ subcutaneous bleeding: bleeding may occur when capillaries distributed under the skin are punctured. Please understand that this complication is more of a probability than a result of injection technique itself. The area around the eyes is particularly prone to develop internal bleeding, and usually it takes 1-2 weeks for the bleeding to disappear.
Anaphylactic shock: Severe allergic symptoms (generalized rash, swelling of skin, lips and tongue, dyspnea, palpitations, hypotension, disturbance of consciousness, convulsions) have NEVER been reported in the past with SUNECOS, but theoretically there is a risk of allergy with any medication.
Allergy to anesthesia: Although very rare, severe allergic symptoms (generalized rash, swelling of the skin, lips and tongue, breathing difficulties, palpitations, hypotension, loss of consciousness, convulsions) may occur due to the ingredients and additives of lidocaine dressing or anesthesia cream.
Precautions after treatment
Please do not rub or press the injection site for 2 days after Sunekos treatment.
Please avoid make-up, bathing, sauna, alcohol consumption and exercise on the day after Sunekos treatment. Gently washing the face and taking a shower are possible on the day after injection.
Price(Tax included)
Consultation Fee
First visit ¥3,850
Revisit ¥1,650
Sunekos 200
1 ampule (3mL) ¥33,000
Sunekos 1200
1 ampule (3mL) ¥55,000
Anesthesia
Tape anesthesia: 1 sheet ¥330
Cream anesthesia: face ¥3,300
Partial cream anesthesia: ¥1,650
Consultation with a doctor is required for the first injection. If you do not wish to see a doctor from the second time onward, you will only be charged the treatment fee.
1 ampoule is 3 mL, but due to loss during dispensing, the actual injection volume will be 2.5 to 2.7 mL.
"Partial cream anesthesia" is a fee for a small area such as around the eyes.