Keratosis Pilaris / lichen pilaris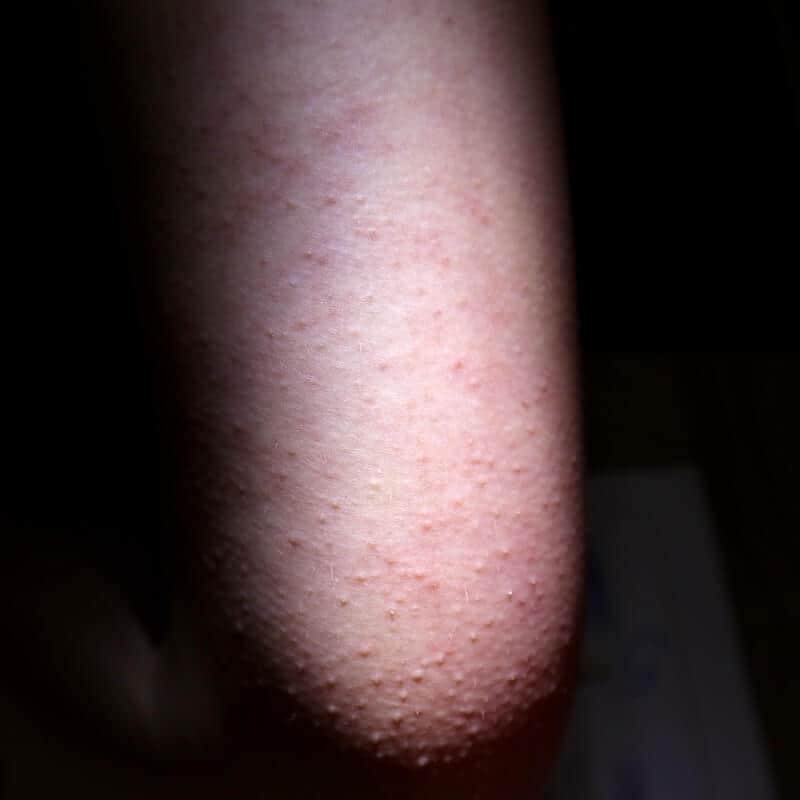 The "bumpy skin on the upper arms" that many people struggle with is referred to as keratosis pilaris or lichen pilaris.
It's commonly seen in younger generations, often developing after childhood and becoming more noticeable during adolescence.1
Some patients describe it as "rough skin" due to its grainy texture.
Common areas for this condition to occur are the outer upper arms and shoulders, where you may observe colorless or red bumps on the skin's surface. It can also appear on the buttocks and thighs.10
Symptoms tend to worsen in the dry seasons, particularly from autumn to winter, but many people naturally see improvement in their 30s.
Although the majority of patients who visit our clinic are women, there is no difference in the frequency of symptoms between men and women. The high proportion of female patients is thought to be because women tend to be more conscious of their beauty.1
Causes of keratosis pilaris
Keratosis pilaris occurs when the openings of hair follicles are blocked due to an accumulation of the skin protein keratin, causing plugs to protrude from the epidermis. This can result in colorless bumps or, in some cases, mild inflammation leading to the formation of red papules.
While the exact cause of keratin buildup is not precisely understood, it has been associated with conditions such as autosomal dominant inheritance, atopic dermatitis, dry skin, obesity, hormonal abnormalities, and vitamin deficiencies.2,3,4,5,10
Treatment
Since keratosis pilaris tends to recur, long-term treatment for control is necessary even after improvement.
Refrain from treatment during pregnancy, breastfeeding, and when actively trying to conceive.
DermPen
Features

A medical device with needles used to crush and destroy papules. While there is individual variation in improvement rates, about 20-30% of papules disappear after one treatment.

Treatment method

DermaPen sessions occur every 4+ weeks, totaling 3-5 sessions. Then, as needed.

Not suitable for

Those who are prone to pigmentation or scarring
Those who have a tendency towards keloids.

Side effects

Redness and bleeding may occur but will typically subside within 1-2 weeks.
Post-DermPen hyperpigmentation may occur. It usually improves in six months, but may need long-term treatment in some cases.

Although rare, depending on the individual, there is a risk of scarring from the wound.
Extremely rare, but there's a risk of severe allergic reactions with cream anesthesia (rash, skin swelling, breathing difficulty, palpitations, low blood pressure, etc.). If symptoms occur after returning home, call an ambulance right away.

Fees – Charges will be based on the area.

Both upper arms (one side 20x10cm) ¥27,280
5x5cm ¥10,780
Cream anesthesia ¥3,300
To assess progress after three sessions of DermPen, please make a follow-up appointment after the redness has subsided.
We have posted a video of "Dermapen treatment for lichen pilaris" on our Instagram, so please take a look below.
Vitamin D3 Ointment
Features

While its effectiveness may be limited, Vitamin D ointment helps normalize keratin, making it a recommended option for preventing recurrence after DermaPen treatment.

Treatment method

Apply thinly to the affected area twice daily. Use about 1-2cm per upper arm. Wait for 2 days (48 hours) after DermPen treatment before use.

Side effects

Redness, rash, and itching may occur.

Fees

One tube 10g ¥1,210 (10-14 days' worth)
Salicylic Acid Macrogol Peeling
Features

Improves keratosis pilaris with its peeling and keratin softening effects.

Treatment method

Apply a thin layer, leave on for 10 minutes, then wash off every four weeks. Use about 1 application (1.65g) for both upper arms. For sensitive skin, use 30%, otherwise use 40%.

Side effects

Redness, rash, and itching may occur.

Fees

One application (1.65g) ¥4,378
Six applications ¥21,780
Tranex Reti Peel
Features

Improves keratosis pilaris with its peeling and keratin softening effects. It is more effective than salicylic acid peels, but it also has more side effects.

Treatment method

Treatments are performed in the clinic, with a total of five sessions at intervals of four weeks. After the treatment, leave the peeling agent applied, wash it off at home after 2-3 hours for the first treatment, and 6 hours for subsequent treatments.

Side effects

2-10 days post-treatment, redness, itching, tingling, peeling, and dryness may occur. In rare cases, pain, eczema, blisters, swelling, scabs, acne, and pigmentation may occur.

Fees

One session ¥16,500 (both upper arms)
Vitamin A / vitamin D oral medication
Features

Used to soften the keratin and prevent keratosis pilaris.

Treatment method

Take one tablet of Vitamin A every three days and one tablet of Vitamin D after dinner.

Fees

Vitamin A (10 tablets) ¥330
Vitamin D (30 tablets) ¥660
Other treatments
In some cases, we may prescribe "Tretinoin cream" or "Isotretinoin oral medication," which have exfoliating and keratin-softening effects. Additionally, for at-home care, we recommend moisturizing with a 20% urea cream.
Case Photos
These are progress photos from the treatment of keratosis pilaris using a DermaPen. The subject is a staff member at our clinic.
Before Treatment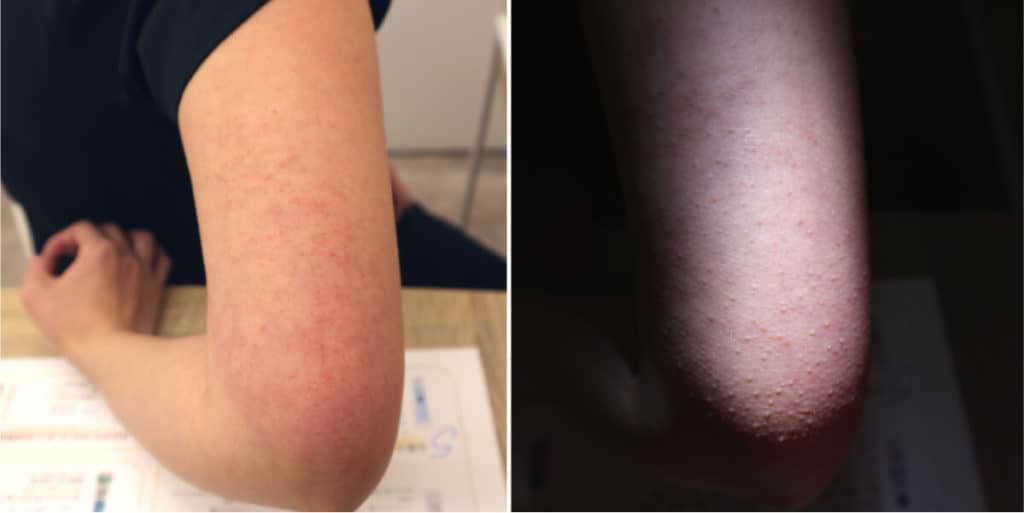 It may be difficult to see in bright light, but photos taken in a dark room show small papules and roughness all over the skin. The redness in the photo is from the cream anesthesia (unfortunately I forgot to take a photo before applying the anesthesia).
Right After Treatment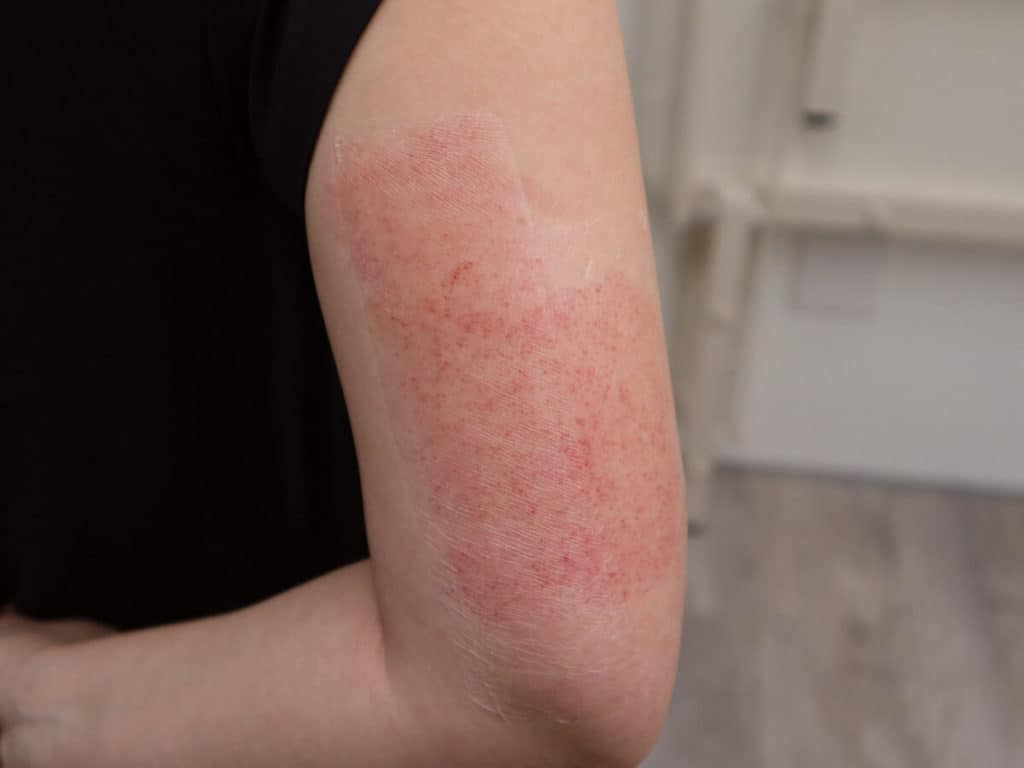 The photo depicts the condition right after the treatment with the DermaPen. Following the treatment, we apply a UV-blocking tape called "Airwall UV" to protect the wounds and aid in quicker healing.
The redness will subside within 3 days to a week.
After Two DermaPen Treatments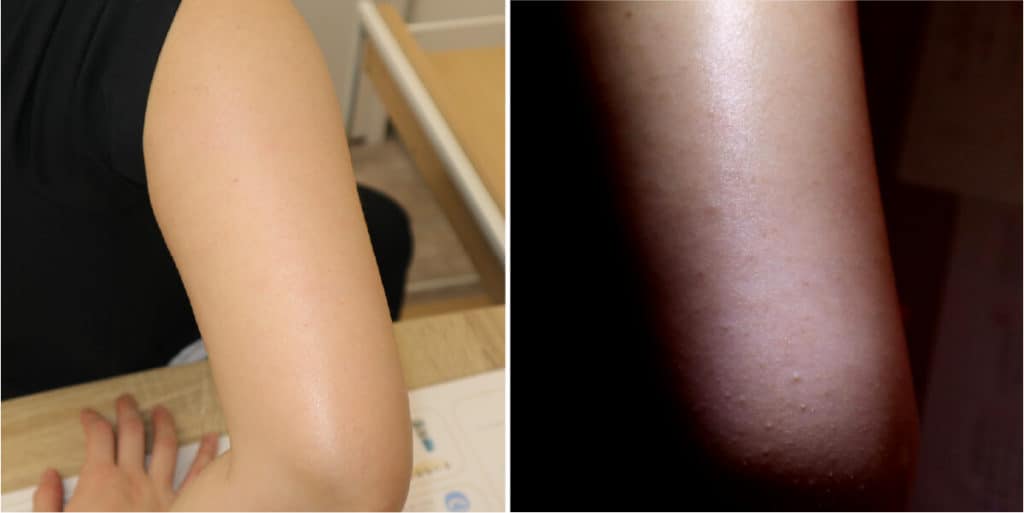 This photo shows the skin one week after undergoing two sessions with the DermaPen. There are fewer bumps, and thanks to a combination of moisturizing and a vitamin D ointment, the skin has become noticeably smoother to the touch.
The DermaPen physically disrupts the bumps, making it more effective compared to topical treatments. It also offers the advantage of a longer time before a recurrence. However, because it can potentially cause some skin damage, there is a risk of post-treatment marks appearing as pigmentation.
List of references/websites

山本 幸代, (1981) "5年間の蓄積デー タからみた代表的皮膚疾患の性別年令別分布" 皮膚・第23巻・第2号 p197-205
L Poskitt, (1994) "Natural History of Keratosis Pilaris" Br J Dermatol. 1994 Jun;130(6):711-3. doi: 10.1111/j.1365-2133.1994.tb03406.x. PMID: 8011494
Robert Gruber, (2015) "Sebaceous Gland, Hair Shaft, and Epidermal Barrier Abnormalities in Keratosis Pilaris with and without Filaggrin Deficiency" Am J Pathol. 2015 Apr; 185(4): 1012–1021. doi: 10.1016/j.ajpath.2014.12.012 PMID: 25660180
Fatima-Zahra Agharbi. (2019) "Keratosis Pilaris" Pan Afr Med J. 2019 Jul 30;33:274. doi: 10.11604/pamj.2019.33.274.16158. PMID: 31692799
Penelope A Hirt, (2019) "Skin Changes in the Obese Patient" J Am Acad Dermatol. 2019 Nov;81(5):1037-1057. doi:10.1016/j.jaad.2018.12.070. PMID: 31610857
徳島県医師会. 公開日:2009.02.12 "毛孔性苔癬" https://www.tokushima.med.or.jp/kenmin/doctorcolumn/hc/492-494 アクセス:2020.06.21
Sang Ju Lee, (2013) "Combination of 595-nm Pulsed Dye Laser, Long-Pulsed 755-nm Alexandrite Laser, and Microdermabrasion Treatment for Keratosis Pilaris: Retrospective Analysis of 26 Korean Patients" J Cosmet Laser Ther. 2013 Jun;15(3):150-4. doi: 10.3109/14764172.2013.769276. Epub 2013 Mar 6. PMID: 23464682
Rehab Mohamed Sobhi, (2020) "Comparative Study Between the Efficacy of Fractional CO2 Laser, Q-switched Nd:YAG Laser (1064 Nm), and Both Types in Treatment of Keratosis Pilaris" Lasers Med Sci. 2020 Jan 11. doi: 10.1007/s10103-020-02956-w. PMID: 31927647
Vasanop Vachiramon, (2016) "Fractional Carbon Dioxide Laser for Keratosis Pilaris: A Single-Blind, Randomized, Comparative Study" Biomed Res Int. 2016;2016:1928540. doi: 10.1155/2016/1928540. PMID: 27247936
大塚 藤男. "皮膚科学 第9版" 金芳堂, 2011, p341-342
Related Pages