Rybelsus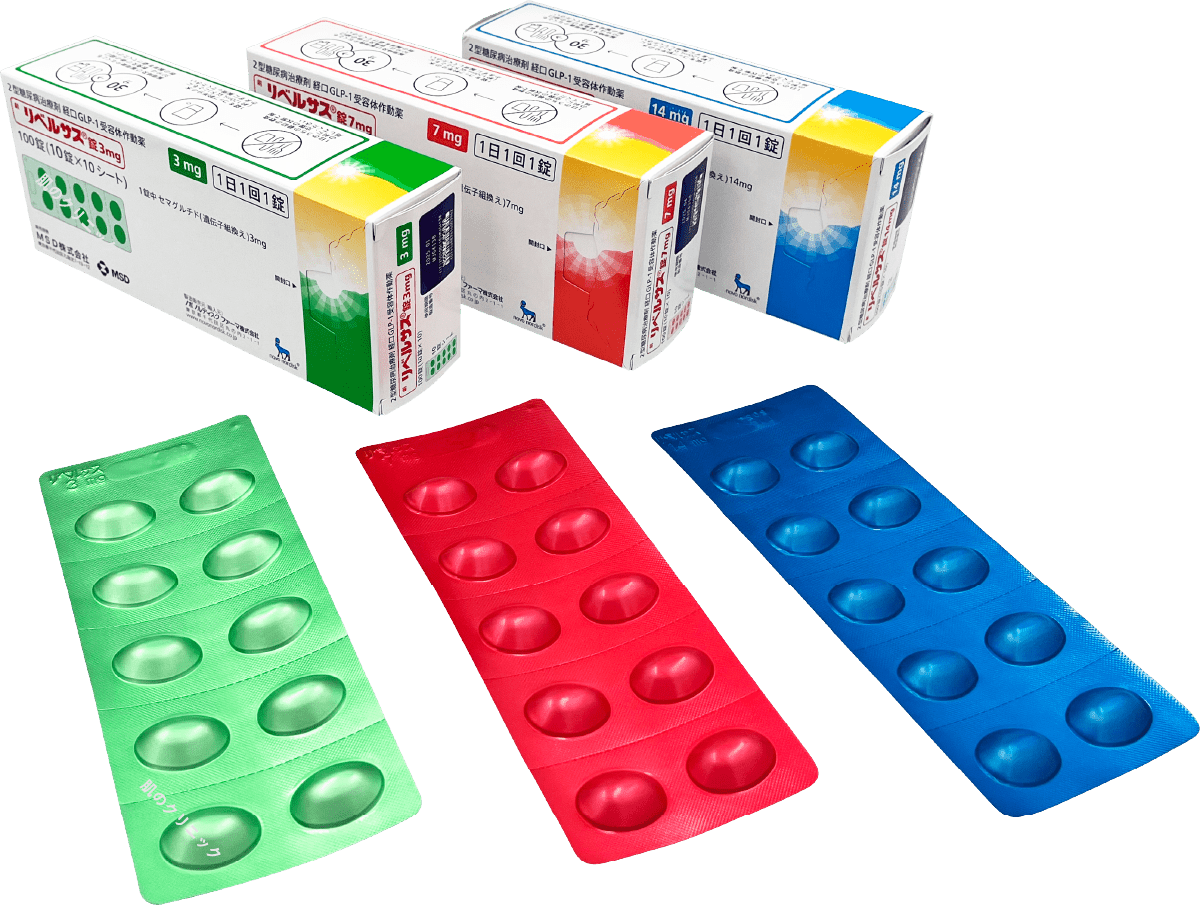 Rybelsus is an oral medication that contains Semaglutide, a GLP-1 receptor agonist.
GLP-1 receptor agonists act on the GLP-1 receptors in brain cells to increase satiety, decrease hunger, suppress appetite, and reduce body weight.
Although it is approved as a diabetes medication, prescribing Rybelsus for weight loss purposes is considered an off-label use and is not covered under the relief system for pharmaceutical side effects as it is an unapproved drug for obesity treatment.
Prescribing Rybelsus requires a medical examination, informed consent regarding potential side effects, and regular monitoring of side effects by a physician.
Weight Loss Effect
The percentage of weight loss of 5% or more
In a study conducted at 93 facilities across nine countries for type 2 diabetes, the proportion of subjects who experienced a weight loss of 5% or more after 26 weeks (approximately 6 months) was reported to be 21.3% for the 3mg dose of Rybelsus, 28.7% for the 7mg dose, and 44.3% for the 14mg dose, compared to 15.7% for the placebo group (Figure7).
In other studies, the proportion of subjects who experienced a weight loss of 5% or more after 26 weeks was reported to be 11% for the 7mg dose of Rybelsus, 36% for the 14mg dose, and 7% for the placebo group, and after 52 weeks (approximately one year), the proportions were 12% for the 7mg dose, 41% for the 14mg dose, and 6% for the placebo group.
The average weight loss rate for the Rybelsus 14mg group at six months was reported to be -2.2% to -4.2%9-13.
Weight change after discontinuation
After discontinuing GLP-1 therapy, appetite gradually returns to normal and weight is more likely to be regained without any action. It is important to combine dietary and exercise therapy to establish habits that make weight loss easier.
Dosage and Administration of Rybelsus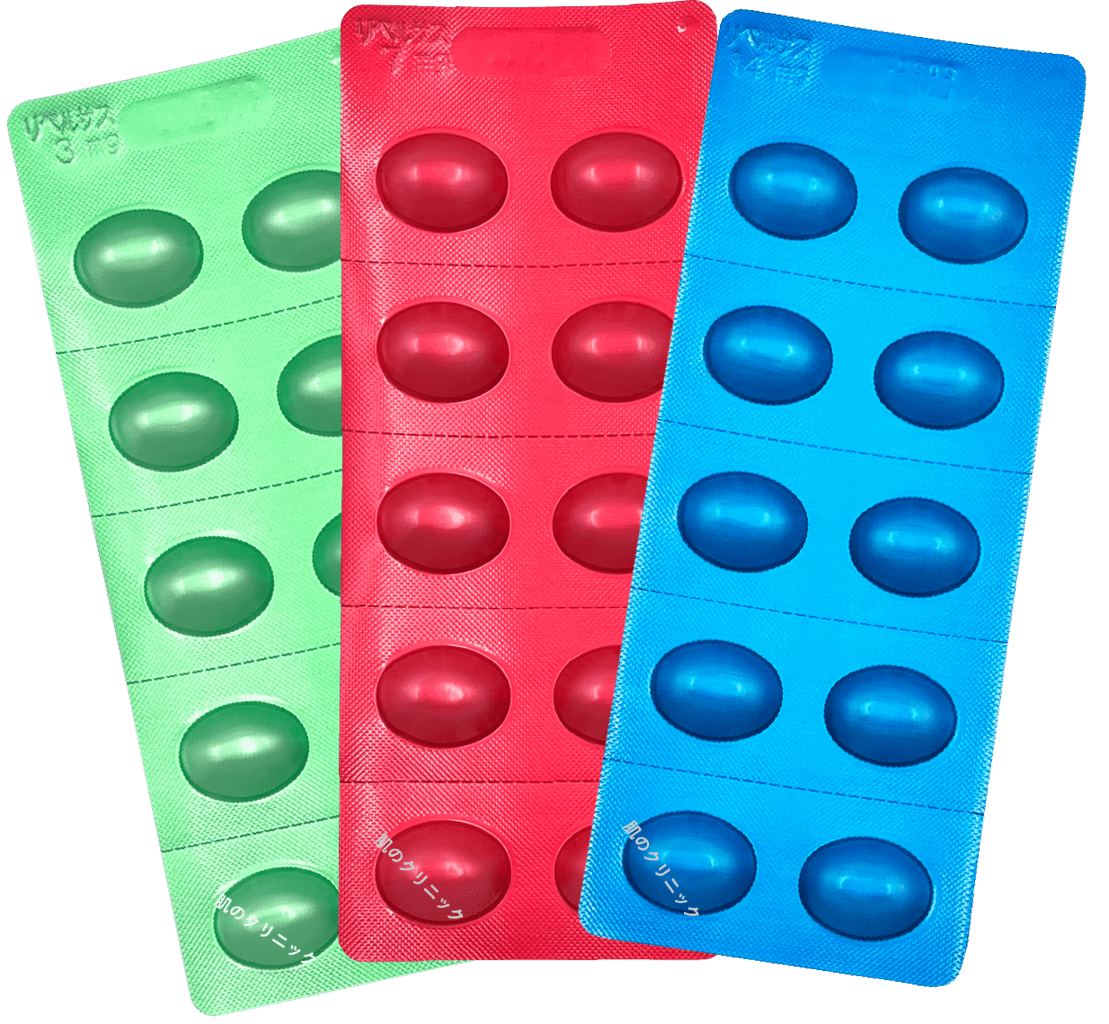 How to take Rybelsus
Take one tablet with about half a glass of water (less than 120mL) on an empty stomach before the first meal or drink of the day. After taking the tablet, do not eat, drink, or take any other medication for at least 30 minutes. Do not split, chew, or take two tablets at once.
Dosage
Start with 3mg once a day and increase to 7mg once a day after one month.
If the effect is insufficient even after taking 7mg for more than one month, increase to 14mg once a day.
Treatment Period
We recommend a treatment period of 6 to 12 months. The dosage and duration will be determined based on the progress of the treatment.
Those who cannot take Rybelsus
Patients under 18 years of age or over 75 years of age.
Patients with diabetes, pancreatitis, cholelithiasis, cholecystitis, severe renal or hepatic dysfunction.
Patients with a history of abdominal surgery or bowel obstruction.
Patients with eating disorders, BMI less than 18.5, body fat percentage less than 15% for men and 25% for women.
Patients with obesity caused by endocrine disorders or drugs such as steroids.
Patients with thyroid disease or a family history of multiple endocrine neoplasia type 2.
Those who are planning to be pregnant, who are pregnant or under breast feeding.
Patients with depression or suicide attempts.
Those who are allergic to Semaglutide (Rybelsus, Ozempic), additives (Salcaprozate sodium, povidone, crystalline cellulose, magnesium stearate)
Side effects of Rybelsus
The following are side effects in patients with type 2 diabetes; no studies have been conducted for side effects in patients other than type 2 diabetes.
| side effect | >5% | 1~5% | 0.5~1% | Frequency unknown |
| --- | --- | --- | --- | --- |
| Metabolism, Nutrition | | decrease in appetite | | |
| Nerve system | | headache | dizziness, impaired taste | |
| Eye | | diabetic retinopathy | | |
| Heart | | | | tachycardia |
| Gastrointestinal | nausea, diarrhea | constipation, vomiting, abdominal discomfort, abdominal pain, abdominal distension, GERD | bloating, gastritis, belching | |
| Liver, bile ducts | | | | Gall stone |
| General | | | powerless, malaise | |
| Blood test | | Elevated level of lipase | Elevated level of amylase or CK | |
Gastrointestinal symptoms: Nausea, vomiting, diarrhea, and constipation are the most common side effects. Most are mild to moderate and transient and it will decrease with continued treatment. Please consult your doctor if the symptoms are severe.
Hypoglycemia (low blood sugar): Hypoglycemia has been reported in patients with type 2 diabetes. If you experience strong hunger, fatigue, cold sweats, tremors, palpitations, or fever, take 10g of sugar or 100mL of juice containing sugar and rest. Please make sure that no hypoglycemic symptoms occur before driving a car, operating machinery, or working at height.
Acute pancreatitis (0.1%): Seek urgent medical attention if symptoms such as severe abdominal pain, back pain, vomiting, or fever occur.
Cholelithiasis (gallstones), cholecystitis (inflammation of the gallbladder), cholangitis (inflammation of the bile ducts), obstructive jaundice.,frequency unknown: abdominal pain may occur after a greasy meal or at the night after overeating. In acute pancreatitis caused by gallstones, the pain begins abruptly and is maximal within minutes. Elevated amylase and lipase are not predictive of the development of pancreatitis, but they are diagnostic indicators when symptoms are present. Seek urgent medical attention if you experience severe abdominal pain.
Anaphylactic shock/angioedema: An overreaction of immune response (allergic reaction) may cause symptoms such as decreased blood pressure, fainting, edema of the face, lips, and skin, rash, and difficulty breathing due to edema of the airways. If anaphylactic symptoms occur, call an ambulance immediately because injection treatment at a hospital is necessary.
Medullary thyroid carcinoma: In a 2-year carcinogenicity study in rats and mice using subcutaneous semaglutide, an increased incidence of thyroid C-cell tumors was reported in the patients with usual or lower dose of Rybelsus treatment.
About Rybelsus treatment and pregnancy
Rybelsus cannot be used during pregnancy or lactation. Please discontinue use at least 2 months before starting pregnancy preparation. There have been no reports of effects on male fertility.
If diarrhea or vomiting persists during taking Rybelsus, the absorption of warfarin may be impaired. Avoid combined use with thyroid hormone (thyradin, Levothyroxine Sodium Hydrate). Severe hypoglycemia has been reported when combing with insulin and other diabetic medications. Do not use diabetic medications as diet pills concomitantly if you are prescribed from another hospital. There are no interactions with orlistat (Xenical), although safety with other anti-obesity drugs and diet herbs has not been established.
Although there is no direct interaction between Rybelsus and alcohol, excessive alcohol consumption inhibits glycogen production and glycogenesis in the liver and can cause hypoglycemia alone. Excessive alcohol consumption should be avoided during Rybelsus treatment.
Fees(Tax included)
Fees (Tax included)
Consultation fee
First visit ¥3,850
Revisit ¥1,650
Rybelsus 3mg
30tablets
¥9,900
Rybelsus 7mg
30tablets
¥22,440
Rybelsus 14mg
30tablets
¥33,000
Blood test
¥3,982
Urine test
¥1,056
※ A medical examination is required for a prescription. An additional consultation fee will apply.
※ Blood tests are required at the first visit and once every 3 months thereafter for side effects check.
List of references/websites
Related Pages