Semaglutide– Ozempic and Wegovy –
※Due to low inventory, we are no longer accepting new patients requesting a prescription for Ozempic. There is a prescription limit of 2 pens per person. If it is out of stock, it will not be possible to prescribe for a while. We can prescribe Rybelsus, an oral GLP-1 medicine instead.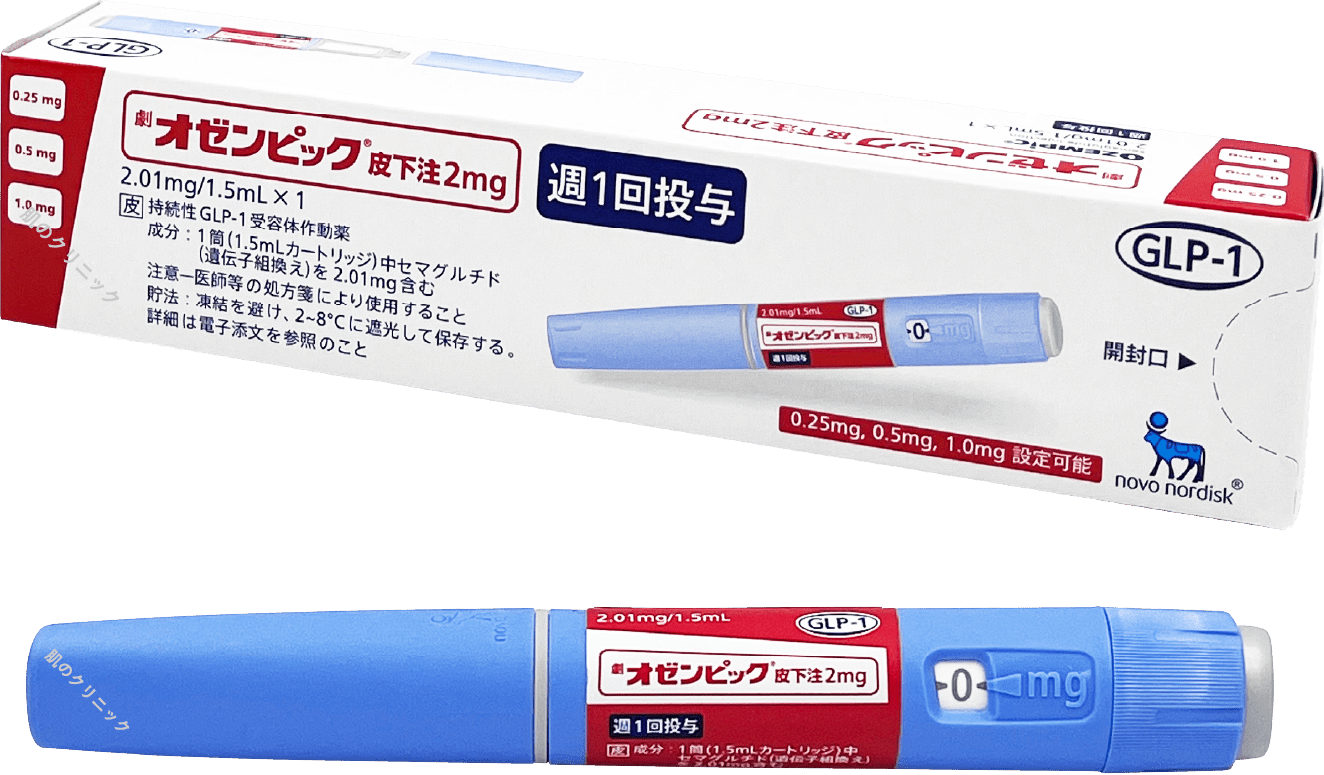 Semaglutide is a glucagon-like peptide-1 (GLP-1) receptor agonist that acts on GLP-1 receptors in the brain cells, increasing satiety and suppressing appetite.
An obesity treatment drug based on Semaglutide was approved by the US FDA as Wegovy in June 2021, and it was also approved in Japan in March 2023.
Our clinic prescribes the Semaglutide product Ozempic. Ozempic is a diabetes drug and is not approved as an obesity treatment drug. It is also not covered by the Japanese system for compensating for pharmaceutical side effects.
The weight loss effect of Semaglutide
In a study conducted over 68 weeks (16 months) on 1,961 obese individuals, it was observed that 83.5% of patients who received injections of semaglutide showed a weight loss of 5% or more, with an average weight loss of 15.9kg (compared to 2.7kg in the placebo group).
Along with weight loss, various clinical improvements such as a decrease in triglyceride and cholesterol levels, a decrease in blood pressure, and a decrease in levels of C-reactive protein (CRP), a marker of inflammation, were also reported.
Treatment duration and rebound
We recommend a treatment period of 6 months to 1.5 years, but it may vary depending on the progress of weight loss. Additionally, the medication can be used to maintain weight even after achieving the target weight.
Rapid weight loss (more than 5% in one month) can be harmful to health and increase the risk of side effects.
When Semaglutide treatment is stopped, appetite returns to normal, and it becomes easier for the weight to rebound. There are reports that two-thirds of the weight lost is regained within one year after stopping Semaglutide treatment.
Obesity is a chronic condition, and it is important to combine dietary and exercise therapies to develop healthy habits for weight loss.
How to use Ozempic
Storage
Avoid freezing and store in a refrigerator (2-8℃). If used within 8 weeks, it can be stored at room temperature (below 30℃).
Injection method
Inject once a week subcutaneously into the abdomen, thigh, or upper arm on the same day of the week. It doesn't matter whether it is before or after meals. Do not inject into muscles or veins. Please use it correctly according to the "Instructions for Use" provided during examination.
Injection interval and dosage
| Duration | Dosage |
| --- | --- |
| week 1 – 4 | 0.25mg / once-weekly |
| week 5 – 8 | 0.5mg / once-weekly |
| week 9 – 12 | 1mg / once-weekly |
| week 13 – 16 | 1.5mg / once-weekly |
| From the 17th week onwards | 2mg / once-weekly |
At first, symptoms such as nausea and discomfort may occur, so to get used to the treatment, the injection is started at 0.25mg once a week, and increased up to a maximum of 2mg every 4 weeks according to the chart.
If the effect is significant or if nausea persists, do not increase the dose and continue with the same amount to observe progress.
Wegovy is injected at a dose of 1.7mg during weeks 13-16, and 2.4mg after week 17. However, since Ozempic has only three scales of 0.25mg, 0.5mg, and 1mg, it is administered at a dose of 1.5mg during weeks 13-16 and 2mg after week 17.
For the 1.5 mg dose, inject 1 mg and 0.5 mg, and for the 2 mg dose, inject 1 mg twice.
If you miss a dose of Ozempic injection
If your next injection is more than 2 days (48 hours) away, inject the missed dose as soon as possible and continue with your regular schedule.
If your next injection is within 2 days (48 hours), wait for the next scheduled injection and don't double the dose.
If you have stopped taking Ozempic for more than 2 weeks, restart with a 0.25mg dose to avoid potential side effects.
Those who are unable to receive treatment
Individuals under the age of 18 or over the age of 75
Those with diabetes, pancreatitis, gallstones, cholecystitis, severe renal dysfunction, or hepatic dysfunction
Those with eating disorders, a BMI below 18.5, or a body fat percentage below 15% for males and 25% for females
Those with obesity due to endocrine disorders or medications such as steroids
Those with a history of thyroid disease, medullary thyroid carcinoma, or multiple endocrine neoplasia type 2 (MEN2)
Those who are pregnant or breastfeeding
Those with depression or a history of suicide attempts
Those who are allergic to additives such as disodium hydrogen phosphate dihydrate, propylene glycol, or phenol
Side effect of Ozempic
1. Gastrointestinal disorders

Nausea, vomiting, diarrhea, and constipation are the most common side effects. If necessary, we will prescribe an antiemetic.

When you continue the treatment, you will gradually get used to those symptoms.

2. Hypoglycemia (low blood sugar)

There have been no reports of severe hypoglycemia in patients without type 2 diabetes. If you go without eating for the whole day, you may experience symptoms of hypoglycemia. Please eat something, anything you like.

If you experience symptoms such as strong hunger, cold sweats, tremors, palpitations, or fever, please take about 10g of sugar or juice containing sugar and rest.

Before driving or operating machinery or working at heights, make sure that you do not have symptoms of hypoglycemia.

3. Acute pancreatitis, cholelithiasis (gallstones), cholecystitis (inflammation of the gallbladder), cholangitis (inflammation of the bile ducts), obstructive jaundice.

Symptoms such as severe abdominal pain, back pain, vomiting, and fever can occur, which can lead to fatal pancreatitis or cholecystectomy. If you experience sudden or persistent abdominal or back pain or experience symptoms after eating or at night, please seek emergency medical attention.

A significant and rapid weight loss increases the risk of cholelithiasis.

4. Acute renal failure

In clinical trials, renal impairment was reported in 0.4% of the semaglutide group and 0.2% of the placebo group. Dehydration related to gastrointestinal side effects such as diarrhea or vomiting may cause renal failure or renal dysfunction.

Please make sure to take enough fluids if you experience diarrhea or vomiting.

5. Anaphylactic shock, angioedema

Symptoms such as low blood pressure, fainting, swelling of the face, lips, and skin, rash, and difficulty breathing due to airway edema occur due to excessive immune reactions (allergic reactions).

If you experience symptoms of anaphylaxis, call an ambulance immediately and receive treatment such as injection at a hospital.

6. Depression and suicide attempts

Although there have been reports with other GLP-1 receptor agonists, there are no reports of a link to Ozempic. If you experience symptoms such as anxiety, fatigue, decreased concentration, depression, irritability, mood swings, or suicidal thoughts, be sure to consult with your doctor.

7.Medullary thyroid carcinoma

In rat and mouse studies, medullary thyroid carcinoma has been reported. The causal relationship in humans is unknown. If you experience symptoms such as swelling or nodules in the thyroid (the front of the neck, below the Adam's apple), be sure to consult with your doctor.

In addition, regular serum calcitonin testing is performed at our clinic, and if it increases, further examinations such as ultrasound will be conducted.
Ozempic cannot be used during pregnancy or lactation. Please discontinue use at least 2 months before starting pregnancy preparation. There have been no reports of effects on male fertility.
Fees (tax included)
Item
Fee (tax included)
Consultation
fee
First visit ¥3,850
Revisit  ¥1,650
Ozempic 2mg
1 pen
¥26,400
Blood test
¥3,982
Urine test
¥1,056
14 injection needles
¥660
Needle disposal container
(disposal fee included)
¥440
20 pieces of alcohol swabs
¥165
Antiemetic for 10 days
¥660
| Dose | The Usage amount per 4 weeks |
| --- | --- |
| 0.25mg | half a pen |
| 0.5mg | 1 pen |
| 1mg | 2 pens |
| 1.5mg | 3 pens |
| 2mg | 4 pens |
A medical examination is required for a prescription. An additional consultation fee will apply.
To check for side effects such as blood glucose levels, HbA1c, liver function, and thyroid cancer markers (calcitonin),

a blood test will be performed at the initial consultation and every three months.

Women will undergo a urine test (pregnancy test) at the initial consultation.
The medical waste disposal fee is included in the needle disposal container fee. Once closed, the lid cannot be opened. Please put the used needle in the container, close the lid and bring it to our clinic. Do not dispose of needles as household waste. Do not use any container other than the designated one as there is a risk of needle stick infection if the needle pierces through, for example, a PET bottle. Additional medical waste disposal fees will be charged for disposal of needles in any container other than our clinic's designated needle disposal container.
Please note that we cannot accept returns or refunds for prescriptions, even in case of side effects.
List of references/websites
Related Pages